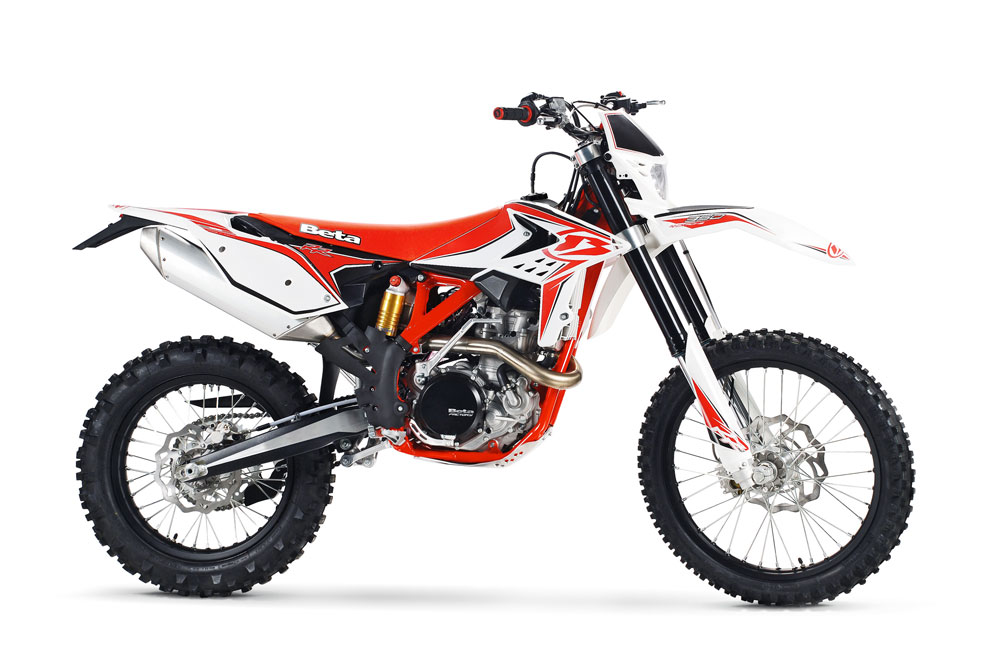 Mid-sized Missle: There's a lineup of manufacturers who deserve more praise than they get but Beta RR350 rewards you for looking outside the box
Story and photography Damien Ashenhurst
There's a lineup of fringe manufacturers building bikes that deserve more praise and publicity than they get. Think companies like TM, Sherco, Gas Gas and Beta — each has its crew of devotees who stand by their machines and shun the mainstream.
While these manufacturers make up but a fraction of the overall sales of a company like Honda, their bikes have proven themselves in races with wins in extreme enduro events against such big players as KTM and the perception that the smaller volume output equates to lesser quality is being pushed to the background.
The Italian-made Beta is in my opinion is one of the better examples of a fringe manufacturer offering a product that takes little to no backward step in the face of the Big Five.
Bits 'n' Pieces
To get started, it's worth noting that while in the past Beta had a partnership with KTM which shared engines with it, the Beta we see in 2013 is a complete in-house design and build. The RR350 doesn't owe anybody anything outside of the Beta factory.
The bike is a construct of sharp lines and simple but striking red, black and white graphics. The red frame with black frame guard sets the whole thing off and overall it's got presence but it's not overbearing. I like the black fork tubes and black and silver swingarm myself and the Italian touch is unmistakeable although, as I'll explain, the style is backed by substance.
The handlebars are mounted quite high which might bug some people who like to run the 'bars in their pockets. The juncture between the fuel cap and the triple clamps seems like wasted space when you look at the large section of frame exposed. It doesn't stop you from getting well forward, though, and while there seems to be a few centimetres up for grabs the flat seat and ultra-slim fuel cap let you move about freely.
The RR350 comes with handguards that aren't the best and the way they're mounted limits the amount of adjustment you have with your levers. This is one example of a few small things I'd change on the Beta but didn't bug me enough to put a downer on the ride.
Overall, the ergos were bang on for me. While that's a purely personal thing, I can honestly say I've never jumped on a bike that fitted me any better straight up. The footpegs are brilliant and the metal bashplate is a nice stock addition, though something that offers more side-case protection would be a wise investment before you cop a big hit.
Breathe Easy
On the trails, the RR350 feels slightly high at the back and not unlike a CRF in that it's a good compromise between aggression and comfort. The deep but quiet exhaust note is brilliant and it's worth noting at this point that the RR350 runs a carby and not EFI.
I couldn't give a toss, to be honest, as I was never on my hands and knees praying to the moto gods that somebody would bring in EFI and consign the carby to the pits of hell. Sure, I like EFI but I'm not repulsed by a carby and in fact I love the bottom-end feel the RR350 has — something I've missed to a degree in the switch to EFI.
The engine is a well-rounded unit with no glaring hole in its delivery. I didn't have to use the clutch as often as I suspected I might to get drive, which was a good thing because the clutch is a heavy bugger and not something I'd want to work flat out in tight trails.
The RR holds its gears well and the bottom end allows you to stick in second or third in places that would have you shifting back and forth more often on the KTM 350EXC. The midrange is where most of the work gets done and that's where the RR excels.
Fork Me
With all the clickers centred, the fork on the RR felt way too soft for me. Downhill braking was affected (by that I mean the front folded) and I stopped a few times to fiddle with the settings.
I ended up with the rebound centred but the compression wound to its slowest (hardest) setting. Marzocchis have a tendency to run through the first third of the stroke quickly, which might feel plush, but in fact big and square hits upset them and the back end of the stroke can be pretty hard.
As a long-term proposition I'd certainly have the fork tuned to my preference, but once I'd finished working the clickers I was reasonably happy with what I'd got. The problems come with G-outs and rough fast corners and it gave us all some pretty big moments. Until you sort this out you won't get the best from the Beta.
The front actually feels light and a lot like a two-stroke; while it gets a two-stroke-like twitch at high speed, it just mows through tight trails. With the high 'bar position you might expect it to turn slowly but in fact it doesn't and it tracks well. I did lower the 'bars at one point and the steering sped up considerably, so no matter how tight the track gets I reckon the RR will ace it.
The Nissin brakes are strong but have little feel, particularly in the rear which we had to stomp on periodically to make sure it was actually functioning. I suspect our test model was in need of some maintenance; I'll give the Nissins the benefit of the doubt and say they aren't that bad. That said, I'd run an oversized disc up front to compliment the stock braided brake line.
And I reckon…
My time on the RR350 was a pleasure and a blast from start to finish. I hated having to call it a day.
The Beta offers a bike that would suit the trailrider and racer alike, which is something the Euros really do well. The 350 size is just gold in the bush and, while I often feel drained by a 450, the RR350 never demands that much of you physically.
It's not a perfect bike and there are some issues that need to be addressed, the forks being number one on the list. It won't be an expensive nor complicated exercise to raise the RR350 to that next level, though, and once it's done you can settle in to life with a ripper of a machine. I definitely recommend anyone in the market for a mid-sized bike to seek out a dealer or a ride day and give serious consideration to the Beta.
New for 2013
Beta hit the RR350 with a host of updates for this year. Most were fairly small but each change demonstrates Beta's efforts to keep the RR range at the top of its game.
Engine
Silencer modified in the internal structure
New decompression system
Air filter newly designed
New filter cage
FRAME
New frame reinforced at the points of greatest stress and lightened
New wheels and hubs
Brake discs with a different profile
New swingarm
48mm Sachs front fork internal parts completely renovated and .48kg spring
Rear shock absorber with improved settings
New fuel tank
New instrumentation, lighter, with a bigger display, better lighting and easily readable
Stiffened subframe
Completely renovated graphics
Beta in Short
Beta has been in business since 1904. The Italian company started life building bicycles and introduced its first motorcycle, the 48cc CERVO 48, in the 1940s.
Before it began building enduro bikes, the company was best known for its trials bikes, with which it won several world titles. Beta now has 350, 400, 450 and 498cc four-strokes as well as its new 250 and 300 two-stroke machines.
The Competition
KTM's 350EXC is the bike that broke the 450 mindset and as such it's the one the other mid-sized machines are measured by. The KTM and Beta feel very different and only a ride experience could sort which one is best for you. That said, I believe the KTM standard running gear is better — in particular, the Brembo brakes and stock suspension.
Second Opinion – Matt Bernard
Damien had ridden this bike the day before me and shown how impressed he was with the Beta RR350. I make an effort not to listen to others opinions when I'm about to test a bike so as to not let it cloud my judgement — and, to be honest, I kinda didn't believe him.
When I threw a leg over the bike on our test day, I was surprised at the ergonomics. Smaller manufacturers often have slightly quirky ergos that you either love or hate; this, however, is bang on for comfort. It's got nothing ergo-wise that I wasn't comfortable with and was straight into it on the trails.
Riding it on the wide-open tracks, the Beta RR350 has plenty of go. I prefer the carb feel on a smaller bike; it gives that little more meat at the bottom. EFI is darn close now but the carb gives that little burst down low, something I really liked. Darting through the trees, this thing turns really well and is quite confidence inspiring.
However, the fork lets it down. Damien hadn't told me he was struggling with it also, but when I announced my discomfort he agreed it needed a revalve. A few hundred dollars and the problems would be rectified. The brakes weren't fantastic, either, particularly the rear, but I think they may have had a problem and needed a bleed so I can't judge too harshly.
Overall, I was very surprised with this bike. There were a few things I didn't like but they are easily rectified and it was a bucketload of fun across a wide range of tracks and trails.