KX450F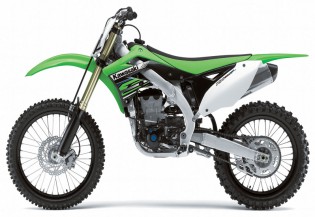 New Factory-style launch control system increases the chance of getting a good start by helping riders maximise traction when starting on a slippery surface.
Slimmer new frame, new minimalist bodywork and a flatter tank-seat line offer a slimmer riding position and improved ergonomics, making it even easier for racers to go fast.
New Slimmer aluminium perimeter frame is a lightweight construction composed of forged, extruded and cast parts. Revised rigidity contributes to improved rear wheel traction and slimmer design contributes to improved ergonomics.
New Rear shock absorber with dual compression adjustability offers a wide range of tuning options. Kashima Coat on the tank cylinder improves action.
New Uni-Trak rear suspension linkage mounts below the swingarm for more precise suspension tuning. For '12, less rigid tie rod arms offer smoother action and improved bottoming resistance, which contributes to the improved rear wheel traction.
New Improved shift feeling, changes to the transmission and shift drum result in a smoother shift feel.
New Factory styling complementing the Lime Green "flow line" created by the fenders, minimalist shrouds and seat, factory-style graphics, black alumite1 rims, black fork guards, blue alumite1 finish on the suspension adjusters, and a blue finish on some of the engine trim give the KX450F the looks to match its highly tuned performance.
New adjustable footpeg position means riders can choose from two positions to suit body size and preference.
New Factory-inspired tuning Works-base bridged-box bottom piston (unique Kawasaki feature used for the first time on a mass-production motocrosser on the 10MY KX450F) is just one of many features inspired by our factory racers. For '12, revisions to the piston, cams and exhaust system result in a wider powerband and performance increases at both ends of the rev range.
New Lighter-handling chassis A narrower front tyre, lower centre of gravity (thanks to the new tank, bodywork and shorter muffler) help make the bike easier to throw around.
New Front and rear petal brake discs offer efficient braking performance. Rigid-mounted front disc offers reduced unsprung weight.
New Using the provided DFI couplers, riders can quickly and easily access their choice of three maps (standard, hard, soft) provided in the new ECU.
New Lightweight ECU was designed specifically to withstand the rigours of motocross racing. Revised ECU now contains three engine maps (plus a fourth for Launch Control Mode). Settings for the three maps can be reprogrammed with the optional KX FI Calibration Kit.