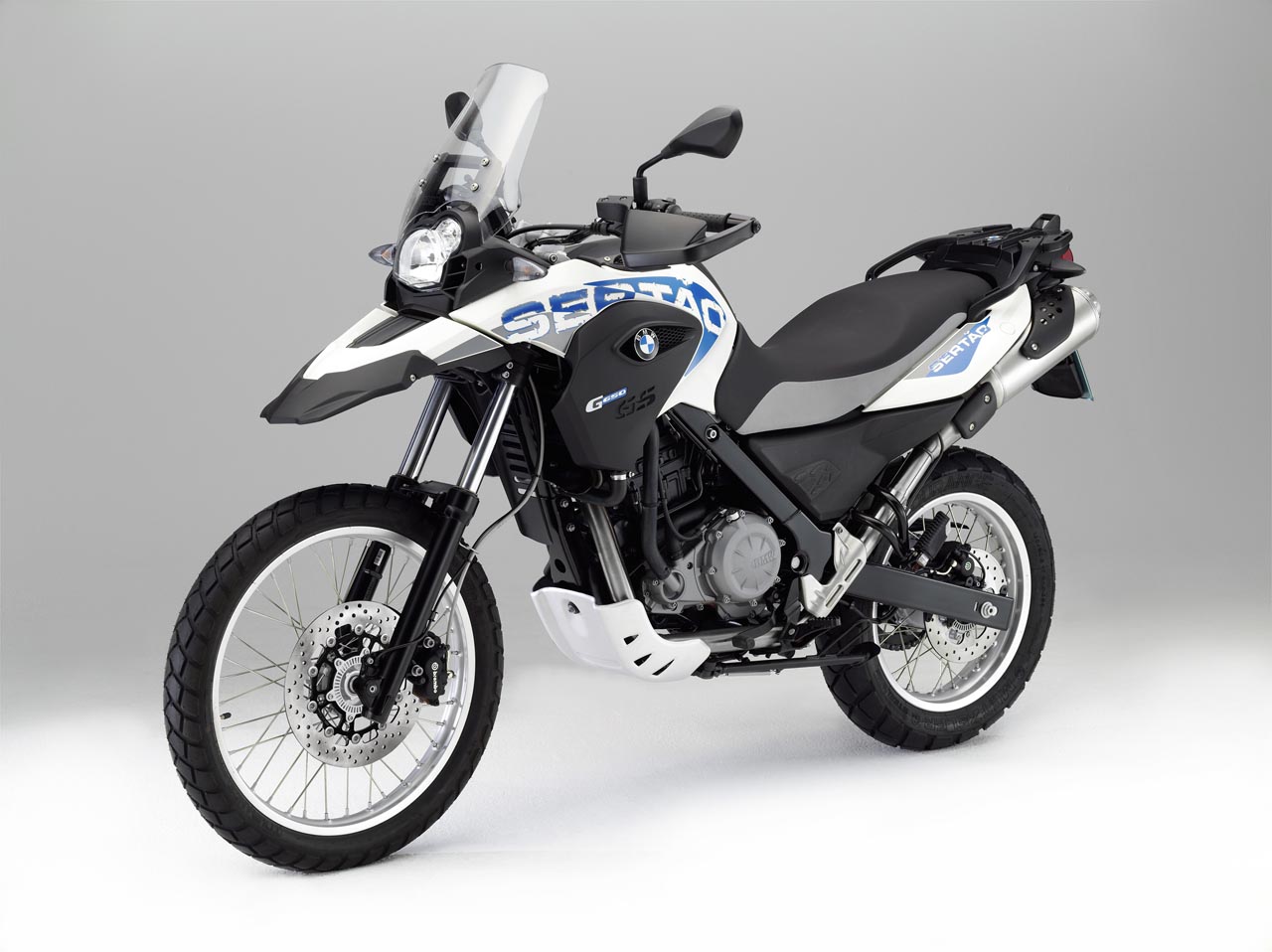 Weekend Adventurer: Adventure riding is for boring old guys who have too much money and want to relive their youth right? Hell no.
Words by Shane Booth | Photography by BMW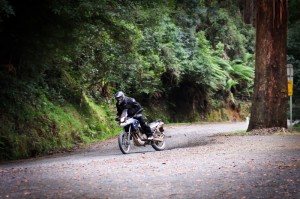 I just spent two days in the Victorian high country aboard the new BMW G650GS Sertao and loved every second of it. Being joined by former world 250cc road race champ Marco Melandri and Aussie Superbike Champion Glenn Allerton meant this was never going to be a cruisy ride.
The two days began at San Remo, just a stone's throw from Phillip Island on the southern coast of Victoria. The weather was fairly typical for that area, we had some heavy rain overnight. We woke to a foggy morning with some misty rain but nothing too devastating. Everyone was geared up well for this type of weather so it wasn't an issue, and we rode out of the resort onto the shiny wet roads and headed for the hills.
The BMW G650GS is, in a nutshell, a re-release of the famous Dakar model with some updates and a name change. I hadn't ever ridden one so I was interested to see how a 650 handled two long days of riding and whether it would be comfortable enough for that sort of duration. Most of the first couple of hours was on wet roads, riding conditions I'm not too comfortable with. I don't do a whole lot of riding on the tar so the wet conditions took some getting comfortable on, but after an hour or so everything felt good.
It was cold enough to give the heated grips a run and I'll tell you now they are the closest thing to climate control that you'll get on an adventure bike. It's amazing how a little warmth on your hands can make a big difference to your comfort. The Sertao has a decent-sized screen to keep you out of the worst of the wind in a regular seated riding position. On longer stretches of tar and up around the 100km/h mark I would duck down slightly, getting my head down behind the screen and making higher speeds way more comfortable. The bike sits at 110km/h comfortably, but much more than that and it starts working fairly hard. It may seem obvious but if you plan on riding across the Nullarbor you might need more cubes.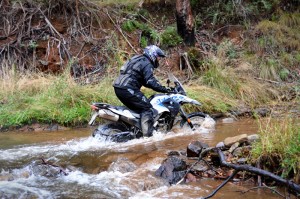 It has a seat that is comfortable enough for long stints on the tar and the standard hand guards help direct wind away from your hands and fingers.
ABS is optional on the Sertao and was fitted to our bikes at the launch. It can be disabled. I tried riding with the ABS but preferred having it switched off and I would say most experienced riders would have it that way, although it's a great feature for less experienced riders and at 193kg with a full 14 litres of fuel on board, ABS will help you stop the bike and keep it upright when you are lacking some traction.
All of the controls are of the quality you would expect from anything sporting a BMW badge. It has a digital dash that gives you all the info you need and survived the off-road riding with no problems. There is also a standard power socket, which is handy if you would like to run a GPS.
All our bikes were fitted with the road tyres that come standard, which at first caused some concern considering the plans were to head off road for the majority – and it had been raining. Miles Davis from BMW was well aware of the off-road conditions and adjusted the route accordingly, but he also ensured us that these bikes worked surprisingly well on the dirt with the standard road tyres. By the end of the ride I would totally agree with him and say the benefit of having road tyres on the tar far outweighs fitting knobbies for the dirt sections. Knobbies and wet tar don't really mix.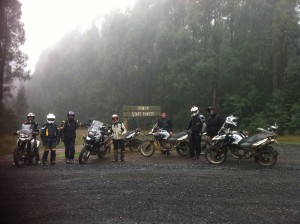 I was quick to get comfortable on the gravel roads and the torquey power delivery encourages you to get on the gas nice and early out of the turns. It wasn't long before there was a freight train of BMW Sertaos drifting in and out of the flowing corners. There were plenty of good gravel road sessions with Miles, Glenn, Marco and I having plenty of bench racing ammo every time we pulled up to regroup. We all had our moments, some a little scarier than others but all good fun.
I was very impressed with the Sertao's versatility. A rider with quality clutch and throttle control will be able to go almost anywhere (s)he could take a trail bike. You do have to remember though that you need to choose your lines carefully and treat the bike gently when in water bars or drop-offs. They will go nearly anywhere but they aren't designed to be launched into the air; do so and your smart BMW will eventually start to break. Adjust your riding to the conditions and you won't have any problems.
I could quite easily have spent another couple of days out in the Victorian high country on this bike. It's comfortable enough to ride for full days, has enough power for the tar sections that link your gravel roads, but not so much that it's hard to handle when you get there. At $12,700 it's a great weekend adventure bike, perfect for two-day rides and capable of going just about anywhere you are willing to ride it.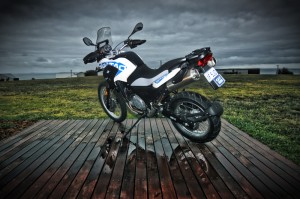 Specs: BMW G650GS Sertao
Engine: 652cc Water-cooled, single-cylinder 4-stroke engine, four valves, twin overhead camshafts, dry sump lubrication
Clutch: Multiple-disc clutch in oil bath, mechanically operated
Gearbox: Constant mesh 5-speed gearbox integrated into crankcase
Drive: Endless O-ring chain with shock damping in rear wheel hub
Frame: Bridge-type steel section frame with bolted-on rear section
Suspension travel: 210mm front and rear
Brakes — front: Floating single disc, 300mm diameter, double-piston floating caliper
Brakes — rear: Single disc, 240mm diameter, single-piston floating caliper
ABS: BMW Motorrad ABS (can be switched off)
Rim — front: 21×1.6in
Rim — rear: 17x3in
Tyre — front: 90/90-R21
Tyre — rear: 130/80-R17
Fuel capacity: 14L
Weight (fuelled): 193kg
Factory options: ABS, $650 Alarm, $505