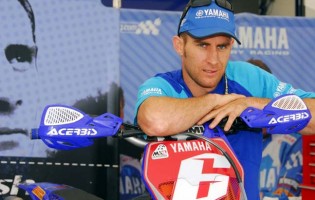 New Zealand's Josh Coppins has taken over the series lead in the Rockstar Energy Drink MX Nationals, Australian Motocross Championship, following a hard-fought overall victory at Moree in New South Wales on Sunday, 24 July.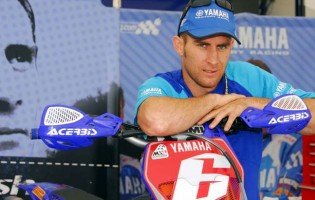 The CDR Rockstar Energy Yamaha rider, who is a former runner-up in the world championship, tied with teammate Jay Marmont in what was a champagne day for the boys in blue.
Coppins' results of 1-2-2-1 secured the overall for the penultimate round of the series, his final moto win giving him the victory over Marmont's 2-1-1-2 results.
The win was Coppins' third of the season, handing him the red plate to signify his status as championship leader in the premier Pro Open category. Coppins' lead now stands at 18 points over defending three-time champion teammate Marmont.
"It's better late than never to take over the red plate," 34-year-old Coppins said. "The team has been gelling really well and Jay rode great today. I've been doing a lot of riding at the beach back home in New Zealand, so that should be good preparation for the sand next weekend in Coolum."
Marmont, 28, has been on the ultimate comeback trail in the standings, winning rounds six and seven recently and then today tying on points with Coppins to increase his title chances. Marmont fought through the effects of a nasty flu that had him couch-ridden during the week.
"That was one of the toughest races I've done, but I dug deep, did what I could and came away with a good result," the Wollongong resident said. "To race with Josh next weekend will be tough and he's a seasoned campaigner. I'm looking forward to Coolum, I've had a lot of luck and success there in the past. It'll be elbows out next weekend and I'm ready to get started."
Long time series leader Dean Ferris and his Monster Energy Kawasaki team endured a disastrous round in Moree. After qualifying first and leading the majority of moto one, a crash bumped him back to third. Moto two saw a repeat of that result, but he crashed out of moto three and was forced out of the round while being treated by the Suzuki RACESAFE Medical Team.
Ferris' 14-point advantage disappeared and he now faces a 40-point deficit with just one round remaining. The 21-year-old, from Kyogle in NSW, ended up the day 11th overall.
Current national number two Billy Mackenzie's luck wasn't much better as his title hopes faded with a crash-marred sixth overall. The Scottish stand-out is another four points in arrears of Monster Kawasaki teammate Ferris.
Rounding out the podium overall was Queensland rising star Todd Waters for Carlton Dry Honda Thor Racing, breaking through for his first rostrum of the year after returning from a wrist injury at round six last month. Waters scored 5-5-4-3 finishes for the round.
"I'm just so pumped right now to finish on the podium after the year I've had," Waters said. "The Carlton Dry Honda Thor Racing team has been so supportive and [team boss] Yarrive Konsky has been putting a lot of time into helping me – I can't thank them enough."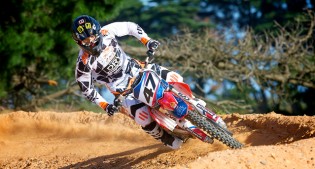 Continuing his impressive rookie season in the Pro Open class was Raceline Pirelli Suzuki's Lawson Bopping, taking fourth overall ahead of experienced Victorian Cheyne Boyd (Carlton Dry Honda Thor Racing).
The Motul Pro Lites class will also go down to the wire at the season finale, with Serco Yoshimura Yamaha's Kirk Gibbs shrinking Matt Moss' (JDR Motorex KTM) points lead from 58 points to 33 with one round remaining.
Gibbs put forward a consistent performance on Sunday at Moree, finishing with 3-1-2-2 results to secure what marks his second overall victory of the season.
"I had a plan for what I had to do this weekend, just to worry about myself and ride how I can," Gibbs explained. "Heading into Coolum next weekend, it's a track I've raced at twice this year and I'm going to make Matt [Moss] fight for this championship the whole way."
Meanwhile, Moss bounced back from a luckless start to the round to win the final moto, adding that result to his 11-7-6 finishes from earlier in the day to take out sixth overall. Moss is confident he can seal the deal next Sunday in Queensland.
"I know what I need to do, I just need to get out of that gate and I can get the job done," Moss said. "I'm looking forward to Coolum, I usually go good there and it's a track I really like."
Finishing second on the podium in another strong ride was Berry Sweet Strawberries/Lucas Oil Honda Racing's Kade Mosig. The talented Victorian won moto three in his first race victory of the year.
Rounding out the podium for the weekend at Moree was Moss' teammate Brenden Harrison, whose results of 4-3-4-6 were enough to take third in Moree and also take control of that position in the series.
JDR Motorex KTM rookie Josh Cachia won the opening moto of the weekend, before he went on to finish fifth overall behind Team 07 Axis Motorsports Honda's Cody Mackie.
Raceline Pirelli Suzuki's Errol Willis wrapped up the Pirelli Under 19s Championship in dominant fashion at Moree. Entering the round Willis had a 76-point advantage, however four moto wins and an unbeatable lead of 106 points crowned him as champion.
"It's unreal, I just couldn't have done it without my Raceline Pirelli Suzuki team," Willis beamed. "The team has been right behind me all year and has given me the equipment to do it – I'm on top of the world right now."
Finishing behind Willis at Moree was Dylan Long (Top Gear KTM) with 4-2-3-5 finishes, while title challenger Luke Arbon (GYTR Rockstar Energy Yamaha) rounded out the podium with a scorecard of 2-3-4-11 on Sunday afternoon.
The ninth and finale round of the 2011 Rockstar Energy Drink MX Nationals will take place at Coolum on the Sunshine Coast in Queensland next weekend, 30-31 July.
Visit www.mxnationals.com.au on the web for complete series and round information on the 2011 season.
2011 Rockstar Energy Drink MX Nationals
Round 8 Results:
Rockstar Energy Drink Pro Open
1. Josh Coppins (CDR Rockstar Energy Yamaha) 94
2. Jay Marmont (CDR Rockstar Energy Yamaha) 94
3. Todd Waters (Carlton Dry Honda Thor Racing) 70
4. Lawson Bopping (Raceline Pirelli Suzuki) 58
5. Cheyne Boyd (Carlton Dry Honda Thor Racing) 58
6. Billy Mackenzie (Monster Energy Kawasaki) 52
7. Cody Cooper (Rockstar Motul Suzuki) 51
8. Jamie Law (Herb Watson Racing KTM) 48
9. Louis Calvin (JDR Motorex KTM) 45
10. Michael Phillips (Carlton Dry Honda Thor Racing) 45
Motul Pro Lites
1. Kirk Gibbs (Serco Yoshimura Yamaha) 89
2. Kade Mosig (Berry Sweet Strawberries/Lucas Oil Honda) 79
3. Brenden Harrison (JDR Motorex KTM) 71
4. Cody Mackie (Team 07 Axis Motorsports Honda) 69
5. Josh Cachia (JDR Motorex KTM) 65
6. Matt Moss (JDR Motorex KTM) 64
7. Phil Nicoletti (Monster Energy Kawasaki) 60
8. Daniel McCoy (Rockstar Motul Suzuki) 51
9. Luke Styke (Serco Yoshimura Yamaha) 48
10. Keiron Hall (Team 07 Axis Motorsports Honda) 47
Pirelli Under 19s
1. Errol Willis (Raceline Pirelli Suzuki) 100
2. Dylan Long (Top Gear KTM) KTM 76
3. Luke Arbon (GYTR Rockstar Energy Yamaha) 70
4. Sam Martin (Byrners Suzuki) 62
5. Jacob Wright (Honda Australia) 60
6. Jay Wilson (Coastal KTM) 59
7. Mitch Budd (Honda) 53
8. Jacob Mcleod (Grayson Sonter Motorcycles Yamaha) 46
9. Kale Makeham (JDR Moss Institute Suzuki) 45
10. Dylan Peterson (Team 07 Axis Motorsports Honda) 40
Championship Standings (after 8 of 9 rounds):
Rockstar Energy Drink Pro Open
1. Josh Coppins 603
2. Jay Marmont 585
3. Dean Ferris 563
4. Billy Mackenzie 559
5. Cheyne Boyd 494
6. Michael Phillips 460
7. Lawson Bopping 433
8. Cody Cooper 395
9. Louis Calvin 313
10. Daniel Reardon 226
Motul Pro Lites
1. Matt Moss 567
2. Kirk Gibbs 534
3. Brenden Harrison 478
4. Phil Nicoletti 477
5. Daniel McCoy 461
6. Kade Mosig 440
7. Josh Cachia 423
8. Cody Mackie 419
9. Justin McDonald 403
10. Luke Styke 372
Pirelli Under 19s
1. Errol Willis 656
2. Luke Arbon 550
3. Shaun Redhead 466
4. Dylan Peterson 425
5. Jay Wilson 385
6. Jake Emanuelli 380
7. Kyle McKeddie 370
8. Sam Martin 305
9. Kale Makeham 280
10. Dylan Long 270