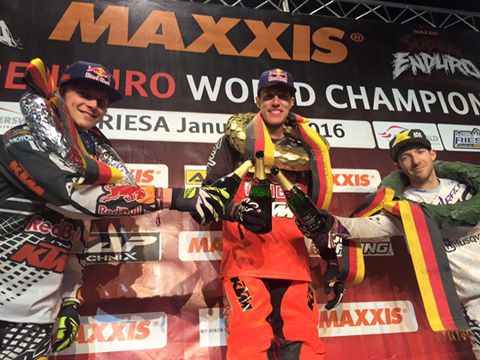 Cody Webb has made it two wins from two rounds in the 2015/16 SuperEnduro World Championship.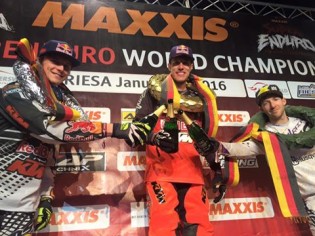 By Hayden Gregory
Webb placed third in the Superpole event before upstaging Colton Haaker and Taddy Blasuziak in the first race. The KTM rider looked strong on the German track as he again impressed in race two, this time placing second to Alfredo Gomez. Webb's team mate Jonny Walker placed third.
In the final race of the evening a fifth place finish was enough to hand Webb his second straight round victory by just one point over Walker who topped the final enduro. Hakker finished second in the third race landing him in third place overall, 2 points in tow of Walker.
"I'm super happy to come away with the win tonight," Webb commented. "Two overall victories from two starts is a perfect start to the championship for me. 
"The track was tough tonight. There was no real room for error and it was a fine line between staying up and crashing. 
"In race one I just sort of rode steady and the win came to me. I got up to second in race two and almost got Alfredo for the win but had to settle for second. Then race three I finally had some bad luck, and ended fifth I think. But thankfully it was enough for the top step of the podium." 
Second placed Walker had an eventful round but was happy with his final standing.
"It's been a hard night but I'm happy with second," told Walker. "The racing was so close, everyone was on the limit out there. I had a good first race going but tangled with a lapped rider in the log pit and he ended up standing on my bike. It was a freak thing but cost me a chance of winning there. 
"I was riding good in race two and then gave it everything in race three. It felt great to get the win in that one and to end the night one point behind Cody is a bonus really. After two rounds we're separated by two points so it's still very close."
The SuperEnduro World championship continues on the 16th of January in Italy at the third round of the six round series.
Championship Standings After Round 2 of 6:
1. Cody Webb – 102 Pts
2. Jonny Walker – 100 Pts
3. Colton Haaker – 84 Pts
4. Taddy Blazusiak – 79 Pts
5. Alfredo Gomez – 70 Pts
6. Taylor Robert – 70 Pts
7. Ty Tremaine – 56 Pts
8. Mario Roman – 49 Pts
9. Andreas Linusson – 45 Pts
10. Daniel Gibert-Gatell – 27 Pts