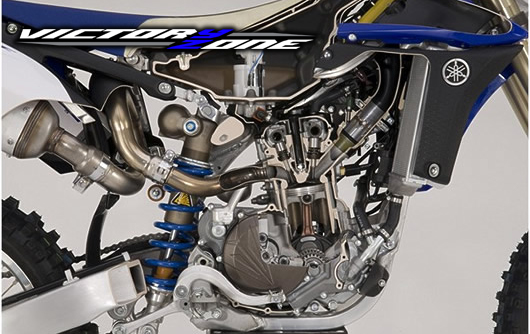 In 2010 Yamaha released the first reverse cylinder YZ-F which represented and remains the biggest departure from common four-stroke design principles since the YZ400F in 1998.
The aim was to achieve maximum mass centralization, which is to say, get most of the weight to the middle of the bike in order to improve handling.
Yamaha explained at the time, 'YZ450F's new rearward-slanted cylinder is a revolutionary advancement that achieves unmatched mass centralization, concentrating inertial mass toward the centre of the machine. This bold new design also swaps traditional intake and exhaust positions, putting the lightweight airbox and throttle body out front. This contributes to mass centralization for nimble handling while also achieving a straight intake tract for superb combustion efficiency that delivers more power.'
But there are also mechanical advantages to the reverse cylinder. On the YZ-F, the rod is vertical at the moment of greatest combustion force, minimising piston friction against the cylinder wall resulting in quicker response. And of course it also allowed for straight intake and exhaust ports, creating the most direct path for air flow into the engine.