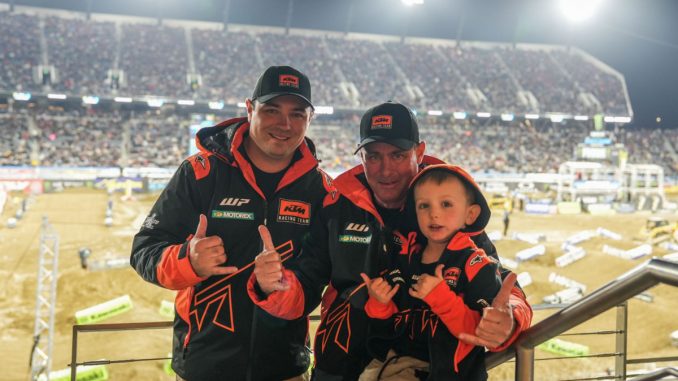 The Mason family experienced the trip of a lifetime to the recent 2023 San Diego Supercross thanks to their KTM 16 eDrive purchase. Kurt Mason was thrilled when KTM called him just after Christmas to announce that he was heading off to the USA with his son, (and mini eDrive racer) Jacob. Of course, Kurt also got to bring along his dad Darren, who has been an orange bleeder for a long time, having ridden KTMs himself.
So off went three generations of KTM lovers to the USA for the KTM VIP Experience of a Lifetime to the San Diego Supercross. Jacob, only three and a half, may be a newcomer to the riding scene, but he certainly looked like a KTM Factory Racer when he rocked up to the KTM USA headquarters in his new KTM teamwear. Based in Temecula, an included tour of the KTM USA facility was a bonus to this experience. The Masons received the inside scoop into how the KTM Factory Team prepares for race weekend, and even made their way to the exclusive KTM USA testing track as a surprise. This was extra special as, the whole team including Cooper Webb were practicing at the time ahead of their race weekend … what a treat!
After a free day well spent exploring in San Diego, the Masons were back on track for race weekend … literally! An included track walk saw them immerse themselves in the full factory rider race weekend experience. Here they were able to get a sense of the freshly groomed track under their feet and analyse the best lines to take ahead of start time.
If that didn't have them Ready To Race already, paddock passes threw them right in the thick of it. Exploring the exceptional Red Bull KTM Factory 'rigs' and even spotting KTM Factory riders between practice rounds. They were truly among all the action.
The KTM VIP Experience really began when they were given access to their exclusive KTM Group Suite at Snap Dragon Stadium. A fully decked out suite saw them experience the Supercross in ultimate style and comfort. With the best view in the house, relaxed seating, and a Mexican buffet feast to indulge in, there is no better way to enjoy the thrill of Supercross.
Little Jacob was in awe of the action and KTM is excited to be inspiring the young racing champions of tomorrow. From learning the basics of balance and throttle control on a KTM eDrive, to watching the KTM Factory Racing team in action at an international race, we believe there is no better way to introduce young racers to the thrilling world of KTM than at the San Diego Supercross!
(Courtesy of KTM Australia)