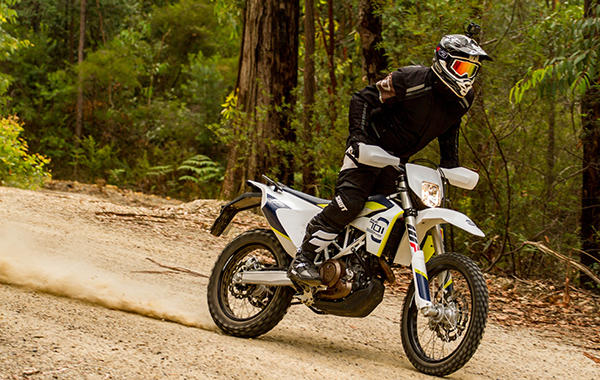 Riding fire roads is technically simple. The are flat fast and wide, however, they offer many dangers that don't exist on the single trail. 4WDs, other riders, wild life and high-speeds all create potential dangers while riding. We run through some ways to limit potential disaster.
STAND UP WHEN POSSIBLE
Riding on transit roads and fire roads often calls for high speeds. By standing up, you are ready to react at anything that happens. Whether it might be a bump, an oncoming vehicle or a change in terrain.
RIDE IN A TALLER GEAR
Keep your bike in the meat of the power, if you are sitting in the top end of your power curve it leaves little in the tank if you need some grunt. By sitting in the bottom-end to mid-range of the power, not only is it a quiet and pleasant ride, you are ready to pop the bikes front wheel up if needed.
COVER YOUR CONTROLS
Keep your fingers over the front brake and clutch levers as well as your rear brake.
KEEP LEFT
Four-wheel-drives are big units. They take up the full width of most fire roads and wide-open trails. Keeping left gives you the best chance of missing an on-coming road block and a quick exit if needed. Riders may be coming from the other direction, further reason to keep left.
LOOK AHEAD
Look as far ahead as possible. At high-speeds a lot can happen, the further ahead you are looking, the more chance you have to react to an on-coming danger or a change in terrain.
MIND THE DUST
When riding in a group, dust can limit visibility. Be mindful of sitting in thick dust, although it's great to ride together with your buddies sitting in dust is the danger zone.
RUN THE LIGHT
Flick your headlight on, on high-beam if an option. The more visible you are, the more chance you have of being seen.
DON'T CUT THE TURN
As tempting as it is, a nice curved turn isn't meant to be cut. It's the danger zone. Starting out wide, cranking a big slide to the inside can be bucket-loads of fun. It can also lead you into the on-coming path of another bike or car.