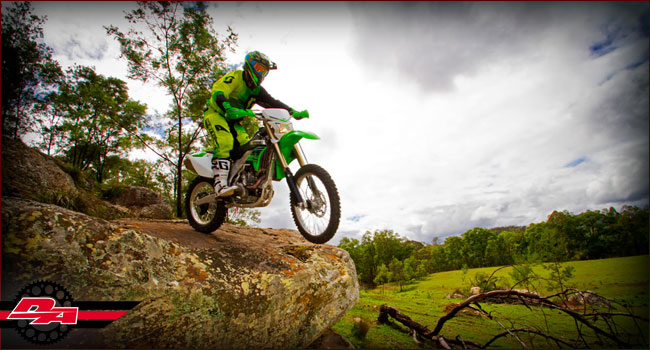 STORY MATT BERNARD | PHOTOGRAPHY SHANE BOOTH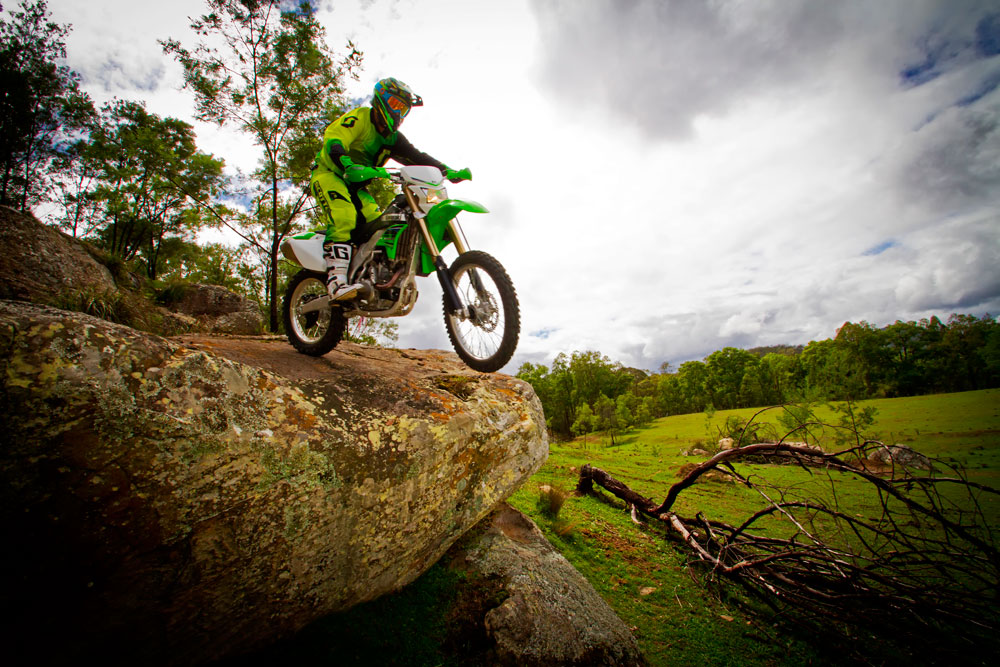 HAVE A LOOK
Where possible, have a look on the other side of the drop. There may be a particular line you can take early on to ensure a clear landing. Look for any rocks or sticks that may cause carnage upon landing.
AIM, FIRE
After you've checked the landing, have a look for the line to take off and ensure you land where you're aiming for. When walking, you have plenty of time to plan; on a 100kg motorcycle, that drop will appear mighty quickly.
STAND AND DELIVER
Never attack a drop-off seated — it's going to make life extremely difficult. Stand central on the bike, your knees gripping tightly, and keep a couple of fingers on the levers as you'll need some clutch to help loft off the edge. You never know; you may need that brake lever, too, if your courage runs out!
SPEED
When tackling an obstacle of this nature, try not to come at it too slowly. Rocks don't offer an abundance of traction, so going from zero to 100 per cent throttle is going to cause your rear wheel to spin and the front to drop off the edge into a nose dive — it's not going to be pretty and will cause a harsh landing. Don't charge absolutely flat out; a moderate pace that gets quicker before takeoff, much like a jump up-ramp, will be best.
TAKEOFF
Approach the obstacle with your selected moderate pace. As your front wheel nears the edge, loft the front wheel with throttle and clutch. Don't get crazy aggressive as you'll cause wheel spin — but enough to get the front wheel just off the ground and set for takeoff. Keep your weight slightly to the rear for extra traction. Continue to wind on the gas as you begin to leave the rock and become airborne.
FEEL LIKE A LORD
So, you're in the air. If you've done everything well you'll be off the ground and feeling like a superstar. Your mates are watching on thinking, "Dang, what a boss." OK, back to reality: the ground's on its way.
PREPARE FOR LANDING
If you've done everything correctly up until now, the landing will be relatively simple. Keep central on the bike and be strong on the landing, throttle to tension the chain and prepare to drive away. Even if you need to stop soon after, try to land with the gas on before braking heavily. Look ahead as you land and prepare for the upcoming obstacle.
WHEN IT GOES WRONG
If you've cracked the throttle too hard and gone into a wheel spin, chances are you'll be committed to dropping off. Keep your weight to the rear and keep the throttle pinned as you drop. It will give your rear wheel a chance to drop and save the crash. Prepare for the impact, as it will be a lot harder landing on the front wheel than the rear.
If the rear has slid sideways, stay with the slide and, as you come into land, keep the throttle on. This will give you the chance to soak up the landing and ride away. If you land with no throttle and with your weight to the outside of the bike, you'll most probably be flicked high side and down the hill.