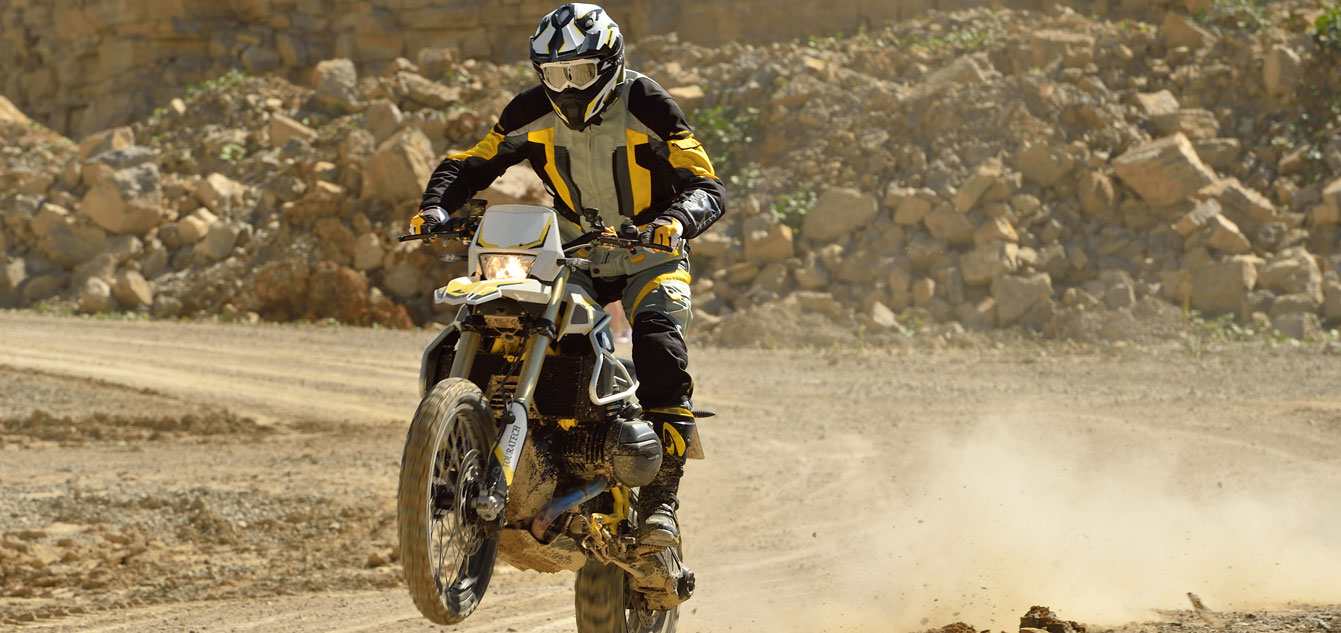 Taking it to extremes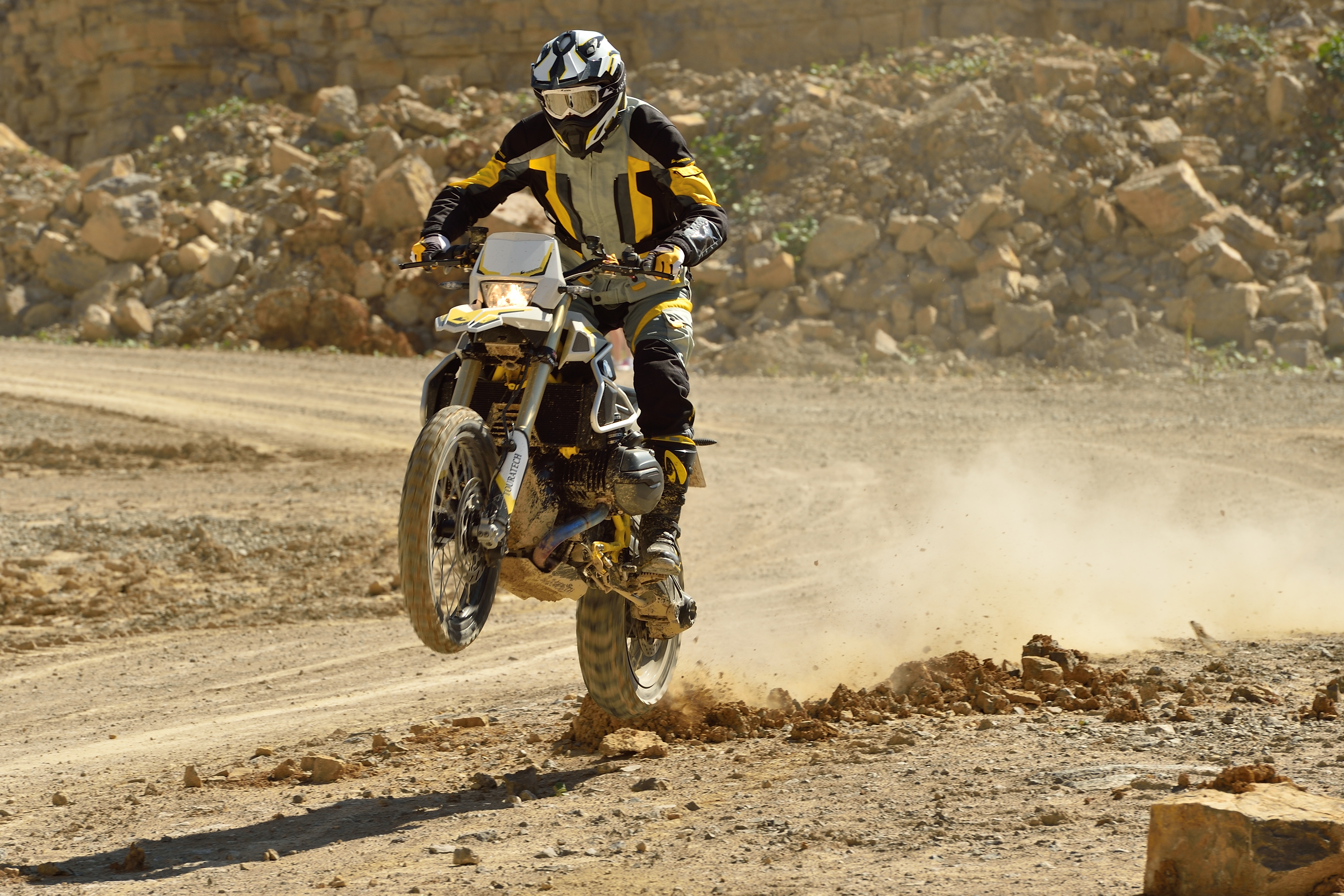 The Touratech R 1200 GS Rambler promises to be a super-lightweight 1200cc adventure bike with excellent enduro characteristics, high performance potential and fantastic suspension. Does a liquid-cooled boxer weighing less than 200 kilos that bounds nimbly over rough terrain sound like a dream? With the R 1200 GS Rambler, it's a reality.
It began with the K 199 model which didn't exceed 199 kilos in weight. The result is one of the lightest R 1200 GS conversions ever.
A modern interpretation of the BMW HP2, it's a motorcycle that not only looks like a sporty bike, but also rides like one, showing just how closely the touring and off-road sports divisions at Touratech are interlinked.
Touratech developed the Rambler in co-ordination with BMW Motorrad, and built two prototypes that only differ in colour: one in the black-grey-yellow Touratech design, and the other in classic BMW Motorsport colours: white, blue and red. The design implementation was done with clay model construction and prototyping which were carried out at TT-3D in Murnau, while the technical components were developed and manufactured at Touratech in Niedereschach, Germany.
Rambler scenicTouratech's developers combined the engine-gearbox unit from the R 1200 R Roadster model with the shaft drive from the GS, giving the Rambler a directly responsive, high-torque drive system with 125 PS. Based on the Roadster, the chassis on this model is fitted with a tele fork as standard.
The suspension has been tuned by Touratech Suspension and the use of modern materials and technologies, fairing sections made from super-lightweight aluminium tube in conjunction with carbon fibre, a titanium exhaust system, and a powerful but less heavy replacement lithium-ion battery has helped to bring the overall weight down.
Compared to the standard model, the Rambler has shed nearly 50 kilos, making it incredibly agile.
Once the motorcycle was stripped of its fairing and all unnecessary mounting brackets, the frame was reinforced for hard off-road use. The original fairing was ditched to make way for the custom airbox, with fairing made from carbon fibre reinforced plastic (CFRP), and adapted protection bars.
Behind this is a self-supporting, 16.2 litre aluminium tank, which also forms the subframe. Together with a separate plastic tank (1.8 litres) housing the fuel pump, the total tank capacity is 18 litres. The slim seat, developed in a new process by TT-3D, does not require a base plate.
Another unique feature on the Rambler is the front brake: a lightweight single-disc brake, as found on sports enduros, yet it has ABS. A CFRP engine guard panel protects the crankcase and sump when riding the Rambler to extremes over rough and rocky terrain.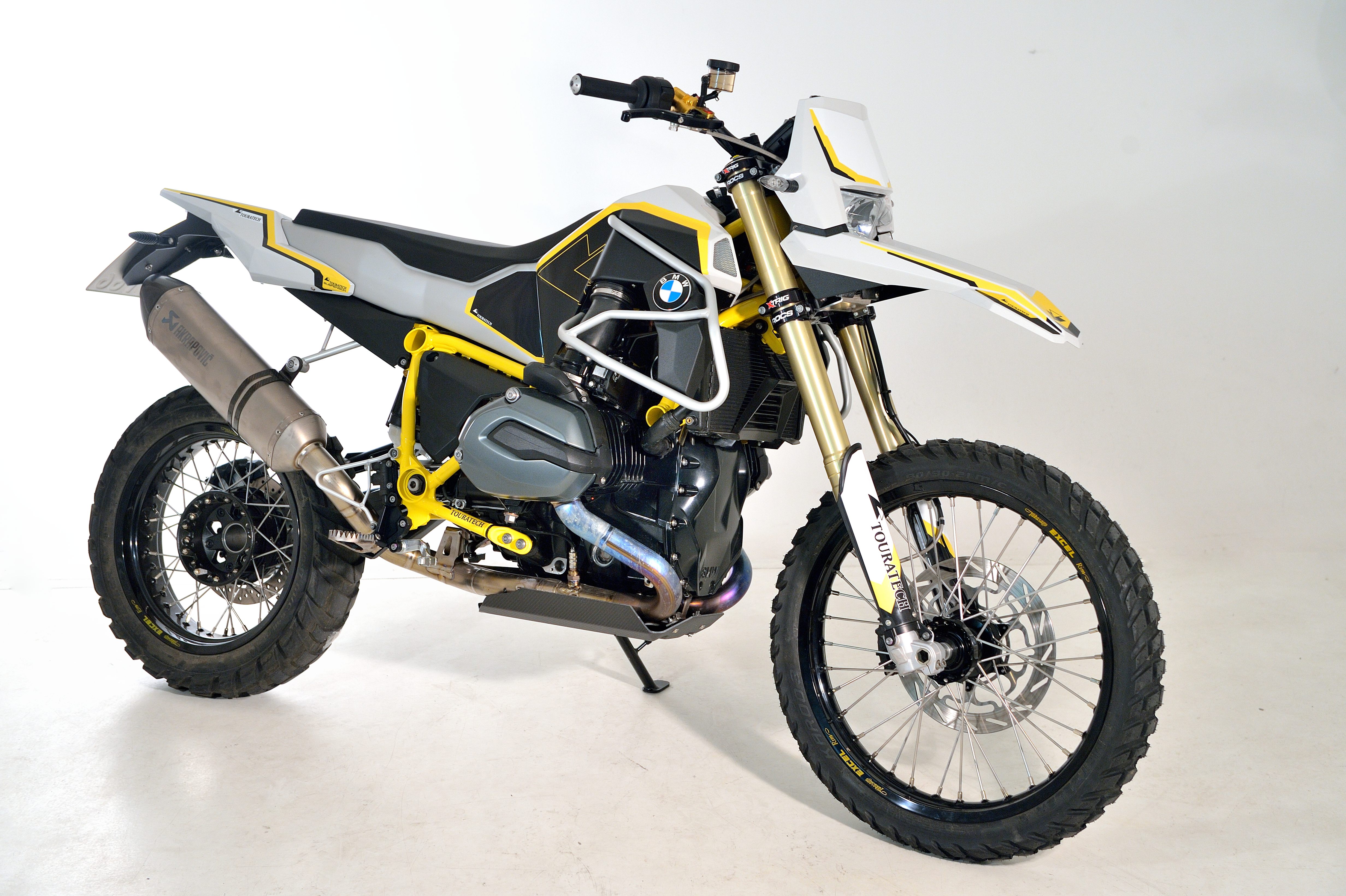 Modifications and materials:
• Airbox: carbon fibre reinforced plastic with original air filter
(Touratech / TT-3D)
• Fairing: aluminium tube construction (Touratech)
• Tank: aluminium, lowered side walls, capacity approx. 16.2 l
(Touratech / TT-3D)
• Fuel pump: in separate plastic tank (1.8 l) beneath the main tank
• Seat: enduro rally seat made from PU foam (Touratech / TT-3D)
• Frame: unnecessary mounting brackets removed
• Rear frame: aluminium with partially load-bearing function (Touratech)
• Handlebar & fittings: Magura TX handlebar, very light high-performance
radial-pump master cylinders for clutch and brake (Magura HC3)
• Triple clamp: custom-made by XTRIG
• Stem: aluminium tube construction (Touratech)
• Brakes: front: 1 x brake disc Ø 300 mm; rear: 1 x brake disc Ø 276 mm
• Brake lines: braided steel hose (Stahlflex)
• Bracket fork protector / brake hose guide: aluminium (Touratech)
• Bracket for number plate, rear light / indicators: plastic parts
(Touratech / TT-3D)
• Rear light: BMW R nineT kit
• Main headlight: BMW G 450 X kit
• Indicators: BMW R 1200 GS
• Enduro exhaust system: titanium and carbon fibre reinforced plastic,
custom-made by Akrapovič
• Rear silencer bracket: aluminium (Touratech)
• Battery: lithium-ion 12 V, 4.6 Ah
• Rear fairing: carbon fibre reinforced plastic (Touratech / TT-3D)
• Wheels: rugged Haan Excel rims (custom-made) with Metzler Karoo 3 tyres;
front:  21 x 2.15 with 90/90 R21, rear: 17 x 4.24 with 150/70 R17.
• Skid plate: carbon fibre reinforced plastic (Touratech / TT-3D)
• Sport mudguard: carbon fibre reinforced plastic (Touratech / TT-3D)
• Suspension: rear shock absorber custom-made by Touratech Suspension
(Extreme type with 200 mm spring travel)
• Forks: Original BMW F 800 GS Adventure fork with Touratech Suspension
Extreme cartridge kit (230 mm spring travel)
• Foot peg assembly: titanium foot pegs, aluminium bracket and heel guard
For further information visit the Touratech website at www.touratech.com.au