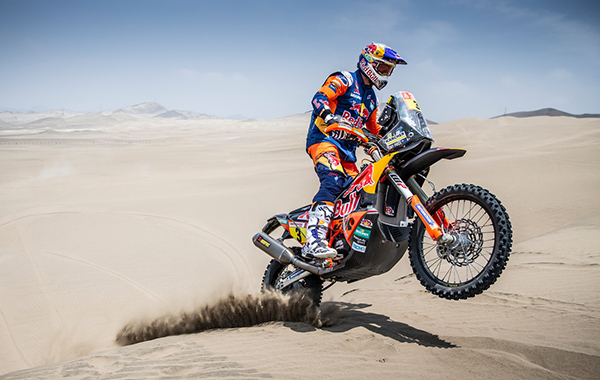 Toby Price has done it. He's battled against the elements and overcome a broken wrist to claim the overall victory in the Dakar Rally.
Price started the final 112-kilometre stage as the last motorcycle off the line, with the competitors starting in reverse of their position in the overall standings.
Pushing right from the start, Toby knew he couldn't spare a single second on the well-travelled route. Just 10 kilometres into the stage however, the Australian's nearest rival fell, leaving Price free to complete the special at a steadier pace. Putting in a champion's ride, he still pushed on to ultimately claim the stage win and with it, his second Dakar title.
In what has been a superb display of riding, determination and bravery, Price has overcome all the odds to take a well-deserved win. Breaking his wrist just weeks before the event put doubts on whether the 2016 Dakar winner would even complete the rally. Showing immense resolve, Toby took each stage as it came, riding consistently, and at the end of the 10-day event his perseverance paid off. It's been a great few months for Price and KTM – 2018 FIM Cross Country Rallies World Champion and now 2019 Dakar Rally Champion.
Toby Price: "It feels amazing to stand here knowing I have won the Dakar, I don't think it has really sunk in yet. I thought at the beginning of the event I would be lucky to even make the rest day. My Red Bull KTM bike has been amazing, I want to say a big thank you to my mechanic for that. The whole crew here do an amazing job – without them I would be no one. The team put in so much work on the lead up to the event and when we get here it's down to me out there on the track so it feels amazing to be able to reward them all with this result and keep KTM's winning streak going.
"It was so tight going into the stage this morning, both Pablo and I knew we would have to push right from the start. Unfortunately for him, he went too hard off a dune but he really deserves a win too – everyone that starts this race deserves a win. The plan now is to go home and relax for a little while, I know I need to have my wrist seen to, so I'll get that sorted and then it won't be long before we start it all over again."
OVERALL STANDINGS – 2019 DAKAR RALLY
1. Toby Price (AUS), KTM, 1:14:01
2. Jose Ignacio Cornejo), Honda, 1:16:22 +2:21
3. Matthias Walkner (AUT), KTM, 1:16:39 +2:38
4. Sam Sunderland (GBR), KTM, 1:17:20 +3:19
5. Luciano Benavides (ARG), KTM, 1:17:21 +3:20