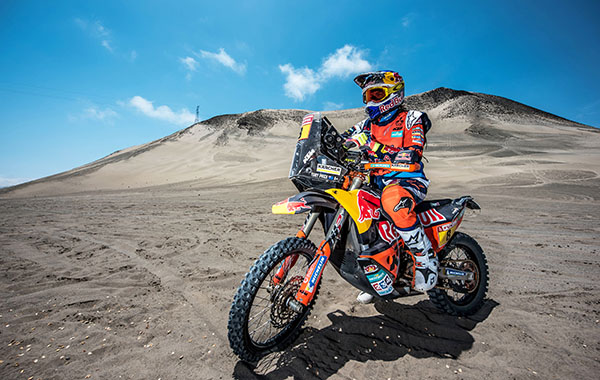 Alongside his Red Bull KTM Factory Racing team mates, Sam Sunderland and Matthias Walker, Australian Toby Price will compete in the Abu Dhabi Desert Challanege. The event is the first of a string of desert races which will ultimately lead to the Dakar Rally.
Toby Price: "I'm really looking forward to getting back on the bike and racing in the dunes again. Straight after the Dakar I had a few weeks off to let my body recover, catch up and get back to normal. As well as doing some training on the dirt bike, I rewarded myself with a bit of car racing too. I tested with Sebastian Loeb and Antoine Meo, which was a lot of fun. I also contested the Mint 400 in a truck. I'm back on the bike now though training hard and getting ready for Abu Dhabi. We expect the race to be pretty tough as it's all ridden in the sand dunes and everyone seems to push pretty hard there. Hopefully I can get a good result and then start to look ahead to the rest of the season. The goal for me is to stay fit and healthy and be ready for Dakar next year. In the past I haven't been 100% going into the Dakar, so this year I want to make sure I'm at the top of my game and do everything I can to get back on top of the podium."
The Abu Dhabi Desert Challenge commences March 24 in the United Arab Emirates. A super-special stage is then followed by five full days of racing in the Liwa Desert.