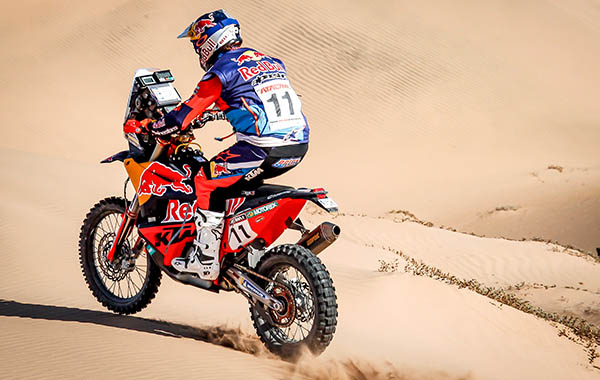 With 1,300km and five days of racing behind him, Australian Toby Price has finished in second at the Atacama Desert Race.
On board his Red Bull KTM and second away from the start of Saturday's final stage, Price knew he would have to push hard to make up time on the provisional rally leader. With the stage covering a lot of the area previously used in the rally, there were many traces left in the Chilean sand to confuse riders and upset their navigation.
Posting the second fastest time for the day, Price was less than five minutes behind the overall winner after a full week of racing in Chile. Pleased with his performance over the course of the rally, the Australian now looks forward to his next outing in Argentina.
Toby Price: "It was a good day today, it was always going to be tough to make up enough time to take the win, especially over such a short stage. Nevertheless, I'm happy with how the day and the whole rally has gone. I set out at the beginning of the event to ride consistently and get back up to speed with the bike and the navigation and I think I have managed that. To finish second after such a tricky race is good and sets me up well for Argentina. Hopefully I can deliver more of the same, stay fit and healthy and put in another good performance."
The points awarded from this year's Atacama Rally elevate both Price and Walkner in the 2018 FIM Cross-Country Rallies Championship standings – Toby to a provisional fourth with 36 points and Matthias just one place behind on 34.
Sam Sunderland, who unfortunately retired from the rally following a crash on stage four, is recovering well and hopes to be back onboard his KTM 450 RALLY as soon as he is fit enough to do so.
The next event for Red Bull KTM Factory Racing rally riders will be the Desafio Ruta 40 held in Argentina from August 25 to 31.
Provisional Results – Stage Five, 2018 Atacama Rally
1. Kevin Benavides (ARG), Honda, 1:40:10
2. Toby Price (AUS), KTM, 1:41:28 +1:18
3. Pablo Quintanilla (CHL), Husqvarna, 1:42:10 +2:00
4. Matthias Walkner (AUT), KTM, 1:42:38 +3:28
5. Paulo Goncalves (PRT), Honda, 1:43:38 +3:28
Provisional Final Standings – 2018 Atacama Rally after 5 of 5 stages
1. Kevin Benavides (ARG), Honda, 14:18:39
2. Toby Price (AUS), KTM, 14:24:04 +4:25
3. Pablo Quintanilla (CHL), Husqvarna, 14:26:06 +6:27
4. Matthias Walkner (AUT), KTM, 14:30 :00 +10:21
5. Franco Caimi (ARG), Yamaha, 14:42:26 +22:47