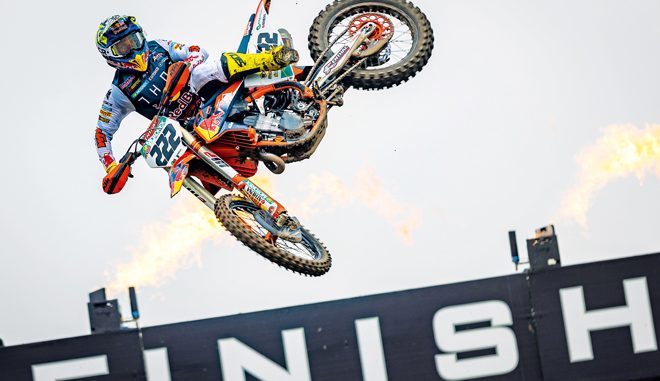 Who is on your Mt Rushmore of motocross legends?

When you think of the top four motocross riders in the world, do you think of Antonio Cairoli? Ricky Carmichael quickly comes to mind.So does Stefan Everts. Jeremy McGrath will always be the most dominant supercross rider of all time. I'm here to argue that Antonio Cairoli's name belongs alongside that illustrious trio and in front of names like James Stewart, Ryan Dungey, Ryan Villopoto and Roger DeCoster.

To research this story I Googled "The top 10 Motocross Racers of all Time" and out of a number of lists from both Europe and the US, Cairoli only appeared in a couple of them and his highest ranking was in sixth place. As you would imagine, that was a European-based article — the US have slotted him in somewhere between Ronnie Mac and Brandon from "Brandon's first race".

Stats Don't Lie
In a time when you can produce any statistic to support any argument you care to debate, the facts around Cairoli's career simply can't be ignored. His world championship career started in 2004 and now, at 36 years of age, he remains just as competitive as ever. In that time he has racked up over 270 GP starts, so there is no questioning his durability and his longevity in a sport that is brutal on mind and body. Out of those 270 GP starts, he has a 34 per cent win rate. Let me rephrase that for you: in a career spanning 18 seasons, Cairoli has won every third GP he has lined up at.

Want more? He has amassed 273 moto wins in that time. Still not sold? How about his 177 podium appearances at an amazing 63 per cent strike rate. Yes, two out of every three GPs he starts, he lands on the podium. His career points per GP is 38 out of a possible 50 at each round. The racing world marvelled at Chad Reed's amazing consistency throughout his career, but his stats faded as time went on. Cairoli has managed to keep those stats and even this year was up to his neck in the world championship battle until injury slowed his surge.

Humble Beginnings
Born in Patti, Sicily, in 1985, Cairoli wasn't a child MX prodigy. He was talented and dedicated, but he didn't burst onto the scene with the hype, pressure and instant expectation of a James Stewart, nor did he have a family legacy like Stefan Everts. Sure, he had won a cadet and junior championship in Italy as his riding developed, but that was no fast track to fame in a time when you had to earn your keep as a professional motocross racer on the gruelling GP circuit.
With the support of Yamaha, Cairoli entered the first GP of 2004 and recorded a 21st-place finish for the GP with the only points coming courtesy of a 15th in race two. But the trademark determination that built his career kicked in and the learning curve was a steep one. The following GP in Spain saw him come home in eighth, round three in Portugal and he was into the top five with a fifth place. Round four in the Netherlands saw him record his first moto podium and by the sixth round of 2004, he stood on the podium for the first time at a GP round.

His first race win came at round 11 in the Czech Republic and the boost in confidence spurred him on to win the very next GP and his first of 93 GP victories. He went from a rider who barely made the points at round one, to riding a wave of momentum throughout the 2004 season, to eventually finishing in third place for the year and cementing himself as an MX2 contender for the future.

De Carli Yamaha
Claudio De Carli formed a racing team in 1994 as his own personal riding career came to an end. It was an association with Yamaha that saw the team win a world 125cc championship with Alessio Chiodi in 1997, but it was the signing of Cairoli that really pushed the team to a new level and one that still stands today. The De Carli / Yamaha / Cairoli relationship proved to a successful one. From 2004 to 2009, Cairoli racked up three world championships, the first in 2005 including a season-long fight with Australia's Andrew McFarlane. Cairoli just missed the championship in 2006, but returned with vengeance in 2007 to claim another world title. Things were on track for a repeat in 2008 after winning four of the first nine GPs, but a torn ACL brought his season to a grinding halt — even though he still managed sixth in the championship.

The following year brought change. Cairoli stepped up to the 450 division in what was his to be his final year on a Yamaha. Rumour has it that he found the YZ450F too much to handle after years of throwing a 250F around and wanted a more rideable bike. His step up to the 450cc class was an instant success as he went on to win the championship at his very first attempt in what was believed to be a 400cc machine.

The six-year relationship between De Carli Yamaha and Cairoli bore three world championships, a second, a third and a sixth place, but the winds of change were blowing behind the scenes and the relationship was about to enter a new era.

De Carli KTM
KTM were making waves in Europe and were looking to bolster their presence and profile in world motocross. They'd already had success in the MX2 class but were after the ultimate crown, an MXGP championship.

Also, behind the scenes, KTM were developing a 350cc model for the market. Around that time there was talk of having just one major class, like Formula One, and a mid-sized four-stroke seemed to be the preferred option. Add to that Cairoli's preference for a bike that size, De Carli's team infrastructure and proven track record and KTM's want to win, and suddenly things looked a lot more orange in 2010.

They never missed a beat as they swapped manufacturers in the 2009 off-season. Cairoli proved to be the perfect fit and went on to win the 2010 World 450cc Motocross Championship, showcasing the potential of a 350cc machine at the highest level. It was a great marketing bonus that a new bike, which was to be introduced to the market in 2011, had one a championship at its first attempt.

That was the first of five world championships on the trot for Cairoli and KTM. Twenty-twelve was the most dominant season of all. He won 11 from 16 GPs that season, including seven in succession to complete the year.
As his dominance continued, many questioned if the bike Cairoli was on was still a 350cc machine. In order to quash the rumour, KTM even arranged a PR stunt that saw the bike pulled down and inspected at a GP.

But the 350cc didn't last forever. In 2015, Cairoli made the switch back to the 450 and based his logic on two reasons. The first was that the 2016 KTM range saw significant updates and he felt that package had the potential to suit him going forward. The second was the tracks on the GP circuit; the Italian felt the tracks had become faster, simpler and less technical, so he wanted a bike that had more power. The 350 was parked and the 450 rolled out.

In 2015, Cairoli was right in the championship hunt at the mid-way point of the season only to suffer a fractured elbow at his home GP. The following year saw him right in the fight, eventually finishing second, before rebounding for his ninth world title in 2017. Despite not winning a world championship since the 2017 season, he has remained ultra-competitive. He finished on the podium 14 times out of 19 rounds contested in 2018 on his way to second place. He also had four round wins and two second places in the opening nine rounds of 2019 until a shoulder issue put an end to his season.

Even in 2021, and facing a field that includes Herlings, Gajser, Prado, Febvre and Coldencoff, he is still a constant threat and has picked up four podiums in the opening five rounds.

Low-Key
Tony, as he is known in the paddock, isn't one to seek headlines or cause controversy. Over the years there has been rumoured tension between he and some of his teammates, but none of that has ever gone public. The fact that Cairoli and Herlings have never been on the same team while in the same class adds fuel to the fire, same with Cairoli and Prado. But while that might have been a managerial nightmare for KTM and the team members, all parties have been professional enough to keep it under the rug.
The End is Near
During this season, Cairoli announced his retirement from full-time racing at year's end. But like everything in the Cairoli career, there was still more magic to come. He captained the Italian team in the Motocross of Nations and in a drama-filled weekend, he added another highlight to an already outstanding career by taking the narrowest of wins over the Netherlands and arch-rival Jeffery Herlings.

When asked at the end of racing if this would be his last MXoN and whether the success makes up for not winning that elusive 10th World GP crown, Cairoli had this to say: "Yes, I am really happy, but this isn't my last 'Nations. I will do more, and I really enjoy this race, and one race a year is possible. I will be ready to race again next year and put the number-one plate on the MXGP bike."

So the ride might not be over, it's just slowing down a little. Regardless of if it all stops tomorrow, his legacy will live forever. He might not have been a pioneer taking MX to the world, a record-breaking winning machine or a guy who reinvented the way we ride a dirtbike. He was just an Italian kid who worked hard and rode a motocross bike faster than anyone else on the planet for nine years. And there is nothing wrong with that!

He will comfortably sit among the icons of MX. Along with Carmichael, McGrath and Everts, he has been one of those riders that was simply a cut above their opposition at the time. He is more than welcome to pull up a chair at my Mt Rushmore of MX.