WE HAVE TEAMED UP WITH SUZUKI AUSTRALIA TO OFFER ONE LUCKY MOTO-NUT THE CHANCE TO BE THE ENVY OF ALL THEIR MATES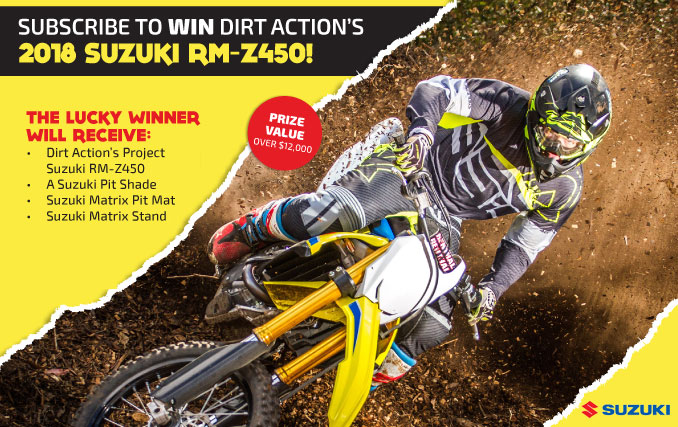 Entry into the draw to win Suzuki's all-new RM-Z450 couldn't be easier. This isn't an ordinary RM-Z, over the coming months, the yellow-beast is getting the DIRT ACTION project bike treatment! Aftermarket accessories, trick parts and one-of-a-kind custom graphics kit – this bike is going to be epic!
To enter, all you have to do is fill in the form below. Every individual sign-up to our e-newsletter counts as a single entry.
5 entries – 3 issues
10 entries – 6 issues
20 entries – 12 issues
The Dirt Action Project Bike Suzuki RM-Z450 Giveaway Competition commences on Thursday 23/11/2017. Entries close and must be received by 23:59 AEST Thursday 07/06/2018 Authorised under: ACT TP 17/02295, NSW Permit Number LTPS/17/19505, SA Permit Number T17/2146. Submission of an entry is deemed acceptance of the Terms and Conditions of entry.