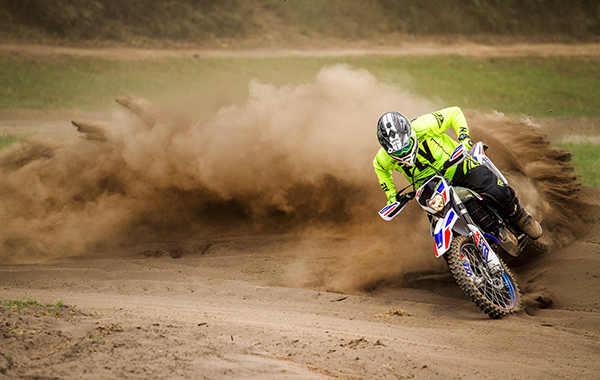 STORY BY ASHENHURST
PICS BY SHANE BOOTH/MATT BERNARD/ ASHENHURST
Sherco is on something here. You know those moments when a manufacturer gets a bike so right? This is that moment for Sherco with the Sherco 450 SEF SIX DAYS. I rode the standard model some months ago and found it to be a nice 450 but nothing about it really spin my beanie. The Six Days however is on another level and for anyone at or over the intermediate level this bike has so much to offer and absolutely stands tall against the competition.
GIVE US A SICK POIP
Sherco introduced a 450 to its stable in 2015 and to take a snap-shot of how far it's come in that time with a heap in in-house research and development, you gotta be impressed. The Six Days models are released to celebrate…you guessed it, the Internationals Six Day Enduro, which is just about the last traditional international enduro event that anyone gives a shit about.
Much of what's different to the standard 450 SEF-R is functional but not critical. The seat cover and new handlebar shape along with the blue rims and anodized rear sprocket aren't going to make this a better bike or help you ride faster. In this case the new colour scheme is there to pay homage to the home of the 2017 ISDE which was in France. The Aussie blokes came second to the home country last year which has nothing to do with this bike but it's always worth mentioning, while our Women's team won yet again like the legends they are.
Where the 450 SER Six Days distinguishes itself is through the Akrapovic system and WP XPlor fork, but it's also worth mentioning here that all the upgrades that appear on the standard 2018 450 SEF-R are also present on the Six Days and there are plenty of those alone so the 2018 is a pretty fresh machine.
REAL ENDURO
The engine note is quite possibly the ballsiest of any 450 on the market right now. The bike absolutely growls and sounds wicked on the pipe or at idle without getting too loud. The ergos are very Sherco, with a somewhat small seat to footpegs to 'bars triangle but we didn't feel cramped nor that it was difficult to move around.
We rode a pretty good variety of terrain and the first thing to stand-out was the engine. The Akro system makes a huge difference and running the engine mapping on aggressive gives you a bike that's not a ridiculous bolter but instead a torquey beast that's working with you to keep power on the ground and on a grass track this would be a tough bike to beat corner to corner. It's refreshingly an enduro engine – not a motocross engine trying to sell you horsepower figures and time spent with the front wheel off the ground.
GO RACE YOUNG MAN
We rode with standard suspension settings for half the day but found the front was diving under breaking so we wound up the pre-load by two clicks (the XPlor fork is the up-specced version that Husqvarna runs but with Sherco valving), and this made a world of difference. Now we were on a bike that we would happily line up against the more popular competition and at pace with experienced riders the Six Days would absolutely hold its own and we're pretty sure it would knock off at least one or two of the more fancied machines. The Sherco loves to be ridden hard and while we might look for a slightly less active shock feel in tracks with a lot of rocks, there was bugger-all we agreed on that had to change to get the best from the bike. You could buy this and enter an enduro the following weekend without feeling like you're going in under-gunned.
NO FRINGE DWELLER
As a stock bike the 450 SER Six Days is an awesome package. The Synerject EFI gives you a smooth and connected feel, while the super torquey engine is up for anything from single trail to grass track. It's a fun bike but a serious bike at the same time. It's not here to plod around – as we mentioned before it's a bike for the experienced rider and anyone else would be better served on the standard 450 SEF-R which is more forgiving.
The Six Days come are available in limited numbers. Find a dealer and check one out in person or look for a ride day coming your way through the Sherco website because this is a well bike worth considering against the big guns.
SIX DAYS UPGRADES
• Selle Dalla Valle "Asfalte" Grip Seat Cover
• WP XPlor Fork With Spring Preload Adjustment
• Solid Rear Disc
• New Handlebar Shape (more competition-oriented)
• Black Anodized Rear Sprocket
• Full Akrapovic "Factory" Exhaust System
• Blue Excel Rims
450 UPGRADES FOR 2018
• New WP 46 rear shock
• Easier to access/open radiator cap
• New seat material for better grip
• UV resistant in-mold graphics
• 20% more flex in plastics
• Rear mud guard reinforced
• Trip computer water resistance improved
• Headlight assembly durability improvements
• Improved rim locks
• New shift fork rollers
• Selector drum modified for smoother shifts
• Stronger gear selector spring
• Oil circuit system modified
• Clutch reinforced
• Cylinder head redesigned/reinforced