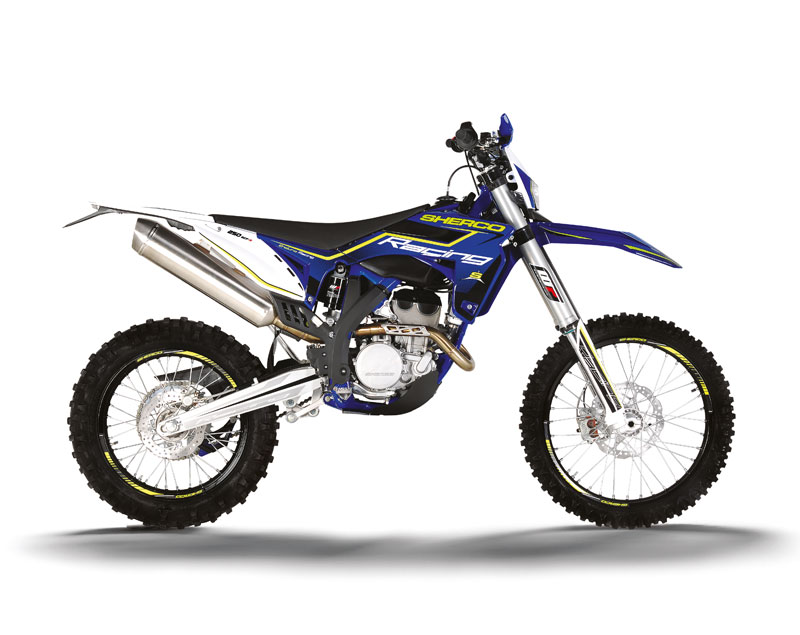 Ultimate Off Road Round Up: We test a bunch of bikes considered the best of the best in the trails.
Story Damien Ashenhurst | Photography iKapture/ Damien Ashenhurst/ Matt Bernard/ Shane Booth
The 250 two-stroke enduro bike at times falls in an odd-position between the 200cc and 300cc capacities. The Sherco 250SE-R has reclaimed the glory of this capacity with this electronic power-valve equipped 250cc machine.
The basis of its success is the well-designed chassis. The bike is agile and light between the trees, and it feels smaller than most, yet is comfortable. Within five or 10 minutes of riding the Sherco 250SE-R you become accustomed to the smaller cockpit.
Its engine is potentially the best 250 enduro powerplant yet. The electronically controlled power-valve allows for better altering of the power-delivery via the mapping switch on the handlebars. It's like two completely different dirt bikes in one, the power of the mild setting is flat, usable and difficult to get overly excited about, but suited to technical and difficult terrain. Flick that switch and a claimed 7hp of power is unearthed in exciting two-stroke nature.
The Sherco 250SE-R is also dribbled in the best go-fast gear including Brembo brakes, FMF pipe and a hydraulic clutch.
Opinion 1
Man, this is a cool bike. It's everything you want in a 250 two-stroke and much more. The chassis/suspension combo is brilliant and that pays off with a superbly balanced machine that's complemented by a cracker of an engine. The electronic power-valve shows its hand with the ultra-smooth delivery and amazingly measured throttle response. I like the Kato 250EXC, but this bike has something else about it that stands out – that X-factor you find in memorable machines. It feels like a powerful 125 that even a muppet like me can ride fast and it doesn't get much more fun than that. – Damien Ashenhurst
Opinion 2
This bike is brilliant on the trails. It handles well, has an excellent engine and all the quality parts you'd expect from a European motorcycle. The hard and soft mapping switch blew me away; it was like having two completely different bikes within one. When a slippery hill came I flicked it to soft, then when it opened up I flicked to hard and hung on! – Matt Bernard
Three Top Tips
Replace the stock grips.
Fit more robust hand-guards.
Consider softer/taller seat foam.
The Competition
HUSQVARNA TE250
The reason we've picked the Husky here is that the Sherco feels closer to a race bike than the KTM – just like the Husqvarna. Ultimately though, the Sherco gives you goodness you can't find anywhere else, while the Husky is derivative of the KTM.
THiS INSURANCE QUOTE
$373.50
Price
$11,590 +ORC