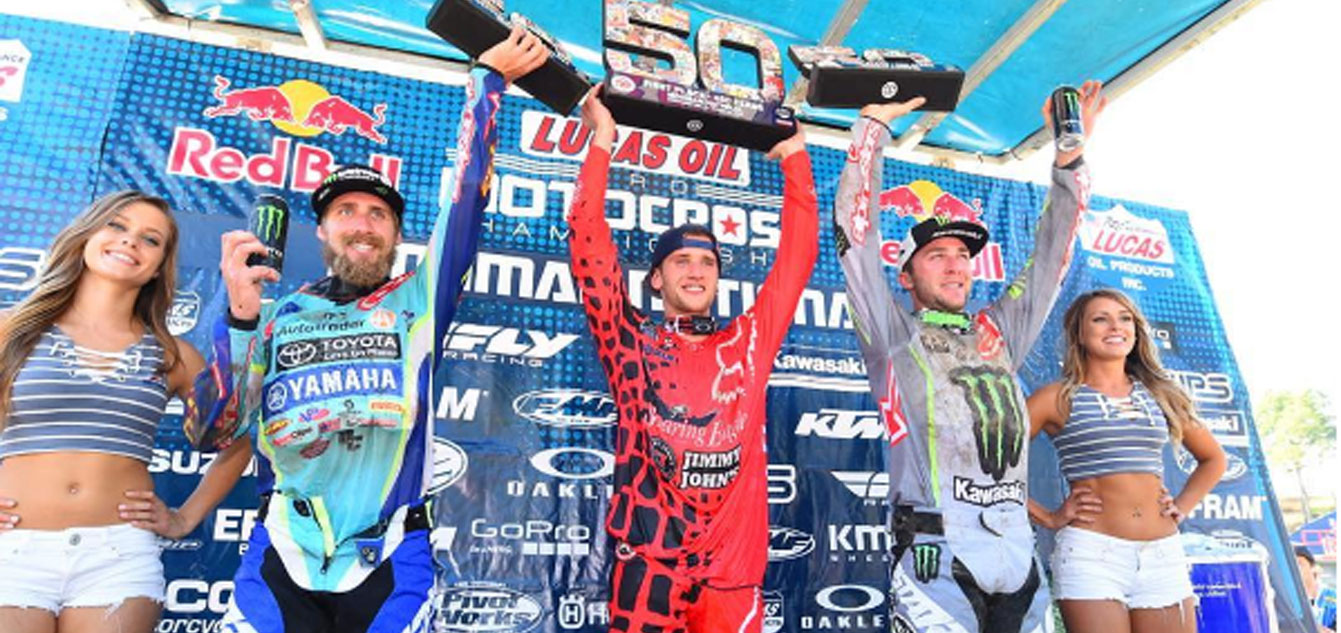 The twelfth and final round of the Lucas Oil Pro Motocross Championship has come to a fitting conclusion in Indiana.
By Hayden Gregory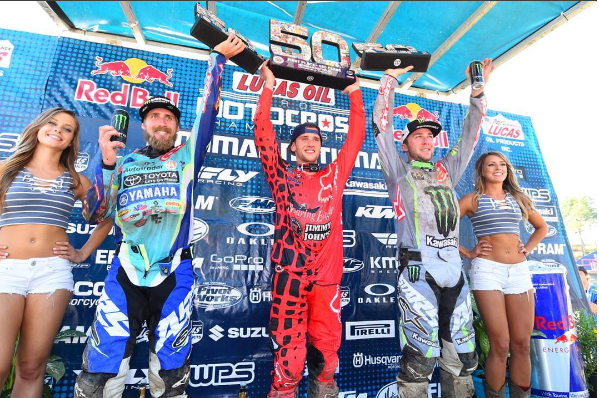 Ken Roczen has finished the season on a high winning both motos despite already wrapping up the 450 championship last weekend.
In the opening moto the RCH Soaring Eagle/Jimmy John's/Suzuki Factory rider claimed the holeshot in a dangerous sign for the rest of the field. Justin Barcia was able to keep Roczen in sight for a few laps before the champ began to pull away. In third place Marvin Musquin managed to hold his position up until the halfway point of the moto when Kawasaki's Eli Tomac surged past.
For the second half of the race positions would remain unchanged with Roczen claiming a wire to wire victory, his 19th moto win of the season ahead of Barcia and Tomac.
In his final race of a 16 year career, Andrew Short had a reason to celebrate claiming the holeshot in moto two, just ahead of Barcia and Tomac. A few moments later Roczen joined the party and made quick work of the trio screaming to the front. Barcia moved into second while Musquin once again rode into third position. In extremely similar circumstances Tomac was able to run down Musquin just after the halfway point relegating the Frenchman to fourth.
Roczen was incredible out in front leading every single lap of the weekend to finish the series as undisputed champion for 2016.
"It ended up being a beautiful day today. It was a little sloppy in the morning but the track dried out all day. I got two awesome starts and just put in a good charge," said Roczen. "I went for another win because we wanted to finish the season off strong and not slack off. It was really tough to stay motivated, but I knew we had another race this week. I ultimately knew I would come here mentally ready and I couldn't be happier to end the season this way and move on to the offseason feeling like we did everything we came here to do this summer." 
Justin Barcia rode his best round of the year to claim second (2-2) while Tomac rounded out the podium in third (3-3).
In 250 racing, Austin Forkner got the pick of the starts in moto one claiming the holeshot ahead of Mitchell Oldenburg and Cooper Webb. The newly crowned champion moved up into second place a few laps later before tipping over in a corner and losing a number of positions.
Forkner continued to pull away on the clear track while Webb began to claw back from outside the top ten. By lap nine Webb had made his way all the way back into fourth place before tipping over again while trying to make a pass on Martin.
Rookie Forkner cruised to the second moto win of his career, 29 seconds ahead of Savatgy in second. Despite some late pressure from Webb, Martin was able to hold on for third.
In the second moto, Forkner once again scored the holeshot before Aaron Plessinger quickly found his way into the lead. The duo began to pull away from the field swapping positions a number of times over the opening few laps. In third Webb was having a close battle with teammate Martin before he eventually got his measure and scored some breathing room
Lap nine provided drama with Forkner crashing while in the lead. As a result Plessinger shot to the front, going on to remain unchallenged for his first moto win of the season. Webb finished in second place while Forkner was able to recover for third.
A 1-3 scorecard was enough for the rookie to be awarded round victory, the first of his career and no doubt the first of many.
"In the first moto I told myself not to look back because then I start thinking too much. I didn't [look back] until late and figured there's got to be someone behind me, but I was surprised to see I was up 23 seconds according to my mechanic. From there I just put it in cruise control and focused on hitting my lines," said Forkner.
"In the second moto I got a good start but Aaron [Plessinger] got by me. I just tried to follow him and he messed up, so I got by. He got close to me so I knew I had to try and get some breathing room, and I ended up going down. I had to ride the rest of the moto basically with one eye because I got some sweat on the inside of my goggles. Cooper [Webb] ended up getting by me and I didn't really put up a fight. I just put it in cruise control because I was pretty sure I got it [the overall]."

Aaron Plessinger claimed second for the national followed by Webb in third.
The 2016 250 Motocross Championship finished with Webb out in front by 73 points. Alex Martin claimed a career best result in second while Savatgy clinched third a further 49 points back.
Lucas Oil Pro Motocross Championship – Ironman National – Indiana
450 Class Overall Results (Moto Finish)
Ken Roczen, Germany, Suzuki (1-1)
Justin Barcia, Monroe, N.Y., Yamaha (2-2)
Eli Tomac, Cortez, Colo., Kawasaki (3-3)
Marvin Musquin, France, KTM (4-4)
Jason Anderson, Rio Rancho, N.M., Husqvarna (5-5)
Phil Nicoletti, Cohocton, N.Y., Yamaha (6-8)
Weston Peick, Menifee, Calif., Yamaha (8-7)
Matt Bisceglia, Tualatin, Ore., Suzuki (11-6)
Fredrik Noren, Sweden, Honda (9-9)
Benny Bloss, Oak Grove, Mo., KTM (7-11)
450 Class Championship Standings
Ken Roczen, Germany, Suzuki – 584
Eli Tomac, Cortez, Colo., Kawasaki – 498
Marvin Musquin, France, KTM – 401
Justin Barcia, Monroe, N.Y., Yamaha – 360
Phil Nicoletti, Cohocton, N.Y., Yamaha – 229
Benny Bloss, Oak Grove, Mo., KTM – 228
Christophe Pourcel, France, Husqvarna – 217
Weston Peick, Menifee, Calif., Yamaha – 197
Andrew Short, Colorado Springs, Colo., KTM – 197
Fredrik Noren, Sweden, Honda – 192
250 Class Overall Results (Moto Finish)
Austin Forkner, Richards, Mo., Kawasaki (1-3)
Aaron Plessinger, Hamilton, Ohio, Yamaha (8-1)
Cooper Webb, Newport, N.C., Yamaha (5-2)
Alex Martin, Millville, Minn., Yamaha (3-4)
Adam Cianciarulo, Port Orange, Fla., Kawasaki (6-5)
Arnaud Tonus, Switzerland, Kawasaki (4-9)
Mitchell Harrison, Brighton, Mich., Yamaha (10-6)
Mitchell Oldenburg, Alvord, Texas, KTM (7-13)
Joey Savatgy, Thomasville, Ga., Kawasaki (2-34)
Justin Hill, Yoncalla, Ore., KTM (15-7)
250 Class Championship Standings
Cooper Webb, Newport, N.C., Yamaha – 495
Alex Martin, Millville, Minn., Yamaha – 422
Joey Savatgy, Thomasville, Ga., Kawasaki – 383
Austin Forkner, Richards, Mo., Kawasaki – 376
Aaron Plessinger, Hamilton, Ohio, Yamaha – 351
Jeremy Martin, Millville, Minn., Yamaha – 321
Zach Osborne, Abingdon, Va., Husqvarna – 312
Adam Cianciarulo, Port Orange, Fla., Kawasaki – 266
Arnaud Tonus, Switzerland, Kawasaki – 243
Mitchell Oldenburg, Alvord, Texas, KTM – 237