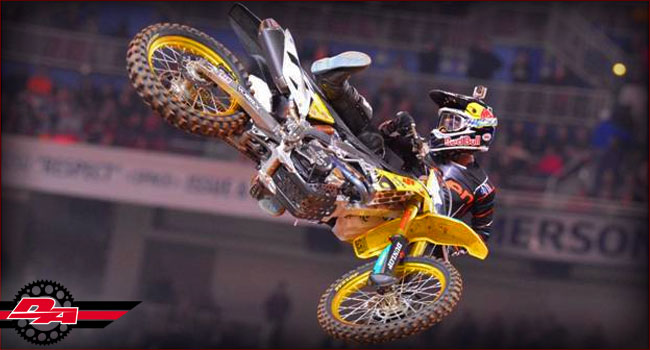 Stewart Soars to Fifth Monster Energy Supercross Race Win and 50th of his Career
Davalos Leads Wire to Wire to Win 250SX Class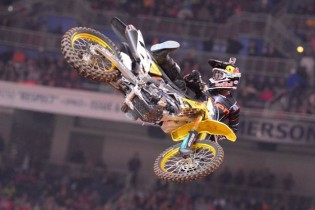 ST. LOUIS (March 29, 2014) – Before a record-breaking 60,213 fans at the Edward Jones Dome, Yoshimura Suzuki's James Stewart won his third consecutive Monster Energy AMA Supercross, an FIM World Championship, race, marking the 50th win of his career. Monster Energy/Pro Circuit/Kawasaki's Martin Davalos led all 15 laps to win the Eastern Regional 250SX Class Main Event and extended his championship points lead to eight.
Smartop/Motoconcepts Racing's Mike Alessi captured the Nuclear Cowboyz® Holeshot Award in the 450SX Class Main Event. Trailing Alessi through turn 1 was Monster Energy Kawasaki's Ryan Villopoto and Stewart in second and third respectively.
Villopoto quickly passed Alessi and held onto the lead until Lap 10 when Stewart made a pass for the lead in the corner before the finish line. Stewart rode to his fifth win of the season and leads the 450SX Class with most wins.
"This is a special night for me," said Stewart. "This year I have been having a lot of fun winning races. Tonight was a great race for me; I was able to make the pass and ride to my 50th win. That is huge for me. I never thought I would win 50 of these races."
Villopoto finished second and has eight podium finishes this season.
"It's all about the big picture and the championship for me," said Villopoto. "I can't afford to make any big mistakes. I was able to get a good start and put in some good laps early on."
Team Honda/Muscle Milk's Justin Barcia earned his third podium of the season with a third-place finish.
Davalos jumped out to an early lead in the Eastern Regional 250SX Class Main Event to win the Nuclear Cowboyz Holeshot Award. On his back wheel, Yamaha's Alex Martin and GEICO Honda's Justin Bogle followed in second and third respectively. On Lap 3, Bogle moved into third as JAB Motorsports' Matt Lemoine secured third place.
Lemoine crashed on Lap 5 and gave up his podium position, allowing GEICO Honda's Matt Bisceglia to take over third place. Monster Energy/Pro Circuit/Kawasaki's Blake Baggett used a pass on Lap 7 to secure the number-three position.
"This was a tough race tonight," said Davalos. "Again, the start was key, and I was able to get the early lead and hold on. I want to enjoy this win and go back and keep working hard.
Bogle made a late-race charge on Davalos, but a few mistakes allowed Davalos to score his first win in St. Louis. Bogle finished second and Baggett finished third.
"I made some passes and moved into second place but then made a few mistakes," said Bogle.
450SX Class Results: St. Louis
1.     James Stewart, Haines City, Fla., Suzuki
2.     Ryan Villopoto, Poulsbo, Wash., Kawasaki
3.     Justin Barcia, Pinetta, Fla., Honda
4.     Ken Roczen, Murrieta, Calif., KTM
5.     Trey Canard, Edmond, Okla., Honda
6.     Eli Tomac, Cortex, Colo., Honda
7.     Josh Hill, Yoncalla, Ore., Suzuki
8.     Andrew Short, Smithville, Texas, KTM
9.     Ryan Dungey, Belle Plaine, Minn., KTM
10.  Nick Wey, Dewitt, Mich., Kawasaki
 450SX Class Season Standings
1.     Ryan Villopoto, Poulsbo, Wash., Kawasaki, 268
2.     Ryan Dungey, Belle Plaine, Minn., KTM, 233
3.     James Stewart, Haines City, Fla., Suzuki, 232
4.     Ken Roczen, Murrieta, Calif., KTM, 215
5.     Justin Brayton, Cornelius, N.C., Yamaha, 196
6.     Justin Barcia, Pinetta, Fla., Honda, 176
7.     Andrew Short, Smithville, Texas, KTM, 166
8.     Broc Tickle, Holly, Mich., Suzuki, 126
9.     Wil Hahn, Menifee, Calif., Honda, 122
10.  Chad Reed, Dade City, Fla., Kawasaki, 111
Eastern Regional 250SX Class Results: St. Louis
1.     Martin Davalos, Cairo, Ga., Kawasaki
2.     Justin Bogle, Cushing, Okla., Honda
3.     Blake Baggett, Grand Terrace, Calif., Kawasaki
4.     Kyle Cunningham, Aledo, Texas, Honda
5.     AJ Catanzaro, Portland, Conn., Honda
6.     Cole Thompson, Brigden, Ontario, KTM
7.     Matt Bisceglia, Weatherford, Texas, Honda
8.     James Decotis, Peabody, Mass., Honda
9.     Alex Martin, Millville, Minn., Yamaha
10.  Gannon Audette, Tallahassee, Fla., Kawasaki
Eastern Regional 250SX Class Season Standings
1.     Martin Davalos, Cairo, Ga., Kawasaki, 149
2.     Justin Bogle, Cushing, Okla., Honda, 141
3.     Adam Cianciarulo, Port Orange, Fla., Kawasaki, 120
4.     Blake Baggett, Grand Terrace, Calif., 100
5.     Vince Friese, Cape Girardeau, Mo., Honda, 100
6.     Kyle Cunningham, Aledo, Texas, Honda, 94
7.     Cole Thompson, Brigden, Ontario, KTM, 89
8.     James Decotis, Peabody, Mass., Honda, 65
9.     Matthew Lemoine, Pilot Point, Texas, Kawasaki, 74
10.  Alex Martin, Millville, Minn., Yamaha, 72