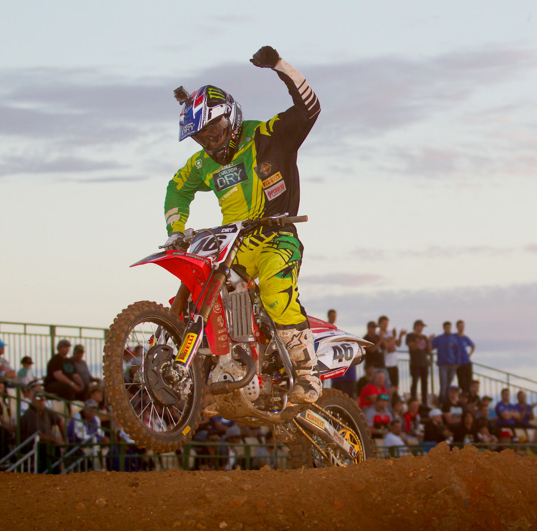 Peick  takes championship lead with victory at Phillip Island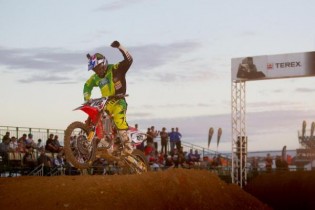 Carlton Dry Honda Racing's Weston Peick and Gavin Faith emerged victorious after an action packed fourth round of Milwaukee presents the Terex Australian Supercross Championship at the Tissot Australian Motorcycle Grand Prix today.
Peick won the 20-lap Pro Open final ahead of Hart & Huntington/Insure My Ride/DPH Motorsports Suzuki rider Josh Hill and Kawasaki's Brett Metcalfe, who was competing in his first event on Australian soil in seven years.
The race for the Pro Open title blew wide open with Team Motul Pirelli Suzuki rider Matt Moss and Motorex KTM rider Daniel McCoy both involved in a spectacular multi-rider crash on the opening lap.
Peick was mid pack off the start, but worked his way to the front in the early stages of the race, lapping consistently to take the win.
"I had a great day," Peick said. "The morning was a bit rough, we were trying to find traction and get the bike setup but it really came together for the main.
"The track started to deteriorate quite a bit so I tried to keep it as smooth as possible and being consistent paid off.
"It has been a good day I got the team on the top spot of the podium. We will run with the same game plan tomorrow," Peick added.
Just five points separate the top three in the Pro Open Championship standings with Hill only two points behind second placed Jake Moss.
"It was a crazy race tonight, the sun was just setting right when we went out and vision was real tough," Hill explained.
"Everyone was having to be slightly cautious and the guys that weren't didn't have very good races.
"I started out in fourth and then tried to make a pass on Jay Marmont and clipped his rear tyre and just about fell over so I had to start my charge again," he continued.
In the Pro Open class, Faith holeshot the final and led from start to finish, taking the victory ahead of Raceline Suzuki rider Ryan Marmont and Serco Yamaha rider Luke Styke.
Styke, who rode a brave final, nursed a shoulder injury through out the 15-lap race. The Yamaha rider maintains the Pro Lites championship lead with just two points separating him and race winner Gavin Faith.
"It was a good first night here at Phillip Island," Faith said. "I holeshot both the heat and the main and I think that was the difference tonight.
"Getting out at the start meant I could ride my own race out front and this was crucial with the dusty conditions and sun in your eyes.
"We will move forward to tomorrow and see if we can do the same thing," he added.
Kawasaki's Meghan Rutledge won both of today's EVE Australian Women's Supercross races to take her second consecutive overall ahead of Yamaha rider Jessica Patterson. Honda rider Sayaka Kaneshiro rounded out the podium.
Top Ten Pro Open Results – Round 4 (Australian Motorcycle Grand Prix)
1. Weston PEICK (Honda) 25
2. Josh HILL (Suzuki) 22
3. Brett METCALFE (Kawasaki) 20
4. Jake MOSS (Suzuki) 18
5. Jay MARMONT (Kawasaki) 16
6. Sam MARTIN (Suzuki) 15
7. Daniel McCOY (KTM) 14
8. Hayden MELLROSS (Honda) 13
9. Lewis WOODS (Suzuki) 12
10. Jacob WRIGHT (Honda) 11
Top Ten Pro Open Championship Standings (After Rd 4 of 6)
1. Weston PEICK (Honda) 83
2. Jake MOSS (Suzuki) 80
3. Josh HILL (Suzuki) 78
4. Matt MOSS (Suzuki) 76
5. Jay MARMONT (Kawasaki) 64
6. Daniel McCOY (KTM) 63
7. Sam MARTIN (Suzuki) 49
8. Kade MOSIG (Yamaha) 40
9. Kirk GIBBS (KTM) 31
10. Lewi WOODS (Suzuki) 29 Top
Ten Pro Lites Results – Round 4 (Australian Motorcycle Grand Prix)
1. Gavin FAITH (Honda), 25
2. Ryan MARMONT (Suzuki), 22
3. Luke STYKE (Yamaha),  20
4. Brenden HARRISON (KTM), 18
5. Dylan LONG (KTM), 16
6. Kayne LAMONT (KTM), 15
7. Taylor POTTER (VIC), 14
8. Nicholas GECK (QLD), 13
9. Tristen CACHIA (Honda), 12
10. Rhys DORREEN, 11
Top Ten Pro Lites Championship Standings – (After Round 4 of 6)
1. Luke STYKE (Yamaha)92
2. Gavin FAITH (Honda) 90
3. Ryan MARMONT (Suzuki)80
4. Dylan LONG (KTM) 64
5. Kayne LAMONT (KTM) 54
6. Taylor POTTER (Honda) 54
7. Brenden HARRISON (KTM) 49
8. Luke ARBON (Yamaha) 48
9. Nickolas SUTHERLAND (NSW) 42
10. Luke WILSON (QLD) 38