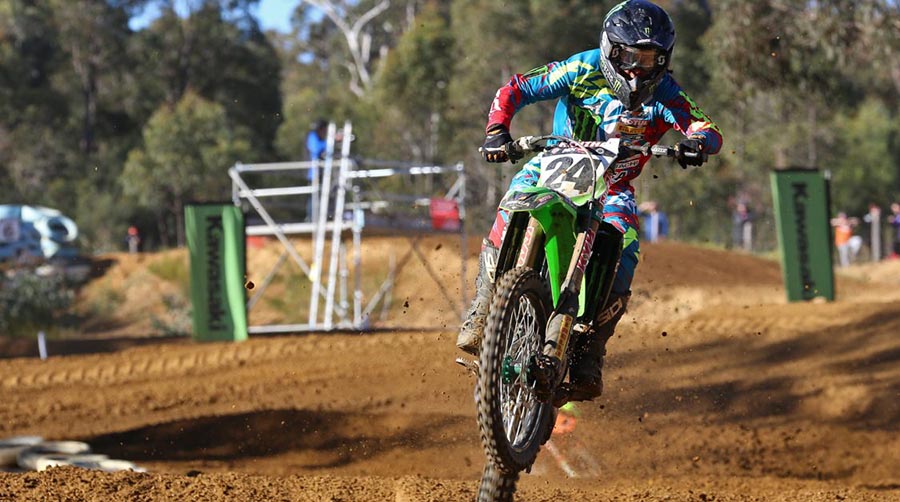 1. Is that the best Brett Metcalfe has performed this year? Can he beat Ferris?
Brett raced well at Murray Bridge and showed that he will still be a factor in race and round wins even though there is no hope for a championship. And if you have followed Brett's career, you would know that he is a hard working, dedicated professional that rides with an never say die attitude so you can never count him out.

If you look through the lap times in race one, his had the fastest lap and continued at a good speed through the moto, even while in traffic. Moto two he had a better start but never got to the front as quickly as Dean did but he showed that in terms of raw speed, he can run with Dean.

Now with the stability of a team behind him and as he grows more familiar with the Kawie, he will continue to be a factor in MX1 racing. He has good speed, good fitness and now a good bike underneath him, the only thing I think Ferris has over him at the moment is some confidence and  Dean is also race hardened. But hopefully this will make for some great racing at the remaining rounds.



2. Will we see the tracks suit Egan Mastin from this point on?
Next up is Shepparton and possibly the hardest track for Egan. It has a concrete start gates which will make it hard to get the two stroke off the line, especially if it is wet or even heavy due as it is difficult to try out and secondly, it is a moist, rutty track.

Egan has traditionally found wet conditions tough and the Shepparton track has been plowed deep and wet the last few years. Of the last four remaining tracks, I think this will be his most challenging but I have been into the MX2 race this year as there are so many riders still capable of winning races, rounds and the championship.


3. What's happening with Todd Waters? He doesn't seem to be 100 percent on track?
Todd has put himself in a tough position. At the end of last year and a not so great season by his standards, he made a lot of changes to his program- all of what he wanted. He got the brand of bike he wanted to ride, he got the team technician he wanted and also the mechanic he wanted but his results haven't lived up to both what he and the general industry expected.

In his defence, there has been issues behind the scenes with his health. He rocked up at round one with a moon boot on after an incident in New Zealand so imagine his riding and training were hampered throughout the first half of the championship.

I know they made some progress with the bike during the break and he showed some good speed at Nowra taking the win in Superpole but then he had a wheel issue ion moto one. Some years are just tough and Todd is going through one know. His talent and ability haven't gone anywhere so all he can do is continue to work hard, make common-sense decisions in his racing and the wheel will eventually turn.