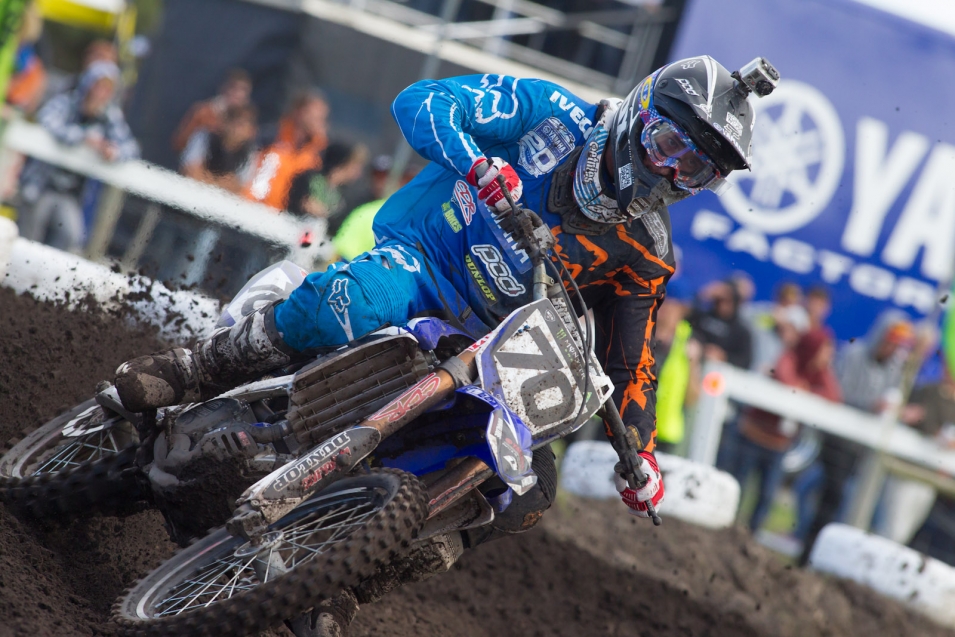 The CDR Yamaha team enjoyed another successful weekend with Lawson Bopping breaking through for his debut podium result for the team while Josh Coppins showed his experience and maturity in a typical performance from the gritty Kiwi as he maintains a 20 point lead at the top of the MX1 championship.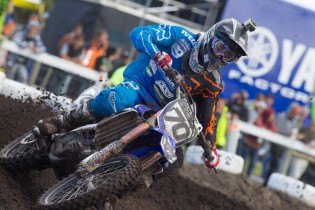 Wonthaggi, in Gippsland Victoria, hosted round three of the Monster Energy MX Nationals under clear skies and on a perfectly prepared racing surface. Both CDR riders raced with plenty of spirit and finished third and fourth for the round.
It only took three rounds for Lawson Bopping to stand on the podium with his new CDR Yamaha team. After showing plenty of speed at the opening two rounds, Bopping finally cashed in on his obvious talent with a third place finish for the round.
His race results of 2-3-6 totaled 57 points with each race filled with fast laps as he passed some of the most established names in Australian motocross in his charge forward. His good days' work has also seen him move to fifth in the championship and just a hand full of points away from third.
"I'm pumped about today and really happy to stand on the podium for the first time with the CDR team. It's been great working with the team and I feel we are all gelling well and its starting to show in the results."
"I also enjoyed racing today as we had some great battles. I like being involved in good racing and it seemed like I was in a great battle every race, so that was cool," Bopping ends.
Coppins went into the third round with a 24 point lead and despite not getting a podium position for the day, left relatively unscathed in the championship chase only dropping four points to his nearest rival. Coppins was always in the hunt during each of the three races but just couldn't find that last one percent to get his way into the lead.
Still his 4-5-2 result were another consistent day at the office for the worldly experienced Coppins and sees him in good stead as the championship moves forward.
"It was just an okay day for me," Coppins states at days' end. "I was always thereabouts but never able to get myself to the front. But the day didn't do too much damage in the championship although I do want to work on a couple of things prior to the next round."
With his riders sitting first and fifth in the championship after three rounds, team owner Craig Dack is optimistic about things as the championship heads towards the half way mark.
"I'm really excited about Lawson getting his first podium for the team and we could see him building to it in the previous rounds. He has amazing raw speed and we are starting to harness it and turn it into results."
"Josh continues to be the consummate professional and always grinds out good results, even when things aren't going his way."
"Both guys are perfectly placed at the moment and with some more testing lined up before we head into the sand of WA, I feel confident we can keep the momentum rolling."
The championship now heads for the deep sands of Wanneroo, just north of Perth in two weeks time in what promises to be a huge round in shaping the battle for the MX1 championship.
For full results and more information on the MX Nationals: www.mxnationals.com.au
To follow all the goings on of the CDR Yamaha team: www.facebook.com/cdrrockstaryamaha

MX1 Results: Wonthaggi
1st Brad Anderson – 67 (Honda)
2nd Todd Waters – 63 (Suzuki)
3rd Lawson Bopping – 57 (CDR Yamaha)
4th Josh Coppins – 56 (CDR Yamaha)
5th Cody Cooper – 50 (Suzuki)
6th Jake Moss – 47 (Honda)
7th  Jay Marmont – 44 (Kawasaki)
8th Tye Simmonds – 39 (Honda)
9th Dylan Peterson – 35 (Kawasaki)
10th Dean Porter – 32 (Kawasaki)
MX1 Championship Standings: After Round Three
1st Josh Coppins – 181
2nd Brad Anderson – 161
3rd Todd Waters – 152
4th Jake Moss – 148
5th Lawson Bopping – 146
6th Jay Marmont – 139
7th Cody Cooper – 137
8th Tye Simmonds – 133
9th Daniel Reardon – 96
10th Daniel McCoy – 83