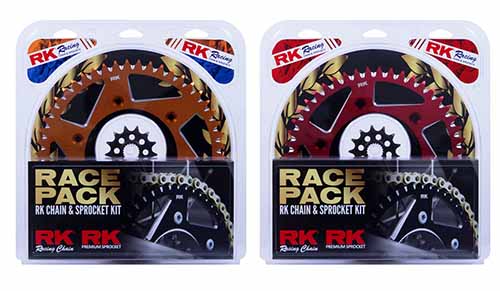 The RK Racing Chain & Sprocket Kit for MX comes in 6 team colours – Gold/Black, Gold/Red, Gold/Green, Gold/Blue, Gold/Orange and Gold/Gold
Each Kit Contains:
1 x Steel – RK Front Sprocket
1 x Alloy – RK Rear Sprocket (In team colours or Black)
1 x GOLD – RK KZU U-Ring Race Chain
6 x Sprocket Bolts & Nuts
What you will find in the kits, is the new breed of quality RK Advanced Heat Treated front steel sprockets manufactured using SCM-415 Alloy Steel. First they are precisely machined for enhanced power delivery and efficiency, then the Carburizing Heat Treatment is preformed to give them extremely hard teeth for maximum durability.
For the rear sprockets we've added our new winning design Edge Cut Lightweight RK Rear Alloy Sprocket, made from 7075–T6 European aircraft aluminium. These sprockets are CNC Machined, with self-cleaning mud-groves and finished in Hard Anodizing to give that lasting wear advantage and professional look. The rear sprockets are available in Team Colours or Black.
You guessed it, we haven't skimped on the chain either, what you'll get is a quality GOLD RK KZU Series SEALED 'U' RING CHAIN which is the ideal choice for the serious rider or racer. The Chain is a lightweight heavy duty race chain, featuring the ultra-thin 'U' ring which allows for improved power transfer via reduced friction. It also has greatly improved heat resistance and anti-abrasion properties.
To top it all off, we have even included a new set of STATES MX rear sprocket tapered bolts and nuts.
Now that's what we call, a Chain & Sprocket Kit.
Price
$199.00 RRP