RICKY CARMICHAEL – IS THIS ABOUT MONEY?
In 2004, someone in an office deep in Honda's headquarters made the decision that the company wouldn't match an offer Suzuki had made to take on the services of Ricky Carmichael for the 2005 season.
Ricky had won the 2002 SX title and then gone undefeated (24 from 24 motos), throughout that year's motocross season. He then won the 2003 Supercross and motocross titles. During that outdoor season RC blew out his ACL but didn't tell the team. He then raced and won the MXoN in an epic battle with Stefan Everts during which his knee popped out repeatedly. During testing of the new CRF450R late in the year, RC's knee completely let go and he had to come clean to Honda about his injury.
The surgery and recovery would see him miss the 2004 Supercross season which Chad Reed would go on to win. While that Supercross season was running RC made the decision to move to Suzuki. As he explained in a fascinating Whiskey Throttle show episode, "I knew I was going to ride for Suzuki halfway through the SX season of '04 when I wasn't racing. I'd been trying to extend my contract with Honda through '03. They were dragging their feet [which was] much different to the first time when they hired me."
Meanwhile, Suzuki had responded by accepting the price RC was asking for, while Honda refused to not only match but even attempt to close the gap telling RC, "You can stay here and be a Honda hero like Jeff Stanton was, or you can go to Suzuki and try to be the great white hope for them like Jeremey did when he went to KTM."
Ex-Honda team boss, Eric Kehoe told Motocross Action magazine that, "We had a good offer out to him, but he basically had to make the decision between the two. It was his decision to leave."
What went unsaid was that Honda was courting James Stewart throughout this whole process, seeing him as the rising star which isn't at all unreasonable. However, as we now know, James would never beat Ricky in a title battle.
RC wanted to stay with Honda, "I knew how good the CRF450 was." But Honda would not budge and so Carmichael saw out the remainder of his contract with Honda with the 2004 motocross season in which he once again went 24 from 24 and finished undefeated.

"You can stay here and be a Honda hero like Jeff Stanton was, or you can go to Suzuki and try to be the great white hope for them like Jeremey did when he went to KTM."
The switch to Suzuki yielded immediate results with RC winning the US Open and MXoN and then going on to win the Supercross (giving Suzuki its first supercross win since 1981) and motocross titles in 2005 and again in 2006. In contrast to Honda which hasn't won a 450 motocross title since RC left, Suzuki would win another five outdoor titles post-RC's retirement, one with RC as a co-owner of the team. Another mind-blowing fact to appreciate here is that RC is the only guy to win an AMA motocross title on a four-stroke Honda. The CRF450R has only one title to its name in the big-show.
JEFF EMIG – PARTY TIME IS OVER
"August 27, 1999
A recent incident involving Kawasaki motocross racer Jeff Emig has prompted the company to immediately terminate the contract between the two parties.
The company regrets that its relationship with Jeff must end on this note."
Jeff Emig was fired by Kawasaki after being arrested for possession of marijuana at the infamous party spot of Lake Havasu in Arizona. Emig pled guilty to possession of drug paraphernalia, while the charges for marijuana possession were eventually dropped and he received a fine of $500, but the ultimate price was to lose his factory ride.
Emig had moved to Kawasaki after his relationship with Yamaha soured due in part to what he admits was poor off-track behaviour. Jeff was at the time one of the most successful and popular riders on the planet and Kawasaki Japan left the decision to keep or fire Jeff to his team boss in the States.
He has since admitted he needed to make changes in his life and went about finding focus, winning the 1999 US Open in Las Vegas on a privateer Yamaha. This would be his final win as injuries forced his retirement the following year and on the podium he exclaimed wisely, "Being on the podium is a whole lot better than being in jail."


RON LECHIEN – WHAT COULD HAVE BEEN?
In 1986 Ron Lechien was arrested upon arrival in Japan for possession of marijuana. Through intervention by the president of Honda, Ron was released from jail (no easy feat given Japan's strict anti-drug laws), but he was fired immediately from the team and sent home.
Lechien was signed by Kawasaki but his substance abuse issues continued. Drugs and alcohol were a constant presence in his life, even while racing, and more DUIs, posession charges and a firearm charge would see him serve jail time more than once. Kawi stood by him until Ron himself called it a day in 1990, aware he wasn't in shape to race anymore.
Lechien's battles with extreme highs and lows are now reasonably well known and he has been open about it all in later life where he has found sobriety. But what has never been in dispute was his skill on a bike. He was one of the truly most naturally gifted riders of all time and arguably one of the top two or three to ever ride a 500.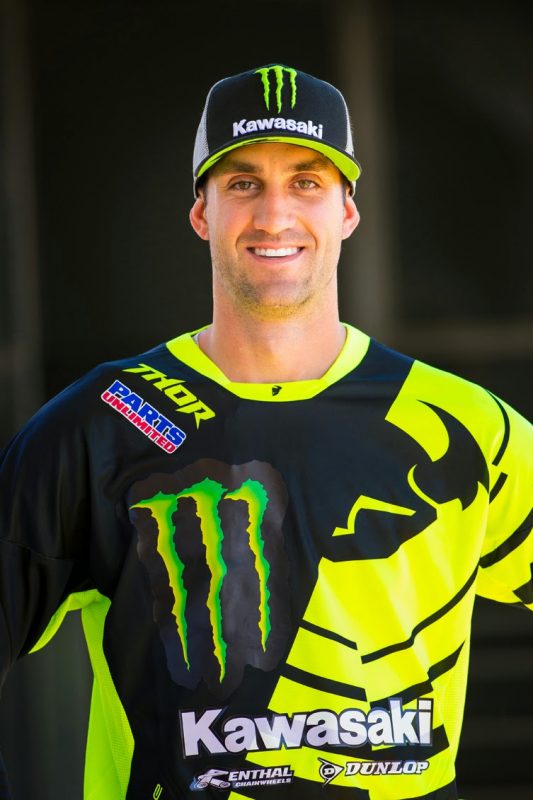 DAVI MILLSAPS – LOCKER SHOCKER
"Monster Energy Kawasaki has terminated its agreement with Davi Millsaps effective immediately. Unfortunately, this means our factory race team will not be competing at the final three rounds of the Monster Energy Supercross season."
And with that, Davi Millsaps was done at Kawasaki. No further explanation has ever been given but the strong rumour has always been that Kawasaki found something in Davi's locker in the team truck that gave them enough reason to fire the guy.
Davi responded with this statement:
"Although my results have not been what I had hoped for up to this point, I have continued to give my best effort and have fulfilled all of my contractual obligations. I am aware that there is much speculation regarding my termination. While I am not at liberty to discuss details, I can say without equivocation that I have not violated any AMA or FIM rule or regulation. At this point I am evaluating my options, both professional and legal. I apologize to my fans, sponsors and fellow competitors for the confusion this has caused. I want to especially thank Monster Energy for continuing to stand behind me. I look forward to resolving this and getting back to racing. See you soon."
And to this day, that was that. Weird.