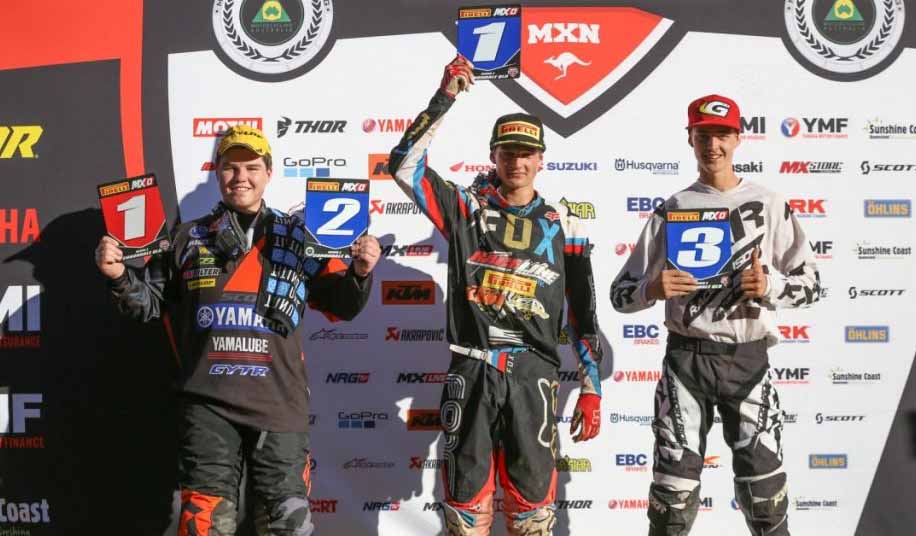 Raceline Pirelli KTM's Morgan Fogarty delivered his team with their first podium of the season, and the first Pirelli MXD round win of his career at a sun drenched third instalment of the 2017 Motul MX Nationals at Conondale today.
The Pirelli MXD category dished out thrills and spills across both of the class's races today, putting on one of the best shows of racing so far this season for a packed house on the Sunshine Coast.
It was Yamalube Yamaha Racing Team's Cooper Pozniak, the former championship points leader who set the pace during the MXD timed qualifying session this morning, recording the fastest lap time with a 2:17.469. Sunshine Coast local Isaac Ferguson was second fastest on track (2:18.397) while Bulk Nutrients WBR Yamaha's Hugh McKay took third gate pick thanks to a 2:18.564 lap time.
Moto 1
When racing commenced for the Pirelli MXD class, the development category once again showcased why they're the future of the sport. When gates dropped there was plenty of drama thanks to a first turn pile up, but despite Jai Constantinou taking the Raceline holeshot, it was Yamalube Yamaha's Dyce got through unscathed and moved in to the race lead. Behind him, Constantinou slotted into second position, and after two laps Raceline Pirelli KTM's Fogarty found himself in third.
One rider who was in complete damage control in race one was the number 17 red plate holder Pozniak. After being caught up in a crash during the opening stages of the moto, Pozniak simply circulated for points on a bent and damaged bike, determined to keep his championship hopes alive.
After four laps on track, Dyce continued to maintain the race lead, while Fogarty had made his way up into second position followed by Constantinou. SD3 Husqvarna's Kaleb Barham looked comfortable in fourth followed by New Zealander Wyatt Chase.
With 20 minutes plus a lap on the clock in race one, Dyce focussed on stretching out his gap on the field early. While behind the leader Barham began to make his way through the field by lap seven, passing Constantinou who had gotten by Chase to slot into third.
With only a handful of laps remaining, Dyce looked smooth and in control in the lead position, while his closest competitors Fogarty and Barham continued to occupy second and third. Local rider Ferguson passed Constantinou for fourth relegating the Honda rider to fifth.
But it was Dyce's flawless performance that saw him lead all the way to the chequered flag, securing the moto one victory. Second place was taken by Fogarty, while Barham held on to cross the line in third. Ferguson and Constantinou finished in fourth and fifth places respectively while Chase, Mckay, Sam Pelz, Jake Williams and Dylan Wood completed the top ten.
Championship points leader Pozniak managed to claw his way back to 28th position at the conclusion of the 20-minute moto, however it wasn't enough to maintain the red plate.
Moto 2
With crucial championship points up for grabs, when the final Pirelli MXD class headed to the line all eyes were on Pozniak who was in desperate need for a race win after a difficult moto one.
But it was Raceline Pirelli KTM's Fogarty who snatched up the second holeshot for the day, however Yamalube Yamaha Racing Team's Dyce was more determined than ever and within only a few turns had taken on the lead position.
Not long after Dyce had made his move into the top spot, Fogarty passed him back, and only a lap later Dyce got by one again – the pair playing cat and mouse for the final MXD race win.
Behind Dyce and Fogarty was KTM's Callum Norton in third, while Ferguson and Jake Williams completed the top five by the halfway point in the moto.
Much to the spectators delight the battle for the race lead was far from over, and by the time riders headed into their sixth lap, Fogarty was the race leader once again, leaving Dyce to chase his tail.
Unfortunately for Pozniak despite charging through the field up to sixth, a crash in the later stages of the moto put his championship hopes in jeopardy, and allowed his closest competitors the opportunity to gain valuable championship points.
But the man of the moment was Raceline Pirelli KTM rider Fogarty, who showed impressive maturity in the final moto, holding on to take a maiden Pirelli MXD race victory at Conondale. Second place in moto two was taken by Dyce, while Norton collected the chequered flag in third position.
Ferguson and Williams wrapped up their final outing this afternoon in fourth and fifth, while Jy RobertS, Constantinou, Brodie Ellis, Benjamin Broad and Pozniak completed the top ten.
With 2,1 race results it was Fogarty who collected the round three win thanks to a countback this afternoon, Dyce finished with second spot on the MXD podium, followed by Ferguson who concluded today's outing in third.
Dyce will now carry the red plate into the fourth round at Horsham
Morgan Fogarty – Raceline Pirelli KTM – Round 3 Winner
"I'm pumped, I've been working hard to get here so I'm just going to keep rolling now and hopefully we can get some more wins like this," Fogarty shared.
"Stepping up from junior racing is always going to be a challenge but it's good because I'm learning every time we go out on the track.
"I can't thank the team enough for the hard work they've put in to get this today, I'm excited to get to round four."
Pirelli MXD Round 3 Results
1) Morgan Fogarty – 67 points
2) Cody Dyce – 67 points
3) Isaac Ferguson – 56 points
4) Jai Constantinou – 50 points
5) Callum Norton – 48 points
6) Jake Williams – 48 points
7) Kaleb Barham – 46 points
8) Jy Roberts – 45 points
9) Hugh McKay – 44 points
10) Sam Pelz – 42 points
Pirelli MXD Championship Standings
1) Cody Dyce – 186 points
2) Jy Roberts – 165 points
3) Morgan Fogarty – 164 points
4) Isaac Ferguson – 150 points
5) Cooper Pozniak – 146 points
6) Kaleb Barham – 146 points
7) Benjamin Broad – 135 points
8) Jai Constantinou – 125 points
9) Hugh McKay – 123 points
10) Brodie Ellis – 112 points