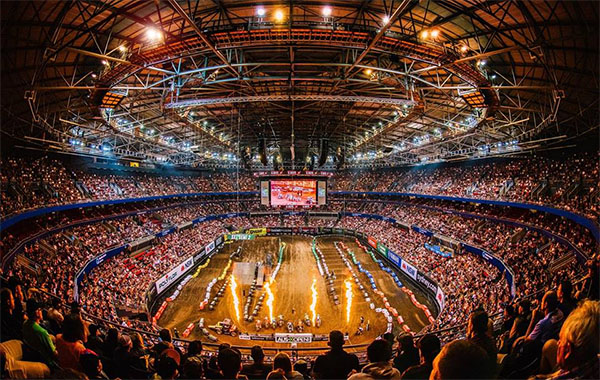 The much-anticipated Monster Energy Aus X Open Sydney is ready to rip into Qudos Bank Arena this weekend! Heading in? Thinking about it? Here's everything you need to know to make the most of this epic event! If you can't make it, check out the Today show on Friday morning for a taste of what's to come at the 2018 Monster Energy AUS-X Open Sydney.
WHERE?
Qudos Bank Arena
Sydney Olympic Park, Edwin Flack Ave & Olympic Blvd, Sydney Olympic Park NSW 2127
Located in: Sydney Olympic Park
qudosbankarena.com.au
To pre-book parking, click here
Parking is charged at $5.00 per hour and capped at $25.00 for all car parks in Olympic Park.
Sydney Trains services operate every 10 minutes between Lidcombe and Olympic Park stations. Olympic Park Station is located on Olympic Boulevard just a short 5 minute walk from Qudos Bank Arena.
Our tip is to grab public transport or head in nice and early. Parking is closest in P1 but can be a slow to get out. Try one a little further out and walk in.
TICKETS
Think you're too late? Hell no! You can get tickets as cheap as $20 (to sit anywhere in the stadium) on Friday. There's a heap of on-track practice, qualifying and even some race action from 7pm and before that, you can cruise the pits and check out everything the Pit Party has to offer. If you are on a budget, this is a great way to check out some awesome riding. The main show kicks into life Saturday, there you will see the best of the best b ang bars as they fight for victory indoors. Children under three are free if seated on the knee.
Grab your Friday and Saturday tickets here
EAT AND DRINK
There will be food and drink options within the stadium complex, but there are also some great pubs and restaurants around the Sydney Olympic Park complex.
Our tip is to get in early, head to the Brewery Bar + Kitchen for a cracker meal and a few beers before joining the Pit Party, the Pit Party is well worth checking out!
For a full list of food and drink options click here
MONSTER ENERGY AUS-X OPEN TOP 10 MOMENTS

SCHEDULE
Friday November 9
3:00pm – Pit Party Commences
3:30pm – Autograph Signing (Pit Party)
4.30pm – Autograph signing with Jackson Strong
5:45pm – Ultimate VIP Track Walk and Exclusive Autograph Signing
6:00pm – Doors open to Public
7:00pm – Friday Night On-Track Action Commences & Includes
Junior 85cc – Heats and Final (Australian Junior Supercross Championship)
Junior Lites – Heats and Final (Australian Junior Supercross Championship)
SX2 Unseeded riders Practice
SX1 Unseeded riders Practice
SX2 Seeded and International riders Practice
SX1 Seeded and International riders Practice
SX2 Unseeded riders Qualifying Session 1
SX2 Seeded and International riders Qualifying Session 1
SX1 Unseeded riders Qualifying Session 1
SX1 Seeded and International riders Qualifying Session 1
SX2 Elimination Qualifying Race
SX1 Elimination Qualifying Race
2-Stroke Cup – Two Heats
Saturday November 10
12:00pm – Pit Party Commences
1:00pm – Autograph Signing (Pit Party)
3:00pm – Ultimate VIP & VIP Entry Opens and Ultimate VIP & VIP Only-Program Commences
SX2 Championship Qualifying Sessions 2
SX1 Championship Qualifying Sessions 2
FMX Free Practice
2-Stroke Cup Practice
5:00pm – Doors open to Public
6:00pm – 2018 Monster Energy AUS-X Open Sydney – Saturday Event Commences & Includes
SX1 Heat Races
SX2 Heat Races
SX1 LCQ Race
SX2 LCQ Race
SX1 SuperPole
Best Whip Contest
Best-Trick Freestyle Motocross
2-Stroke Cup Final
SX2 – 3x Triple Crown Main Event Finals
SX1 – 3x Triple Crown Main Event Finals
*More Races & special announcements still to come
THE VISITORS
Chad Reed, Dean Wilson, Ryan Villopoto and reigning AMA Supercross Champion Jason Anderson will join the current international racers and Aussies lining up at the Aus-X Open.
THE CHAMPIONSHIPS
The SX1 Championship is going down to the wire. Brett Metcalfe has closed in on team mate and Championship leader Justin Brayton, just 8 points separate the two Penrite Honda riders. Jace Owen sits third while Yamaha's Dan Reardon is only 2 points behind in fourth.
Jay Wilson holds an 11-point lead over Hayden Mellross in SX2. The tight nature of the indoor track can throw all kinds of challenges. The fight for both championships is still very much alive!
SX1 
1 Justin BRAYTON 97
2 Brett METCALFE 91
3 Jace OWEN 72
4 Daniel REARDON 70
5 Dylan LONG 64
6 Luke CLOUT 48
6 Robbie MARSHALL 48
8 Lawson BOPPING 42
9 Jesse DOBSON 41
10 Nicholas SUTHERLAND 39
SX2
1 Jay WILSON 88
2 Hayden MELLROSS 77
3 Wilson TODD 75
3 Jacob HAYES 75
5 Dakota ALIX 61
6 Jackson RICHARDSON 52
7 Aaron TANTI 49
8 Bradley TAFT 48
9 Dylan WILLS 42
10 Kyle WEBSTER 39
TWO STROKE ACTION
For the first time at Aus-X Open a two-stroke only class is going to fill Qudos Bank Arena with that sweet smell of premix. Our Dirt Action YZ250 will be racing with legend Danny Ham on-board, he's looking to square off with long-time rival Craig Anderson! A heap of Aussie talent will line-up to fight it out for two-stroke glory. Watch Ando and Hammy square off in 1999 below – bring on Ando V Hammy 2.0!
CASH IN
Fancy your chances of picking a winner? Ladbrokes has betting open now! Click here to place your bets…
WIN RV'S BIKE!
Ryan Villopoto and Yamaha Motor Australia are offering a fan a huge opportunity. A chance to win RV's Yamaha YZ450F race bike. Watch the video below to learn how and click the link. Entry is easy. Head to the AUS-X Open Buy a Bale Supporters Page. Make a donation and and use your Ticketek number and you could win!