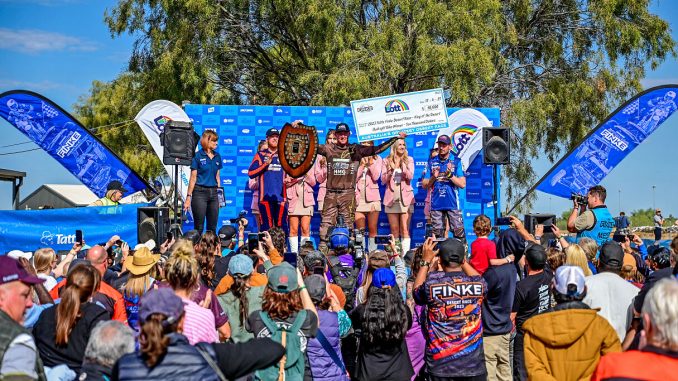 Alice Springs desert racing legend David Walsh has continued to etch his name in the Finke Desert Race history books after becoming just the second-ever rider to be crowned the 'King of the Desert' four times in a row.
After ranking fourth in the Prologue, HMG Motorsport KTM's Walsh charged to P1 in the opening 226km stage from Alice Springs to Finke on Saturday, with his time of 1h46m25.8s being a comfortable two and a half minutes ahead of STE Racing Team rider Callum Norton.
Armed with the mighty KTM 500 EXC-F, Walsh retained his lead throughout the trip back to Alice Springs, leaving the rest of the field in his red dust on the way to a return time of 1h49m23s. When the times of both legs were combined, Walsh finished with a time of 3h35m48s, and a handy advantage of 1m56s over second place.
At 33, Walsh's performance has cemented his place in Finke folklore, as he became the second person to win four-consecutive events in its illustrious history. Only Randall Gregory's five-year domination from 1991 to 1995 stands taller than Walsh's current winning-streak and the local hero has also podiumed at every Finke he has completed since 2012.
Meanwhile, STE Racing Team's Norton put in a strong effort to come home in second place. Also equipped with the KTM 500 EXC-F, the Victorian blitzed the fast, whooped-out course to finish the opening leg in P2 and almost 40 seconds ahead of third place, despite tangling with another rider early in the day.
Norton kept the pressure on by setting the fastest time on the return leg to Alice Springs during Sunday afternoon, eventually scoring a hard-earned second outright, with a total time of 3h37m44.5s and gaining immense experience in the process.
Slightly further back down the track, HMG Motorsport KTM's Liam Walsh put in an impressive effort himself, finishing his first-ever Finke Desert Race in a creditable fifth position. After finishing the Prologue in seventh, Walsh and his KTM 500 EXC-F put in a hard charge on the first leg, passing four riders on his way to fourth in the Bike category.
Following high-speed the 226km return leg to Alice Springs, 22-year-old Walsh ultimately crossed the line in P5, finishing just 36 seconds behind fourth place at race's end after more than 3h42m of fast-paced competition in total.
David Walsh:"I'm super-proud to make it four wins in a row, and I'm glad to be home safe. It was a pretty rough track home and it was good to navigate it and make it back in one piece. To get on top of the podium again, it feels great, and it's what we try to do every year. I really pinned it on the straights and took my time in the rough stuff – I knew the boys would be coming for me, but I knew I had the speed and a gap from yesterday, so today was just about maintaining that. I'm a very lucky man with a good team and a very supportive family behind me."
Callum Norton:"Finishing second is massive, and to share the podium with David and Ivan [Long] was unreal. I've raced them both for a while and have been a team-mate of Walshy in the past, and he's always looked after me at this event. Yesterday was a little bit interesting crashing early on, but we pulled through and pushed hard today. I knew Walshy would be hard to catch – he's the man out here, he's proved it, and I'm happy to finish second to him."
Liam Walsh:"Coming into the weekend I was aiming for a top five, as this is the first time I've ridden to Finke and back in a race. I left Finke in fourth today and got passed on the way home, but I'm still content to get home safely and I'm happy to tick that goal. The rain we had made the whoops quite tricky, as there was loose dirt in the bottom of them, but they were hard on top. I had a couple of big moments yesterday, but I was lucky enough to ride them out. I'm now getting ready for the Hattah Desert Race in a couple of weeks – it'll be my first time there and I'm hoping my motocross background will be a bit of an advantage out there."
2023 Finke Desert Race results
Bikes Outright:
1. David Walsh (HMG Motorsport KTM) 3h35m48.9s
2. Callum Norton (STE Racing Team KTM) 3h37m42.8s
3. Ivan Long (Husqvarna) 3h38m55.1s
4. Korey McMahon (GASGAS) 3h41m13.6s
5. Liam Walsh (HMG Motorsport KTM) 3h42m37.6s