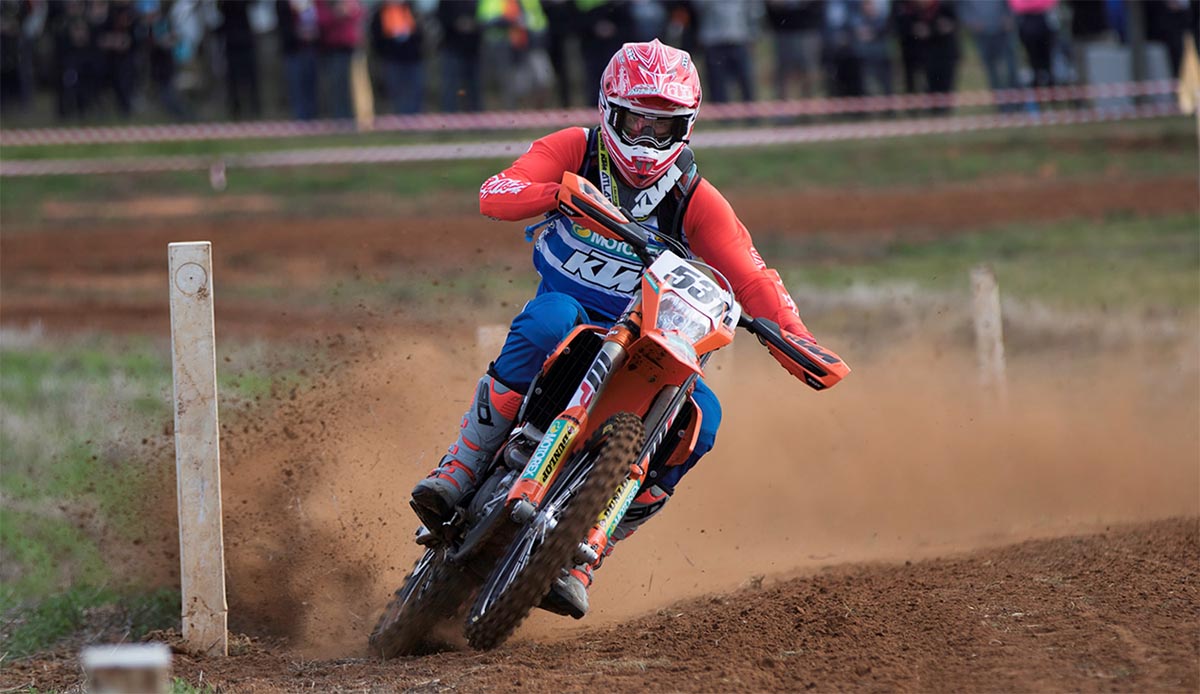 Pics: John Pearson
KTM Off Road Racing Team rider Daniel Milner has led home an emphatic orange-wash of today's Hattah Desert Race, finishing ahead of Daniel Sanders and Lyndon Snodgrass in the 2017 running of the famous event, 70 kilometres south of Mildura.
It was the fourth straight Hattah victory for KTM's 500 EXC-F, with all three team members mounted aboard the mile-munching half-litre monsters, to make the Over-450cc podium a carbon copy of the Outright.
World Enduro Championship competitor Daniel Sanders made a special trip home to re-join the team with which he won last year's AORC, with a view to reaching the top step of the podium in the event in which he last year finished second to then-teammate, Tye Simmonds.
Running the 17-litre tank instead of the 12-litre run by his team mates, Sanders gave away a small handling advantage off the start, but took the lead at the beginning of the second lap as most riders pitted for fuel, and led until the sixth lap when Milner made his move.
With Milner striving to open a gap, Sanders tagged a lapper who fell across his path and crashed at high speed, limping home in second outright with a suspected concussion.
Snodgrass had earlier Prologued seventh, but leapt out of the gates as today's race began determined to redress the disadvantage of a poor start position. The Victorian blazed through to second place on the opening lap.
He slipped to third during his first pit stop, but managed to stay there for the remainder of the race to record his best Hattah finish in eighth attendances.
For more information on KTM motorcycles visit www.ktm.com.au or www.facebook.com/KTMAustralia.
Glenn Kearney – "It doesn't get any better than a 1-2-3! The boys and the whole team all put in the effort to get the job done, and that's certainly what we did, so it's great to reap the rewards. Obviously, I've done this race many times over the years, but to do it from under the pit tent while everyone's riding around is probably more nerve-wracking than riding! We were pitting five guys; Milner, Chucky, Snoddy, then we had Luke Hayes, who went out after a big crash punctured his radiator and the bike got too hot, and then Callum Norton was pitted off the end of us and we were helping him as well. Busy times – the guys were coming in together most of the race, especially Milner and Chucky, who battled for six of the eight laps, and were probably never more than 15 seconds apart the whole time. From this side though, our pit stops were pretty good, the bikes were flawless – Mick and Harry did an awesome job – and the fuel strategy required us to make a few calls that turned out to be good calls. So, hats off to the boys."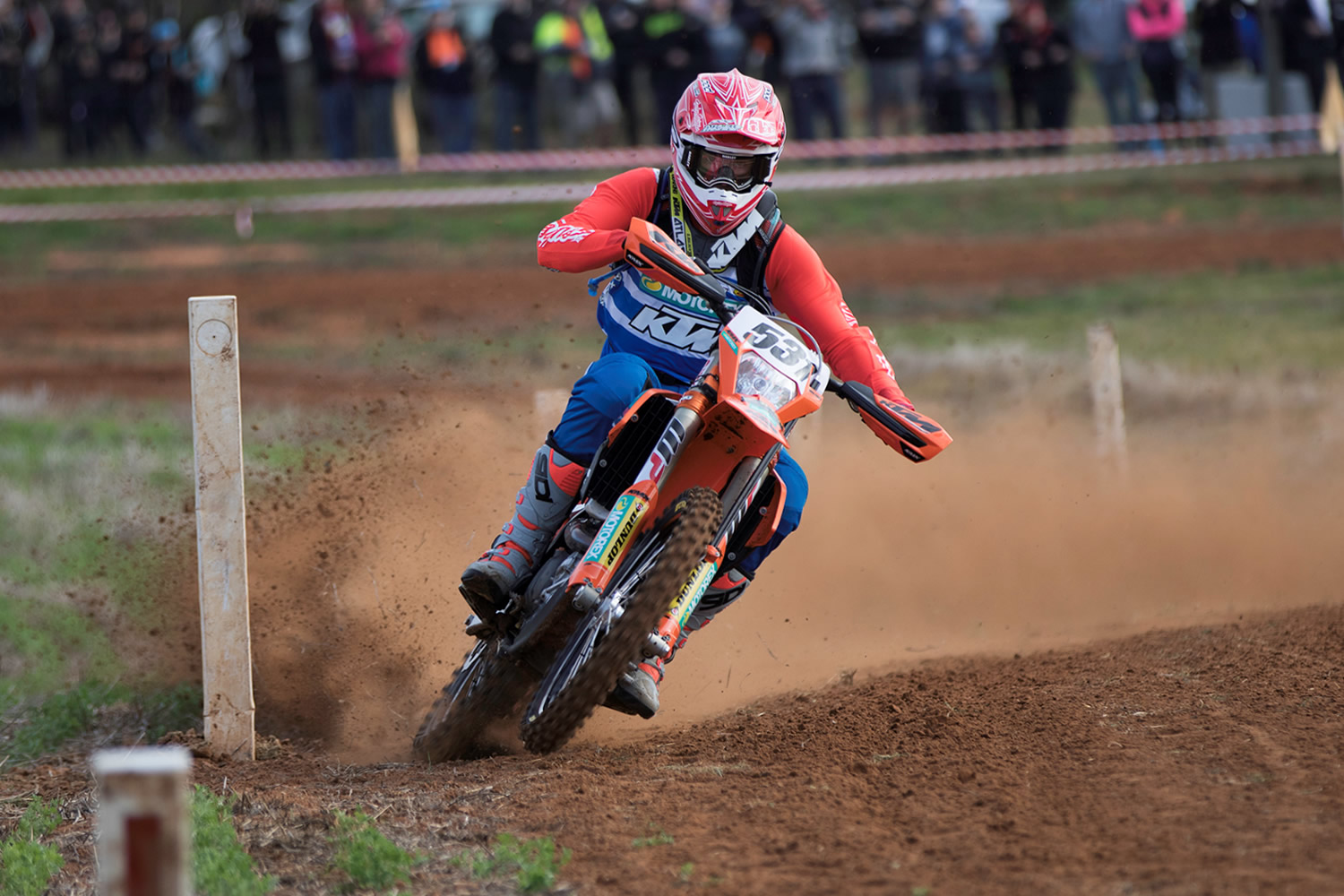 Daniel Milner (KTM 500 EXC-F) – "The track was real tough here this year; it deteriorated really quick.
The last time I did it back in 2012 there were nowhere near as many bikes, so it ended up getting real deep bumps that kicked you about. But it all ended up working out perfectly.
We had to do an extra fuel stop compared to Chucky, but I just got on his tail and pretty much sat there until the last two laps when it was go time, and then put in a charge and came away with the win. I'm stoked with how I rode. I'd never won this event. I really enjoy it and I've kind of always wanted to, so I'm over the moon with it, and being a diabetic it's probably the toughest race that I could do. The big 500 was so strong in the deep sand. It just sat up on top and had enough power that you could jump over some whoops and get through some stuff.
I really enjoyed my day, and I'm looking forward to coming back next year – even though the race has only just finished!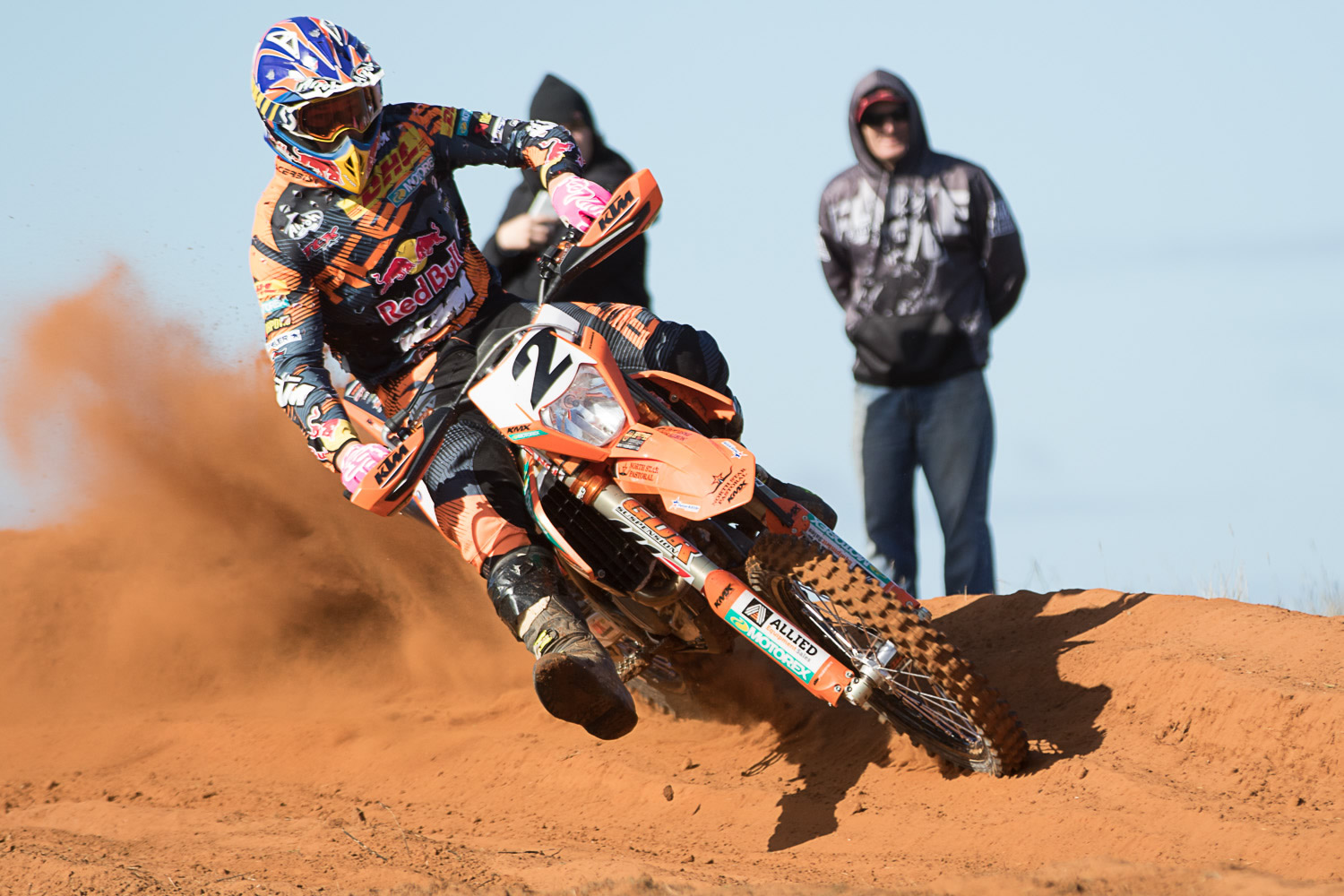 Daniel Sanders (KTM 500 EXC-F) – "It's good to be back, it's such a massive event. It was a pretty rushed job for me, and the prep wasn't sufficient, but I just wanted to be here and have a crack at it.
I still had some jet lag coming from Greece and I just wasn't fit enough to swing off it for four hours like me and Tye were last year. Doing enduros you don't practise holding the heart rate at 170 for so long, so that was a bit different.
Daniel and I had a good battle; I elected to run the big 17-litre tank where the boys were running the 12, so off the start Milner pulled away, but when he had to pit I took the lead and held it for the first six laps. Late in the race I just hit a lapper and knocked myself silly. He made a mistake and cut into me and I couldn't go anywhere and I hit my head pretty hard. I couldn't remember the track anymore, so I just kept cruising around and tried to keep the pace going and tried to finish.
I've got a cranking headache now, but I want to come back again if I can do this properly. Second place is always more motivating than first!"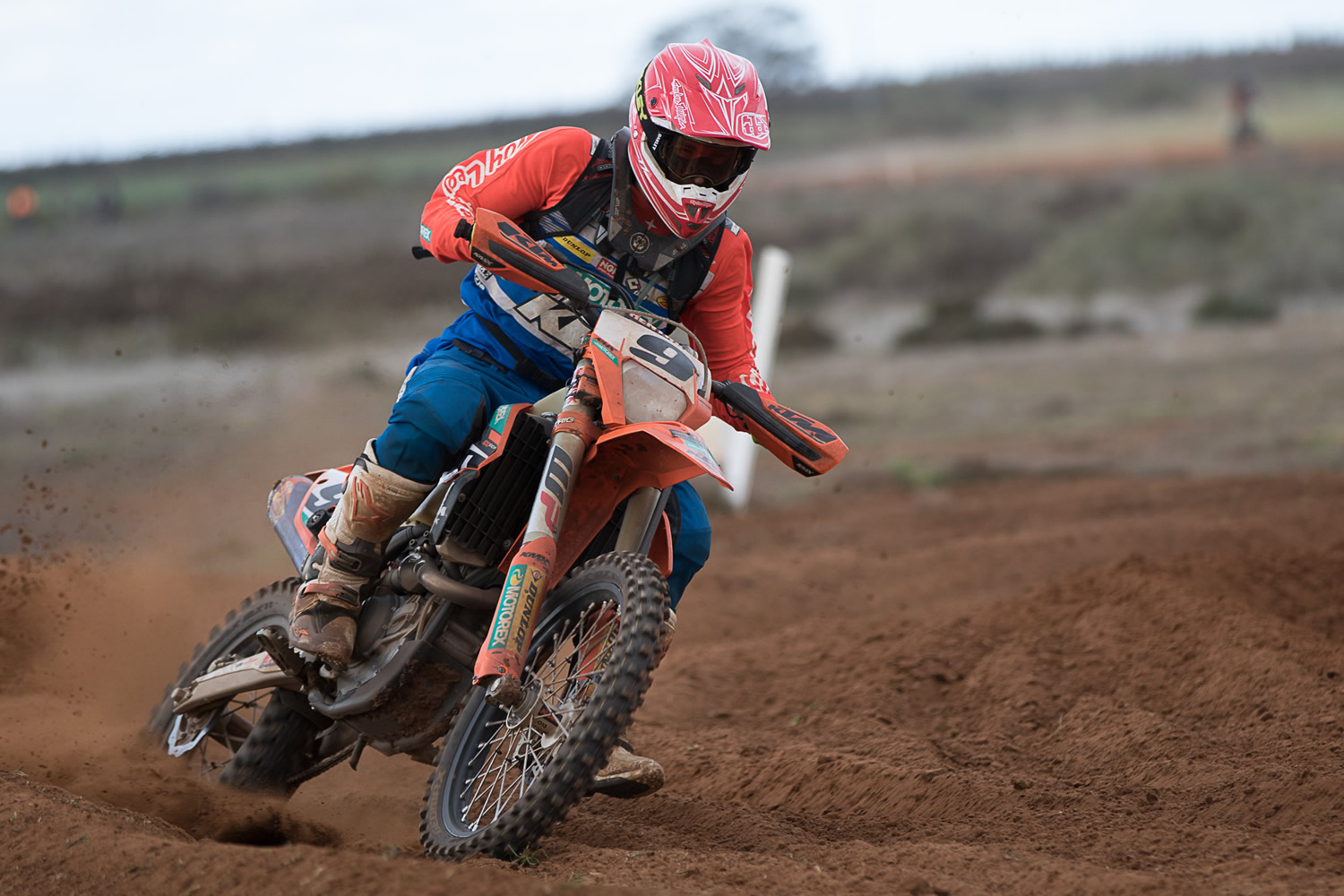 Lyndon Snodgrass (KTM 500 EXC-F) – "I'm stoked on this! The KTM 500 EXC-F is just a weapon, and definitely the bike for this race. This is my eighth Hattah, and definitely my best result. It was one of the roughest ones I've done – it was all deep ruts and square-edged holes. In the last few laps it was really hard – there were some deep holes out there! Hattah's one of the hardest races on the calendar and it's always flat out. It's a fun environment and it's a fun race. I had a poor prologue, so I knew what I had to do, and that was make passes early. I got up into second on the first lap, had a pit stop, and then was comfortably in third for the rest of the race. At one point I had a bit of a crash and Ivan Long came up on me, but then I put my head down and got the gap back up to a healthy one, and held that for the rest of the race."
HATTAH DESERT RACE
1 Daniel MILNER 4:12:08.368
2 Daniel SANDERS 4:17:07.255
3 Lyndon SNODGRASS 4:21:39.840
4 Callum NORTON 4:24:03.773
5 Ivan LONG 4:24:17.458
6 Lachlan TERRY 4:29:18.605
7 Nathan TRIGG 4:32:36.748
8 Broc GRABHAM 4:35:07.097
9 Josh MURTAGH 4:35:21.615
10 Lachlan STANFORD 4:35:42.437
Over 450cc 4T Class
1 Daniel MILNER 4:12:08.368
2 Daniel SANDERS 4:17:07.255
3 Lyndon SNODGRASS 4:21:39.840