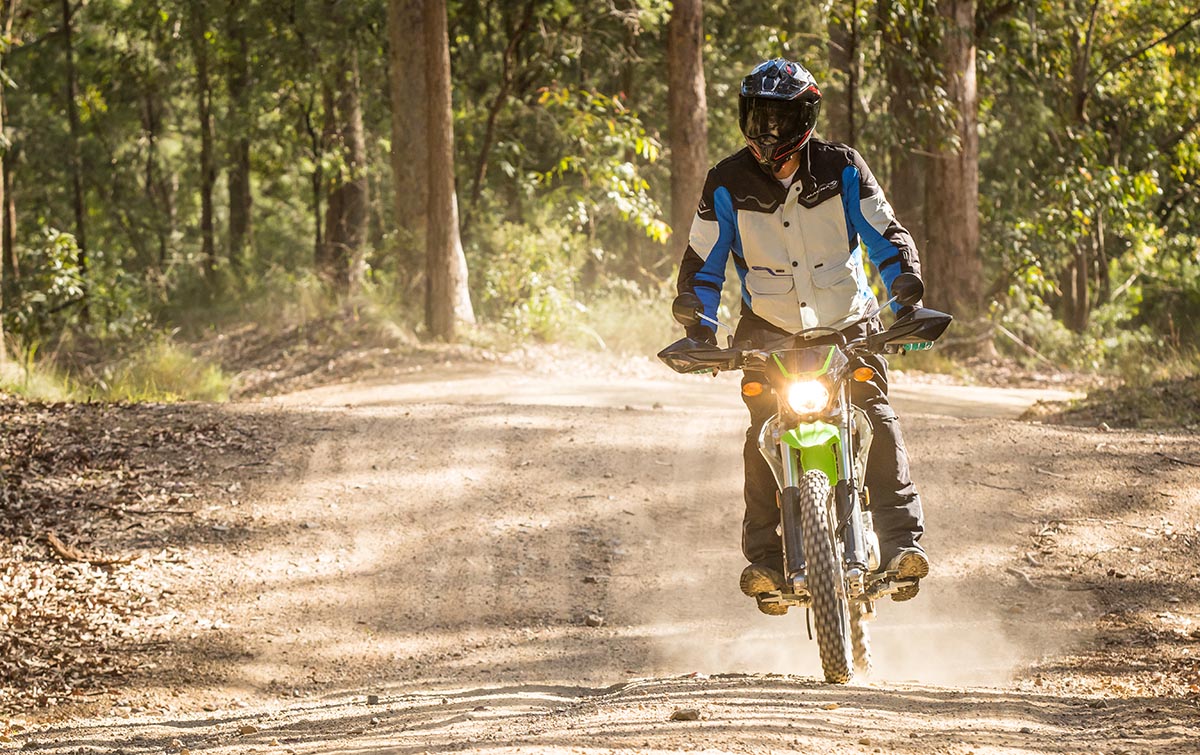 For less than $4,500 you can buy a bike that would suit perhaps more people than any $12,000 450F
STORY AND PICS DAMIEN ASHENHURST
We are beset on all sides by monsters. The line-up of current model bikes that we've been served are lighter and more powerful than ever. They go faster, jump further, break harder and for the majority of us anything with 450F on the sticker is too damn powerful to ever utilize. We used to ride XR250s and DT200s or KDX175s and nobody complained. But where are those bikes now? Consigned to the history books and nostalgia events.
We don't think this is healthy. We don't need any more race bikes. We need bikes that people aren't afraid to get on, that don't cost the Earth and introduce new riders to the sport properly. We used to have them but the choices now are slim. This is where Kawasaki steps in with its brilliant and versatile KLX150BF SE. A bike that doesn't intimidate doesn't require a masters in mechanical engineering to maintain and won't break the bank.
A solid bike that gets people into riding may just be more important in the grand scheme than the next 62 horsepower beast that rolls off the assembly line.
WHAT IS IT?
The KLX150BF SE is first and foremost for many, a bike that you can buy for much less than $5000. This is indeed a rare thing. It's LAMS approved so for the first bike owner it double as a commuter and weekend trail runner. It's way cooler than a scooter, that goes without saying, it's super economical and an ideal for suburban streets and firetrails alike.
The KLX is pretty good looking little guy. Its twin valve 144cc engine puts out around 12Hp which is about what you'd expect, it's fed by a Keihin carburettor and comes to life via electric start (there is a kickstarter for bac-up), and runs ever so quietly from there on through a five speed gearbox.
The 21 and 18 inch wheel set are a nice nod to the offroad fun to be had as is the perimeter frame and overall styling which is quite different and we reckon an improvement from the previous L model.
The suspension is handled by 35mm upside-down forks with 175mm of travel and a Uni-Trak shock with 192mm of travel. The ground clearance is a decent 295mm while the seat height is 870mm which is not quite up there with say the DRZ250 and nowhere near the WR250R and we reckon that works in the favour of the KLX.
The instrumentation is pretty simple with an analogue speedo and fuel gauge along with lights for the blinkers, high beam and neutral. That's it; nice and simple.
The 150 has a good set of fat 'bars and a seat with a fairly solid feel and a nice contour down through a thin chassis.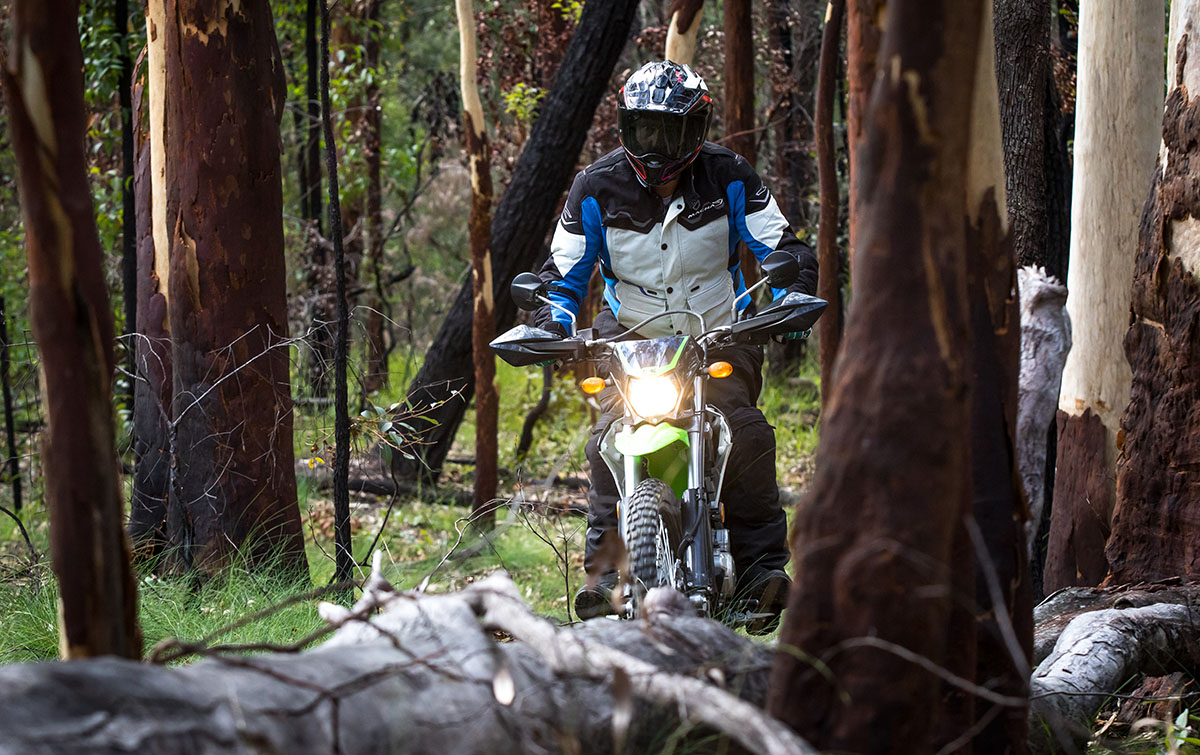 RUNNING THE ROADS AND TRAILS
When talking about riding a 150 four-stroke you kind of set it up to be ridiculed if you go in with the attitude that your God-damn moto hero and nothing less than 64Hp is enough for you. But that would also make you a dickhead. There's more to riding than power and versatility is rarely couped to a high kilowatt output. And versatile is a great to describe the KLX. I used it around my suburb to zip here and there and it was everything I needed to get a about. It gets along happily up to 80kph and while I wouldn't take it on the freeway for extended periods it will sit on 100.
The ride is plush a comfortable. The sitting position is up on top and a little Honda-esque in that regard. I was also pleased that every time I looked down and saw green it actually reminded me of the third bike I ever owned which was a KDX200. I loved that bike but I guess some bastard decided he loved it more and one fine day and it was gone.
On the trails the Kawi is a good fun bike that stays comfortable all day. I stayed on firetrails and some entry level single trail and really there was nothing to worry the KLX at all. It soaks up the little trail trash so well and it's surprisingly easy to build up some speed and get a flow going. The brakes aren't packing mega-stopping power but with a little more force through the lever you pull it up from a solid run. But I just enjoyed poking around and actually exploring some areas I'd normally ride past at pace with all my focus only on the track ahead.
I came across a few people BBQing on a separate ride and I was struck by how little response I got from them when I pulled up to take in the views. The bike is so quiet they just went about their business and I know for a fac5t that doesn't happen when I pull up on my 450F. I once had a bloke throw all his sausage sanga buns at me and I was just at idle. No telling what he would have thrown if I actually revved the thing.
Each time I rode the KLX I came home happy to have been out, not fatigued and more than happy to plan a ride for the next day. I left it ready to go when needed with a helmet on the bars and used it to get around in between trailrides. And that's the KLX in a nutshell. It costs bugger-all to run and as we know from its predecessor, will become a long standing servant for many years without a heavy maintenance schedule. What more could you want? For the beginner, novice or female/shorter rider it's brilliant. But I also appreciated having a bike like this around for when I didn't feel like firing up a launch sequence on my race bred 450F and buckling up for the ride, but also wanted to get some dirt time in on something not as vicious.
The KLX150BF is a great little bike. It's made even better with a retail price of $4,349. That's a cheap bike no matter how you look at it and it just sweetens the deal that much more. Nice job Kawi.
KLX150BF SPEC CHECK
Engine type Air-cooled, 4-stroke Single
Displacement 144 cm³
Bore and Stroke 58.0 x 54.4 mm
Compression ratio 9.5:1
Valve system SOHC, 2 valves
Carburettor Keihin NCV24
Ignition digital DC-CDI
Starting Electric
Lubrication Forced lubrication, wet sump
Transmission 5-speed, return
Weight: 118kg (all fluids and fuel)
Front suspension 33mm telescopic fork
Rear suspension Uni-Trak single gas shock with 5-way spring preload adjustment
Front brake 240mm disc brake
Rear brake 190mm disc brake
Rec retail price of $4,349