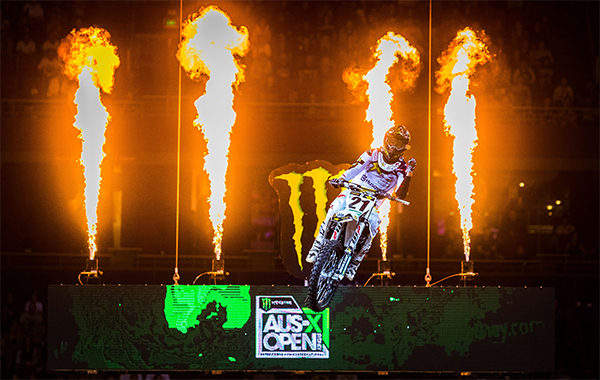 For the third consecutive year, 2018 Supercross World Champion Jason Anderson will compete in the Monster Energy Aus-X Open. Anderson will fight it out with some of the world's best for a chance at his third AUS-X Open crown at Marvel Stadium on November 30.
"This will be my first time in Melbourne. I've never been there but I heard it's a super awesome city and I can't wait to check out a new part of Australia, it'll be fun," Anderson said.
"My favourite thing about the AUS-X Open event is the number of fans the race attracts, they're so enthusiastic and you can really hear the fans whenever something happens, or if you're in a battle, you can really hear the crowd go crazy.
"Marvel Stadium is gonna be a much more open track so it'll be fun and for sure I think we're gonna see a lot more racing action go on."
Event Co-Founder and Director Adam Bailey states that Anderson's announcement to head back down under and take on the likes of Chad Reed, Joey Savatgy and Justin Brayton in the heart of Melbourne, will be massive for the sport of Supercross in Australia.
"We're extremely excited to have Jason Anderson back for the third year in a row, and this time coming to Melbourne to show the fans what a World Champion racer can do on Australian soil and a world championship sized track," Bailey said.
"Jason is undoubtedly one of the greatest talents we have ever had race at the AUS-X Open and is one of the most hyped Supercross athletes on the planet. To have him confirmed to compete three years in a row, is a true testament to the AUS-X Open as a world-class and staple event on the international calendar.
"These are the best riders in the world and their annual events calendar is incredibly taxing, given they already compete in over 30 weekends a year in the USA. For Jason to make the AUS-X Open a feature element of his World Championship preparations, it is a massive coup for the event and for the fans who will enjoy the best racing and entertainment Australia has ever seen, in Melbourne on November 30."
Anderson says racing Supercross events is by far the best training any rider could do and puts AUS-X Open high on his list of races to compete in each year, ahead of his World Championship tilt.
"Coming in and racing there's no better practice than gate drops so I think it's the best thing for me, and if it was up to me I'd try and do as many races as I can but I get to only choose a select few and AUS-X Open is definitely one I always try and get out to," exclaimed Anderson.
"Melbourne you don't wanna miss this on November 30 at Marvel Stadium, get your tickets at Ticketmaster."
Tickets are now on sale via Ticketmaster.com.au. Tickets start from $39.95*. For more information on tickets, riders, and much more head to www.ausxopen.com