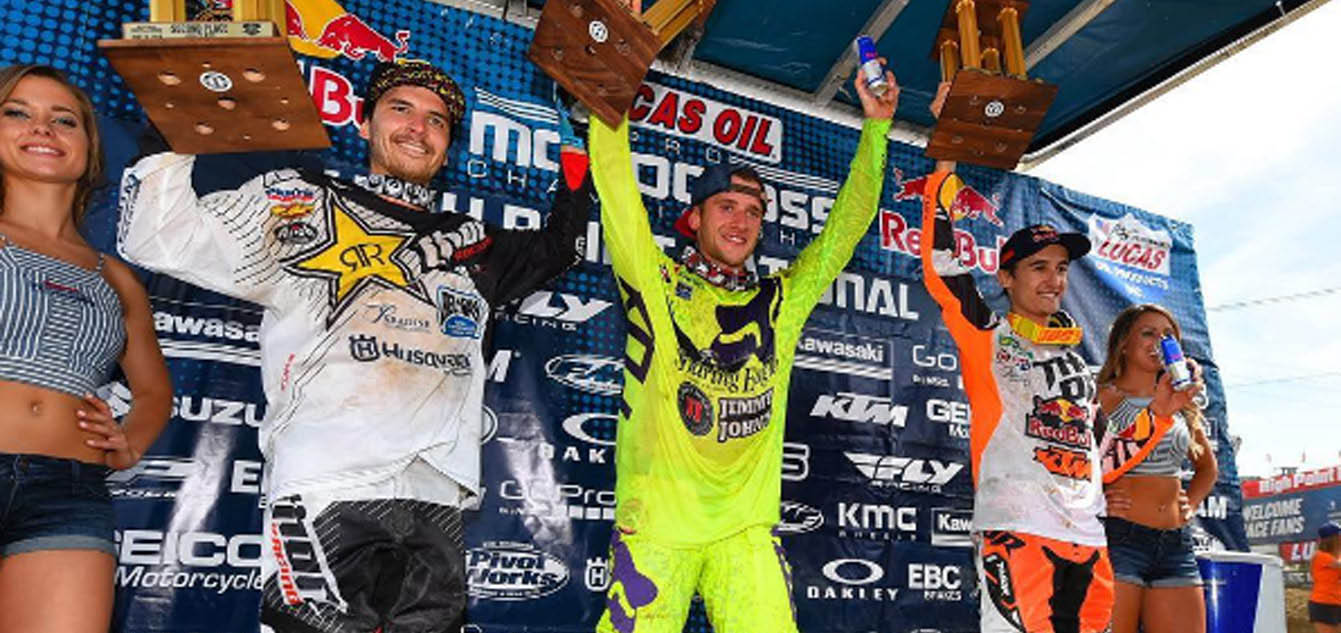 Hear from the riders following round four of the 2016 Lucas Oil Pro Motocross Championship.
By Hayden Gregory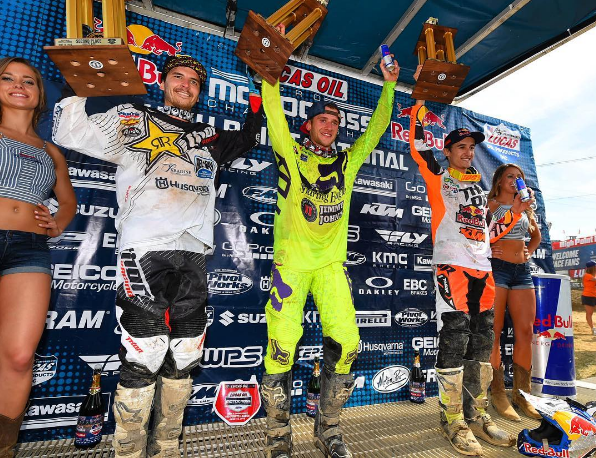 Ken Roczen: (1st in 450MX) "Today was great. I think this was probably the gnarliest track we've ridden this year. It just got super rough. They added a lot of, I'd say, mulch in the track, which I don't think was really nice because most of the stuff just pushes to the side, especially when you water it. So it was really sketchy, but definitely a tough track which actually made for great racing I think. I grabbed the holeshot in the first moto, which, I mean, it was good to have a clear track. I think a couple of people crashed behind me, so I had a little gap and just rode a smart race to take the checkers. I was super happy with that, but I never want to take it on the easy shoulder and just knew I had to go at it again in the second moto. Obviously Eli [Tomac] was right behind me the whole time, and I grabbed a really good start to begin with. I knew he was right behind me. I actually didn't think I was going that fast; I didn't have the best lines, I don't think. I tried some other things and the ruts were so deep it completely messed me up and I lost a bunch of time, so I think with a little bit more, obviously speed around the track, but I just think a little bit smarter line choice and carrying my momentum, I could have been faster, but there's really no negatives about today. I went another 1-1. I'm going back and taking that momentum into this week and especially next weekend."
Jason Anderson: (2nd in 450MX) "Today definitely that first moto me being a little bit wild kind of bit me in the butt, but for the most part I felt pretty good out there all day and was able to do some lines that I think helped me out. Especially in that first moto. I crashed and had to catch back up and battle some guys. Some of those lines helped me out, you know, to get by them. There were a couple jumps out there that I was able to do and it was cool, but still not good enough."
Marvin Musquin: (3rd in 450MX) Well, first of all, at High Point is a really nice track. I really like it here. I've won twice on the 250 so I was really excited to come here and ride on the 450. It's a really technical track. It was really rough—bumpy. We had a weekend off and I think it was good. We've been working hard. I was feeling good this weekend, and I think it paid off. When you're doing everything right and you're feeling good in your head, it's really good. At the end I got my first podium on the 450 so it's a good thing. Obviously there are a lot of things to work on still, always. You always want to get better, but at the end you always want to do progress. So it's been a good weekend.
Eli Tomac: (4th in 450MX) "It was a good ride for me today. The first moto cost me but we made up for it in the second. We practiced starts for the last two weeks straight and I believe it showed today with two great starts. If I keep that up and stay up on two wheels, we should be looking good for the rest of year."
Justin Bogle: (7th in 450MX) "Getting better every weekend. This weekend was another good step in the right direction. Went 6-7 for seventh overall, obviously best race of the year. I was finally able to ride during the week for the first time this outdoor season. I think you're supposed to do that? So that was good. Track was gnarly, but we're getting things worked out. Felt good, bike is good."
Cole Seely: (8th in 450MX) "It was nice having a weekend off, but we're putting our heads down and trying to get on that podium each race. The track was tough today and it ended up getting me in that first moto. I'm just glad we were able to stay healthy and looking forward to next weekend."
Adam Cianciarulo: (10th in 450MX) "Each weekend we're improving. I unfortunately hit the gate in the first moto which made things a little more difficult but made up for it in the second moto by pulling the holeshot which was a nice confidence booster. I believe I rode a smart race this weekend and overall I'm grateful to even be back out here racing."
Arnaud Tonus: (12th in 450MX) "I felt really good on the track today. I didn't quite get the jump in Moto 1, but was able to finish inside the top-10, which felt good. At the start of the second moto someone hit me and I went off the track where my bike and I were stuck for a few minutes. I know I'm capable of more and am looking forward to Muddy Creek."
Joey Savatgy: (1st in 250MX) "[On bad start in first moto] I think I've stressed that before in previous races. There are a lot of guys that can win and go fast, and you're not doing yourself any favours if you're not putting yourself in a good position. Ultimately at the end of the day, it's my fault for not executing and not getting off the gate. Dumb mistake on my part. You live and you learn and you're always get better. That's what makes you better. You make mistakes and you learn from it. You become a better person and smarter racer from learning from your mistakes. It was a little frustrating but to salvage fourth is always good. That was not the best moto for me. I didn't ride very well and line selection wasn't that great. But I knew I had the speed. I felt fast all day. For moto two we regrouped, got a good start and battled with my teammate for a little bit—which was cool. From there just tried to minimize the mistakes. The track was gnarly out there today. There were a lot of ruts, and a lot of holes. The track was constantly changing. Ruts changing, getting deeper, dirt falling into places. So a lot of upper body strength this weekend, pushing away from the bike because there's a lot of holes. Like I said, all in all it was good. We got off to a good start, rode our own race, got into the lead and tried to bring her home to the checker without making any dumb mistakes."
Austin Forkner: (5th in 250MX) "First moto was good aside from my faulty gate. The track was extremely rough, so I decided to sit back, ride smart and let everyone else make mistakes which allowed me to finish fifth. I started the second moto dead last after colliding with another ride but rode back up to eighth. Overall, we learned a lot this weekend and I believe I belong up front."