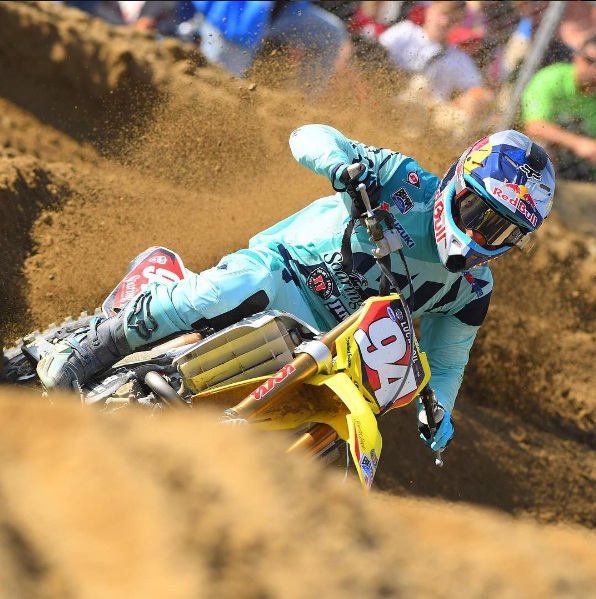 The lowdown from round two of the 2016 Lucas Oil Pro Motocross Championship.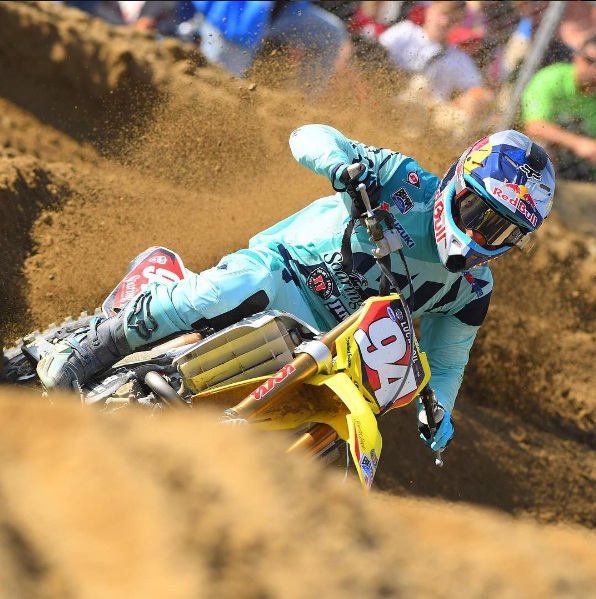 Ryan Dungey: (1st in 450MX) "The day was overall pretty good. I think it's always positive in the big scheme of things—in the points chase—that we gained ground, and getting an overall, that's also a step in the right direction. Obviously Ken [Roczen] had some bike issues, which is a little bit gifted, but hey, we'll take it and we'll keep building on it. I think it goes without saying that Ken's riding really good right now. He's obviously comfortable and confident in his bike and everything like that. He's riding really well but as am I. I feel like my riding is really good. Our setup's right there. I feel like if anything there's a lot of positives to take, and we'll keep building. Been in this position in the past before, just kind of—I wouldn't say behind the ball—but more just need to make some improvements; myself, the bike and the team. It's in a good way. It causes all of us to go back to work and try to fine tune. We make a little progress and get a little bit better. I definitely feel like myself. Physically, I can improve in areas and be better on the track. It's just little bits each lap, and I think, in the end, I try to get to that point and surpass where he's at. That's the goal and to be able to get the holeshot and go and lead it and be done and settle in. So overall it was a good day. Just got to fine tune a few areas and keep moving forward."
Ken Roczen: (2nd in 450MX) "My day was pretty good. In my heart I went 1-1 and that's really all that matters to me. There's nothing I can do about a mechanical. My air went out of my forks and there's nothing I could do. I couldn't jump anything—I didn't want to jump anything—so I had to roll. Three laps riding like that, basically going slower than a parade lap is pretty long, but I salvaged fourth place. In second moto I went out and did what I have to do. I'm glad it's over and I'm out of here honestly. It's [Glen Helen] not necessarily my favourite place. It's pretty sketchy out there. In the second moto I was just trying to hit my marks and stay on the bike. The last thing I want to do is throw it away."
Eli Tomac: (3rd in 450MX) "The weekend went well. Practice started really well taking pole position. In the first moto I had a decent start and raced my way into third. In the second moto we made some small changes and it was an improvement. The score sheet said the same thing but I felt a lot more comfortable on my KX450F and I'm excited to bring that confidence and setup to Colorado next weekend."
Trey Canard: (5th in 450MX) "There are a lot of good things to pull from today, especially with my starts. I've been searching for it for a long time, so to get the holeshot in moto one and a top-five start in the second was awesome. It makes me excited for the rest of the year and gives me a lot of hope as I continue to improve. After I got the holeshot, [Ryan] Dungey got around me pretty quick and I just washed out and fell back pretty far. I didn't feel ultra comfortable but I made it back to seventh and we made some good changes for the second race. I got another good start in moto two and worked up to third at one point but [Eli] Tomac got me. At that point I just decided to ride it out for fourth; the track was really dangerous and I was feeling pretty flat so I just wanted to get out of here safe."
Josh Grant: (6th in 450MX) "Glen Helen went really well. This is my local track and I always love it here. The track was pretty beat up today and it suited my well. I'm really happy that I was able to come away with a 6-6 for sixth overall, and I've put myself in a good position in the championship heading into Colorado next weekend."
Cole Seely: (7th in 450MX) "I'm happy with the day. It was another good first moto and decent second moto. I went 5-10 again for seventh overall so that's still good. I'm trying to build in all aspects of my program to become a better outdoor rider, so I'm putting in a lot of work during the week and maybe losing a little energy on the weekend. I'm going to keep pushing though. The first moto went well. I got off to a good start right behind Trey and got by him when he went down. I passed [Marvin] Musquin for third and ran there for a little bit before getting passed by a couple guys and finishing in fifth. I definitely felt like I rode really well that race. During the second moto, I got about a 10th place start but crashed a few laps in and got passed by about five guys, so I had to work forward from there. It is what it is but I feel like I'm going to improve each week, and that's ultimately the goal."
Broc Tickle: (10th in 450MX) "Glen Helen was better than the week before. I qualified 10th in both practices. In the first moto, I got about a 15th-place start, passed a couple guys and then a couple guys crashed so I ended up eighth. The first moto was good. I felt like I had a good flow going. In the second moto, I wanted to improve a little bit and see where I could be a little better. I wanted to pick it up in the second and pass some more people. I got the same type of start in the second moto but both my legs started cramping so I just kind of settled in and rode it out. I'm looking forward to Colorado. Last year I got fourth overall and it was a good race for me."
Justin Brayton: (11th in 450MX) "My starts were there this weekend. The track was really rough, so to start up front was an advantage. It was a challenge today to find the right suspension setting as it was super choppy out there and then having to set up for the supercross sections, but we dialed it in and had a good day. We will be ready for Colorado next weekend."
Andrew Short: (14th in 450MX) "My endurance was there this weekend. The track was super rough and I struggled in the supercross section and with my speed all day. This is my last Glen Helen and am happy I finished both motos in once piece. We have a few things to work on during the week and I'm excited for Colorado next weekend as it is my hometown race."
Blake Baggett: (19th in 450MX) "That was an awesome start, probably the best I've had in years of racing outdoors. I came around and was like second or third, somewhere in there, and went to go up the hill and just spun it out. I didn't go to pick up my bike right away. I was guarding my shoulder and didn't want to get hit, so I waited until everybody went by. And then I got going again and went from 40th to 16th. It was a good fight and I felt good about it. I know that I can race now. The shoulder was a little painful, but pretty good and then the last few laps it just got tired. I think that's to be expected with stitches and everything still being in it, as well as surgery soreness. So I opted out of the second moto, just to play it smart. I'll be back to fight with the front guys soon."
James Stewart: (DNS in 450MX) "Last week I dislocated my shoulder," Stewart explained. "I wasn't sure if I'd be able to race this weekend, but I got it checked and luckily everything is together, but it was still hurting pretty bad. I wanted to come out here and at least try practice. The first practice was OK. The shoulder was pretty weak, but not too bad. Then the track got super rough the second practice and I was basically twisting the grip off my handlebars trying to hold on. Maybe it wasn't the best thing to go out there, but I had to try. We'll rest for a couple of days and try to go at it in Colorado. Wednesday I was in a sling, and today I was able to get on the bike. So hopefully a couple more days of rest will help."
Alex Martin: (1st in 250MX) "I'm stoked—100%! It was a great day. To lead the first moto for thirty-minutes and lose it in the last couple of laps was bittersweet, but to get the overall is more than I can ask for. I've been doing this a long time. To get the overall that far into it is pretty rare. I've kind of been around the ringer and to come out swinging like we did last weekend at Hangtown was awesome, but at the same time I wanted to back it up. That was my thought all week was to back it up. It's a long series. As happy as I am today, it's good, but I don't want to be too happy. I want to be even keel about it. It's moto to, weekend to weekend. It's going to be a long series and I want to be there at the end."
Jeremy Martin: (2nd in 250MX) It definitely feels good. That's what we work for; we work for the win. We had a good second round and we're going to continue to get better. I was still feeling the effects of being sick a little bit. We'll just try to build and keep getting better.
Austin Forkner: (5th in 250MX) "Today was great. Practice went really well. When it came to the motos, I had two great starts and my first podium. In the second moto I felt much faster and was catching the lead group until I went down and finally ended fourth. Overall, to be beat by two, two-time champions isn't bad at all… I learned a lot today and I'm looking forward to Colorado."
Joey Savatgy: (7th in 250MX) "Today didn't quite go our way. We started the day off on the right foot by qualifying well but couldn't quite get my starts dialled in, which hurt us in the long run. It's a long season and this is only one race of many, so I'm looking forward to rebuilding and heading to Colorado."
Adam Cianciarulo: (11th in 250MX) "We're improving. Our starts improved a lot today and I felt strong for all 30 minutes in both motos. We're continuing to look forward and build on each race."
 Arnauds Tonus: (12th in 250MX) "I felt way better this weekend. Overall from the first practice to the end of the second moto I felt good. It's such a relief to finally see improvements in myself and the bike."