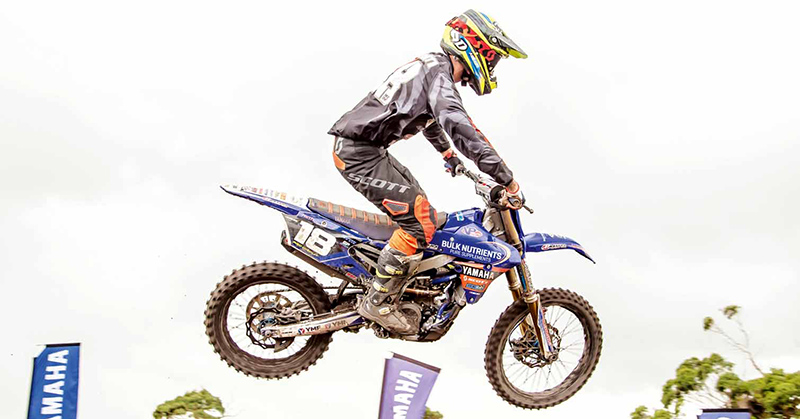 WORDS & PHOTOS AARYN MINERDS
WBR (Whitten Brothers Racing Team) has fast become a staple in the national MX and SX paddocks, helped certainly by some outstanding rides by team rider Aaron Tanti early in the 2017 MX Nationals season. We caught up with Travis Whitten for a full run down on their race team.
Let's kick things off by taking it back to the start. Where does your passion for racing come from?
Like everyone, I raced and that was a passion from a young age. I grew up on a small farm and had somewhere to ride when I was a kid. It all started from going racing as a family and the passion grew from there.
When I was younger I never saw myself working in a dealership. Actually, back when I was 16–17 years old and got to know a couple of the local dealerships through my racing, I remember thinking this is the last place I want to be working. It looked like a lot of hard work running a dealership.
I went off and did my apprenticeship as a fitter and turner at a Nestlé yogurt factory, which was pretty cool. I did all that and was still racing at the time and going down the normal path, funding myself while finishing my apprentice and saving up money to buy a house.
At the same time, the local Kawasaki and Suzuki dealership closed down. My parents own and run a car and marine workshop called Echuca Performance. They have a really good location in town. My dad has always been into bikes but was more of a car lover. I got chatting to him and he said I could rent part of the showroom off him and see how I go. That's where everything started and grew from there.
The shop started as a one-person show. I used all the deposit I'd saved for my house and moved back home to live with my parents. We started with a phone on a trestle table and a toolbox, with about 10 bikes in stock. My brother Nathan, who's always been interested in bikes, came on board and from there we put on an apprentice and it kind of just kept growing. It's grown from that to now being situated in new premises with over 10 staff.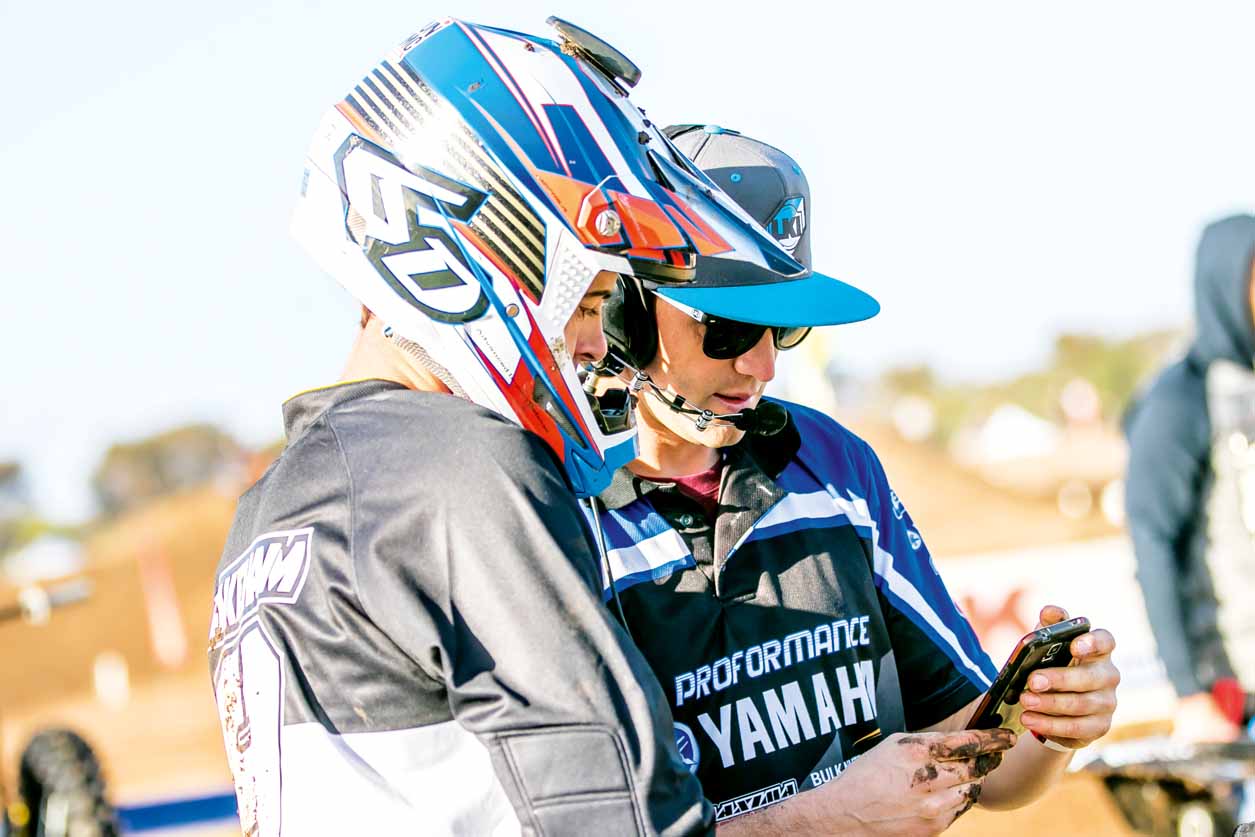 Before you got the race team up and running on a national stage you were more known for your minibike freestyle shows with Whip Industries. Are you still doing those shows?
Yeah, but like everything it's getting harder to do [it all]. In 2015, our calendar was so full with different events we only had two free weekends.
When I was doing my apprenticeship as a fitter and turner, my passion for racing was still there. I was racing local and state A-grade races. I got together with a few mates and we thought we'd create a team, Whip Industries, and have a run at it to try to help get a few more sponsors to help going racing. It was really aimed at keeping us going racing and a way to give us a bit more exposure.
My uncle was on the local show committee and for whatever reason they couldn't have horses at the country show. He said to me, "We have nothing for the show; can you and your mates do something on your motorbikes?"
They gave us this little area and all of us had minibikes and XR50s that we mucked around on, so we went out and mucked around on those for the crowd. The show committee bought us in one load of dirt and a four-foot BMX ramp and off we went.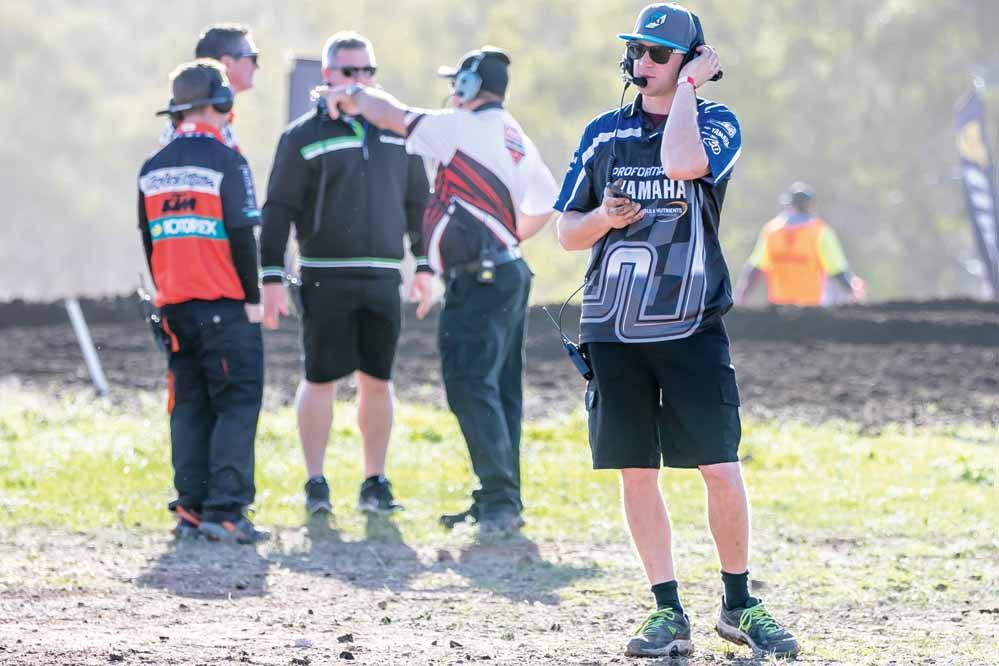 Would you say that's where you current race team originally grew from?
I guess that was the starting point. I had just turned 18 and, as I said, I was just starting to make a go of racing myself. I was ringing up people trying to organise sponsorship.
It looked better with a few of us all trying to do the same thing and we were starting to get a little bit of support to do some local racing before it took off in the minibike direction.
The shows opened us up to the industry a little bit — not that people really accepted minibikes all that much in the industry. We got to know a lot of people better through the freestyle show than we did with our actual racing, which gave us a point of difference, I suppose. We approached that side of things very professionally and in a lot of ways we looked like a race team showing up to events.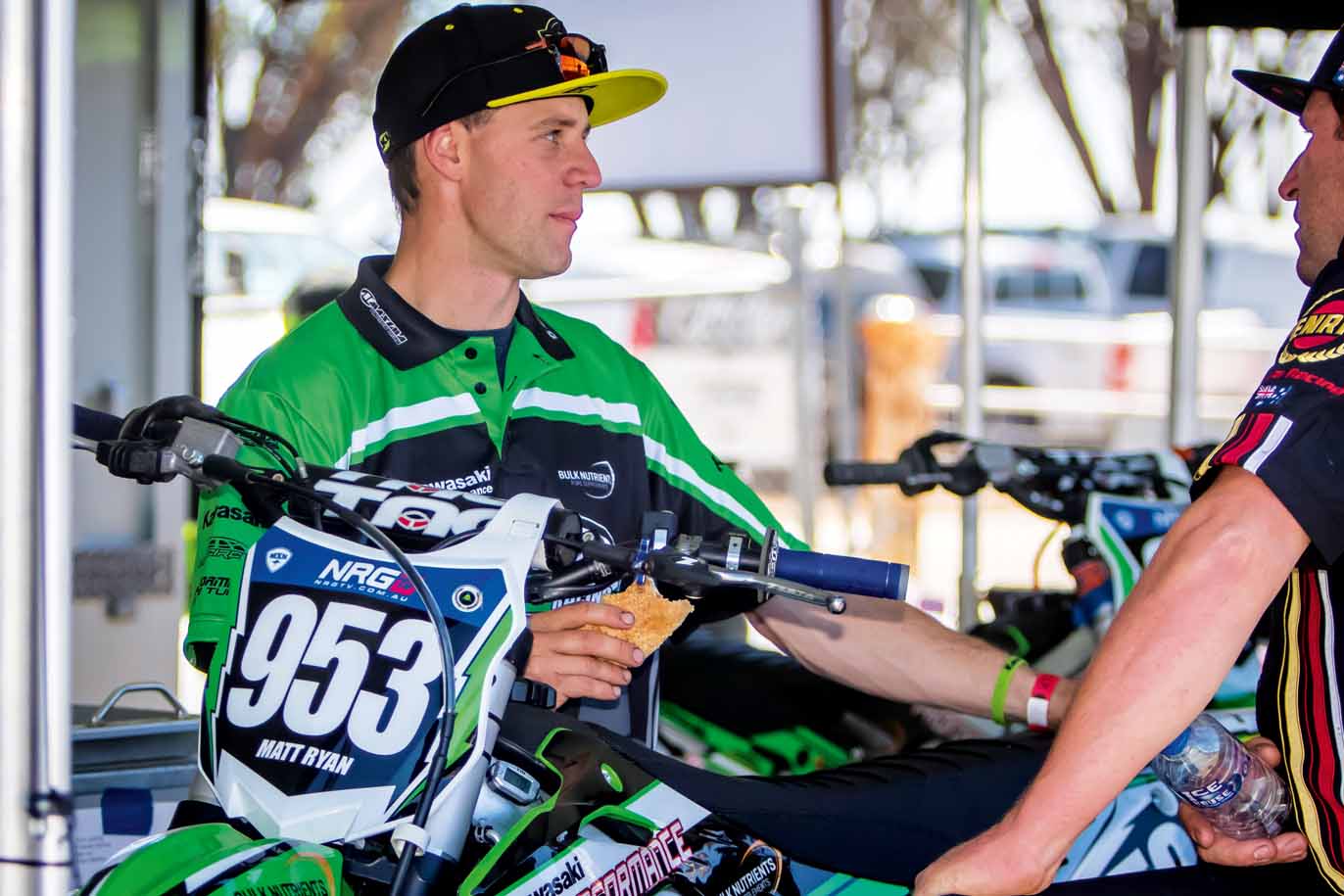 You made your entry into the national scene with the race team originally called WBR (Whitten Brothers Racing) and you were racing Kawasakis. What can you remember about the first year?
After a few years of helping riders through the store, our first major year would be 2014. After these early years letting a few local riders ride my bikes I found I got the same kind of enjoyment I got when I was racing.
In 2014 we tried to support Ryan Shadbolt and Joel Green in the MX Nationals. We used the truck we had at the time and infrastructure we'd built from the minibike show to go racing. We had no real help that year apart from buying the bikes through Kawasaki on a race plan.
To be honest, it was a bit of a disastrous year. We learned a lot of things. It was always hard when people were paying for things themselves but you're trying to help them. At some point along the line there's always going to be a conflict. We were trying to run the team and give them a full ride and support but they were also paying for things out of their pocket so there were some grey areas. We stuck it out for the year as both guys are really good people. Looking back, things were not clear enough from the start and it certainly made for a bit of a rocky year.
It was a big learning year but we got through that and I was thinking to myself, "This isn't working; it's costing so much money," and didn't know what I was going to do. It wasn't that much fun going racing every weekend and not racing within the top 10.
At that point I approached a friend of mine, Derek Steen, and we got talking and decided to grab one hotshot and go racing for the year and supply everything — do it the way we wanted so there were no grey areas.
We were chatting to Matt Ryan and a couple of other guys. At the same time Kawasaki approached us with a pretty good parts-and-bikes deal, so we decided to have a full crack at it and ended up signing Dylan Leary and Matt Ryan for the 2015 season.
There were definitely some highlights and success along the way. As a whole, it turned out not to be a stellar year: Dylan ended up quitting, Matt did his ACL and Alex Morris came into the team as a fill-in rider.
In my mind, it was our first year of going racing in a professional way as a team with mechanics and trying to do it all properly, so it was still pretty cool.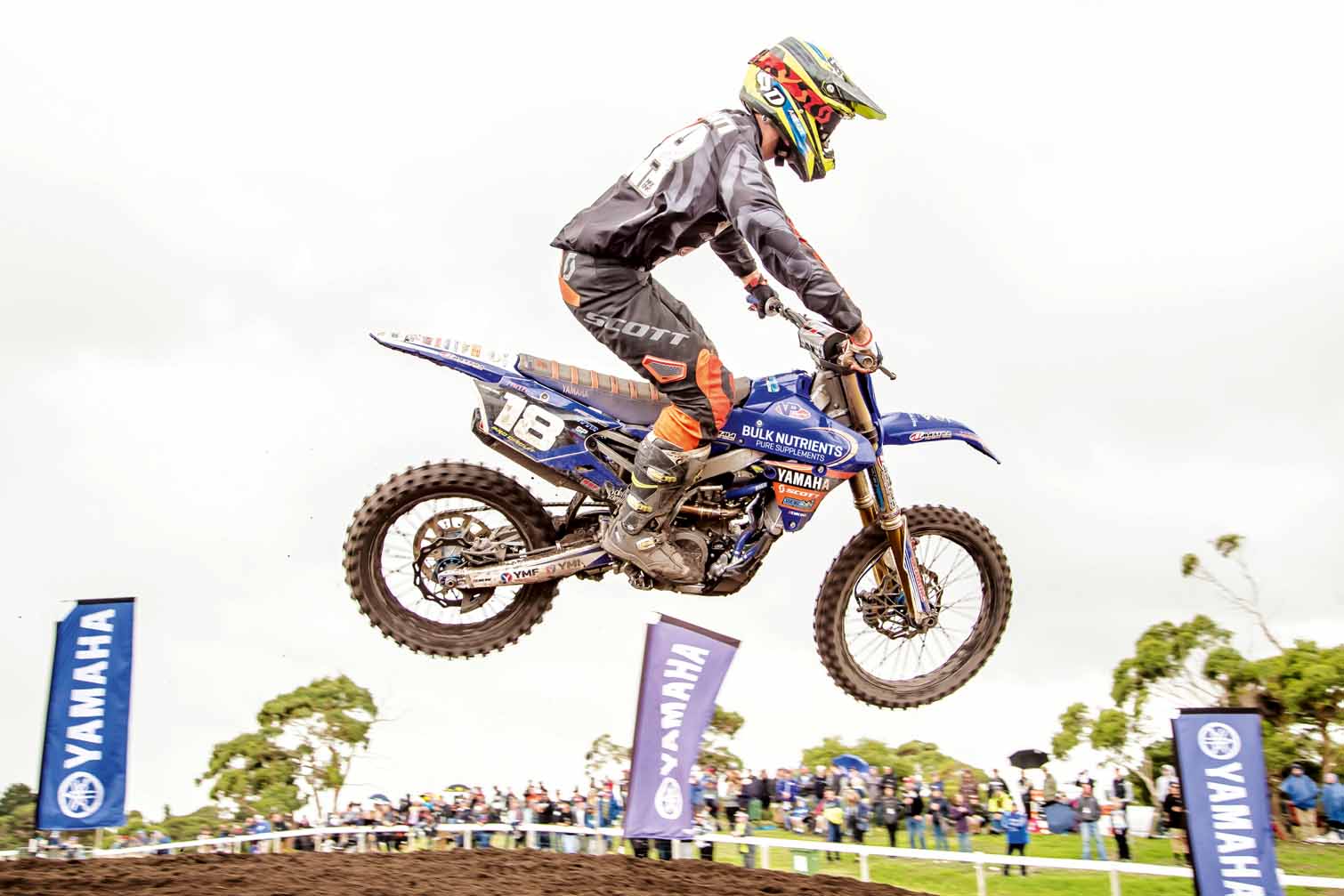 At that point, were you still spending some of your own money or were all your costs covered with the extra support?
We were still tipping in a lot of money and it was still very much a privateer effort. We did have a really good parts budget and were supplied bikes at a great price and a little bit of money from Kawasaki — probably not enough to keep the truck full of diesel for the year, but it all helped.
It was a massive year for us. We built the new truck and a lot of the infrastructure that we have now and although we didn't achieve the results we were after it was still a fun year. It's still a good year to look back on and was enough for us to want to keep going and make something happen.
At the same time we also changed the name of the team from WBR to ProFormance racing, which really came down to speaking to Kawasaki and we decided that the change of team name would look more professional as a Kawasaki-backed MX2 program.
We continued running the same team name when we moved from Kawasaki to Yamaha because the name was up and running. This year we changed the team name back to WBR to go back to promoting our shop when we go racing.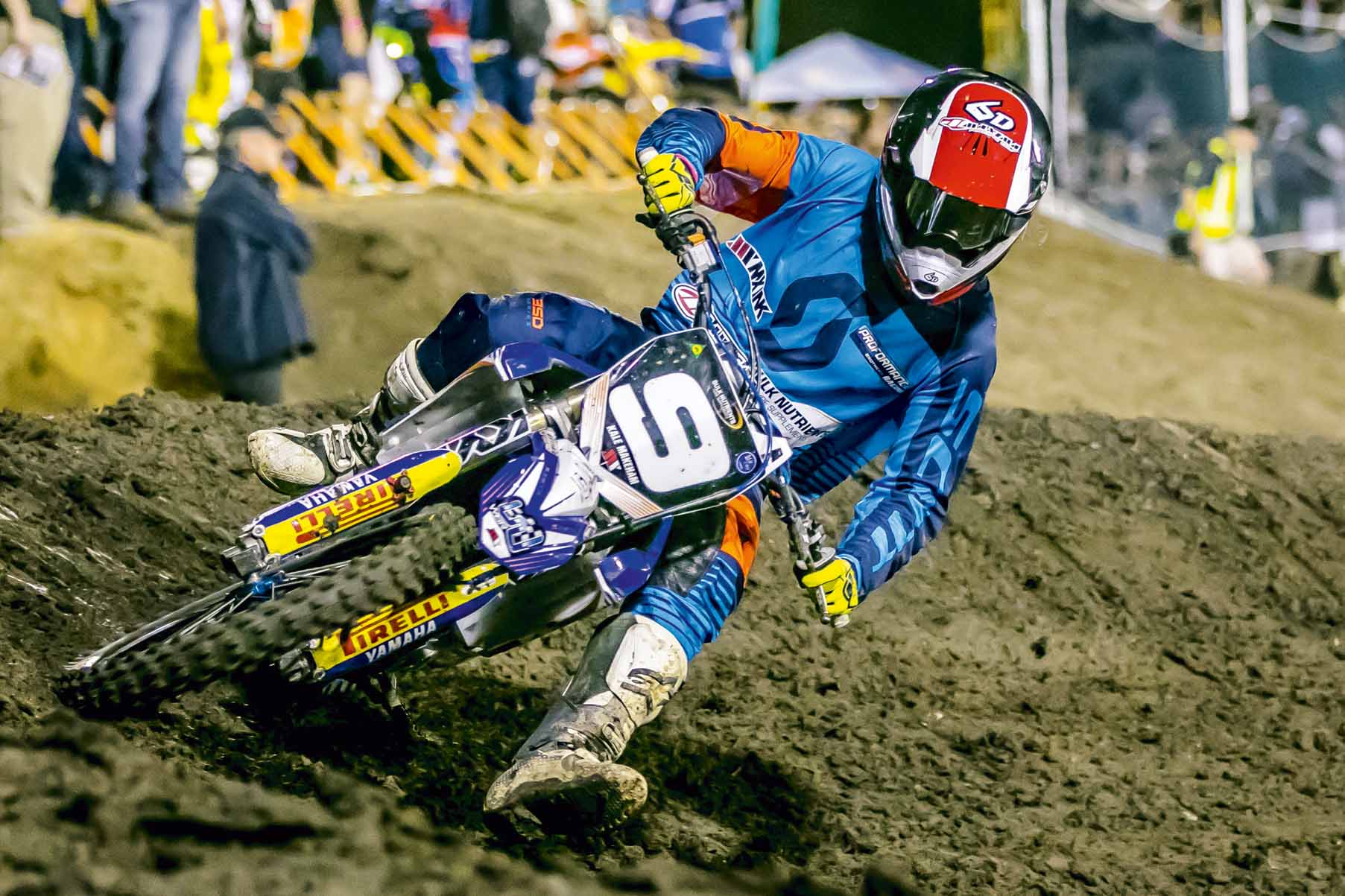 Having made the move from Kawasaki to Yamaha, how has that been for the team and how good is the support you're getting from Yamaha?
When we decided to sell Yamahas in our dealership to grow our business, we were looking forward to continuing to race Kawasaki equipment as it set us aside from the other teams. Our plans to grow the business upset Kawasaki and they threatened to pull our racing support from us. While talking to Yamaha I told them that even though going racing costs us a lot of money the racing side of it was a passion of mine and was part of the business in a sense. They asked me what would it take to be involved and they came on board.
We have a bike-and-parts deal. We still have to find the funding to go racing but we have some great relationships with companies such as Bulk Nutrients, Maxima Oils, Scott, Zeta, DRC, MX Ink, Pro Circuit, LKI, SP Moto Seats, Deft Family, 6D helmets, VP fuels, Braking and Cykel.
No one on the team is making a wage, but for the most part we cover our way to go racing. The shop still picks up bits here and there but it's certainly nowhere like it used to be and we're able to make it work. Everyone's expenses are now covered, everyone is there having a good time and things are looking good. For a team like ours, it has to be fun to keep the passion.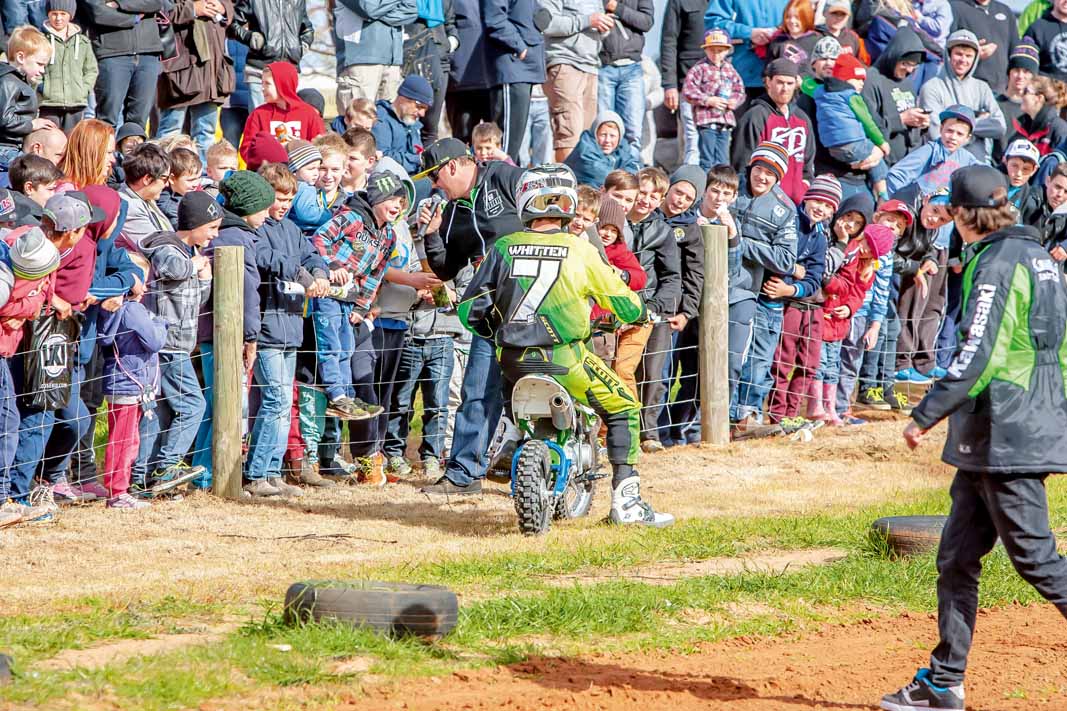 Just getting to a point where you're able to go racing with just about all your costs covered is a great achievement for a newish privateer team in the paddock.
I'm happy with the point we're at now. It would be nice to grow a little be more, though. The hard bit for me is during the week, trying to balance work life and also going racing. I do most of the work on the team side of things during the week, getting the bikes cleaned then ready, unpacking the truck, washing it then loading it up again to go racing the next round, so currently there's a lot of after-hours work for myself to keep the team on the road.
It would be cool if in the near future we good generate a little bit more support to be able to pay a mechanic or someone to help with the background work so I can free some of my time up and focus more on the dealership and balance my life out a little better.
As far as the weekend goes, when we go racing, I would say we're as professional as anyone, but during the week it's a lot of work to string everything together to make sure we're ready for the race weekends.
We've been able to build a race shop now; we have enough room to build three bikes. It's nothing too fancy but it's its own area, which is a big help as everything is always set up.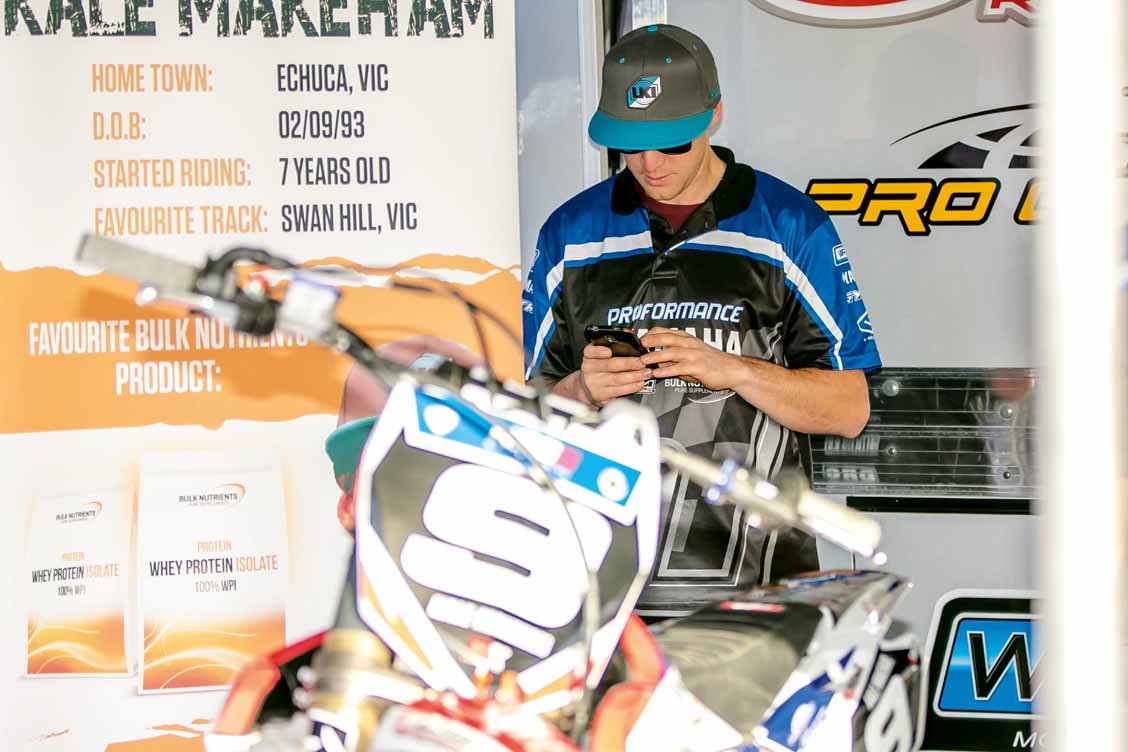 From a team and rider perspective, do you see yourselves as being a good stepping stone for riders looking to make the next step in their career?
I think when we first realised how much some riders out there are being paid to win a championship and worked out what we had to offer, you have to sort of categorise where you sit in that aspect.
We realised that we're probably going to be the team that's trying to find a kid who is going to have their breakout year, or giving a good rider a second chance to build their racing career. That's the path we decided to go, giving riders like Matt Ryan and Dylan Leary, two riders with good results who were looking to rekindle their careers.
Then last year we had Kale Makeham who was coming off his factory ride with Suzuki in the MX1 class. It wasn't his biggest paycheque but we were able to work it in with him doing some work in the dealership and doing some coaching stuff to get him the money to make it happen.
The same thing with our two riders this year, Connor Tierney and Aaron Tanti — they haven't won championships before and are not on the big dollars but need some money to go racing, so we're trying to give them what they need to put them in a position to win.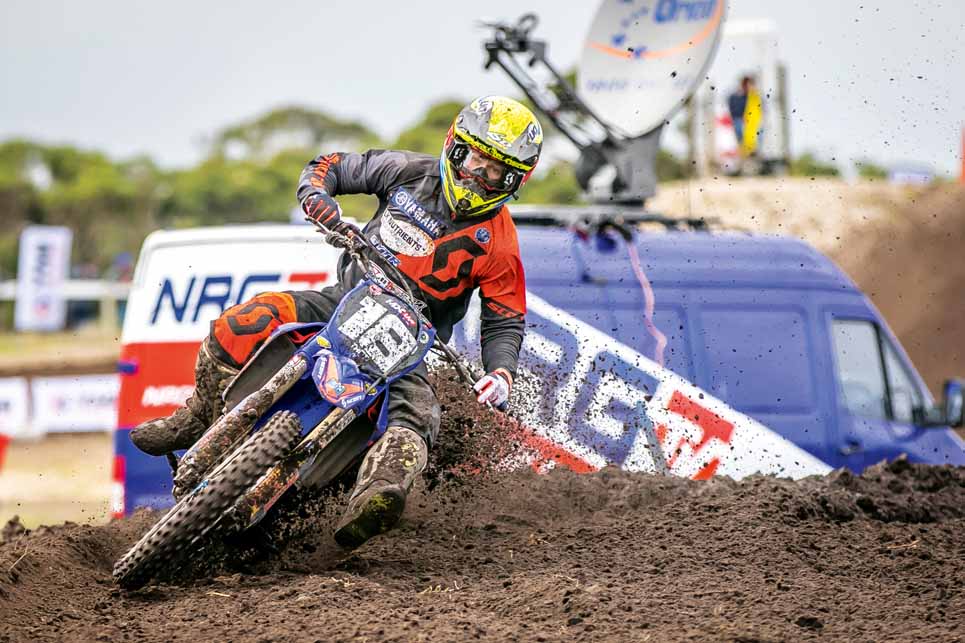 How have you found it being one of the satellite teams in the pits on the national stage? Where do you feel you fit into the scheme of things?
I think the first year out there racing, you're probably not that well accepted within the pits, I don't feel. Maybe it was more myself — I'm not a very outgoing person and maybe I don't go around talking to people enough, but that first year you don't feel that accepted. It was like people wanted to look but not come and say g'day.
It could have also come down to our personalities; we're pretty quiet people and didn't go out of our way to talk to people in the early stages where we probably should've.
But now, rolling into a couple of years of being in the pits, we feel as though we've been accepted in to the fold; everyone is really nice and you can have a chat to just about anyone. You build some great relationships with people and get to know more people.
I must admit I felt very intimidated back in 2014 when we first had a decent presence in the pits. You feel as though everyone's looking and thinking you don't know exactly what you're doing. Everyone's questioning you, thinking you're going to be there just for one year, then gone.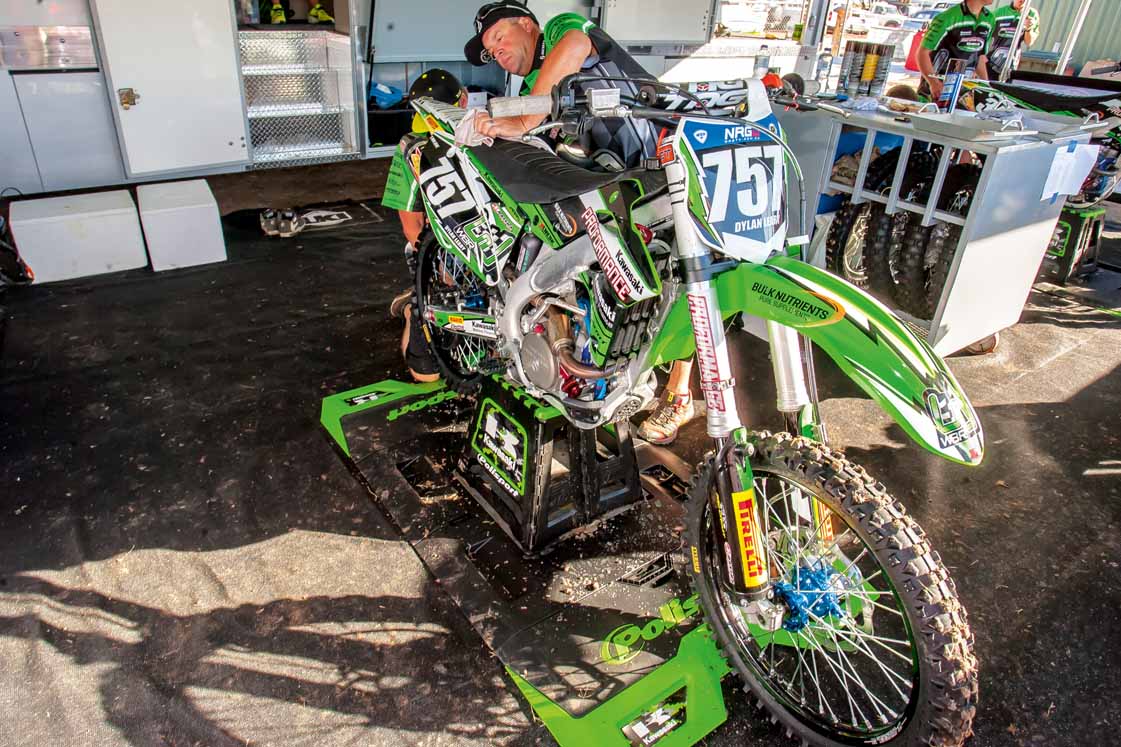 The team looks to be doing a great job and providing a great opportunity for a handful of riders each year to show what they can do on the national level. At the end of the day, what's the number one reason you want to go racing on the national stage each year at both the MX Nationals and Australian Supercross?
At the start of the year it was pretty cool. Everyone involved with the team sat down and all told each other why we wanted to go racing and be a part of the team.
We all had a bit of a different reasoning. For me, it's always extended from me just wanting to build a really good race bike and a really good bike doesn't look good unless there's a really good rider riding it — someone who can get some good results to back it up.
That's where it started from for myself. I knew I could build a fast bike but how do you prove that until you win something? I suppose that's where my passion stems from.
That's one thing we pride ourselves on: all the suspension work is done in house and all the engine work is done in house. We have a pretty incredible machine shop thanks to Echuca Performance and I think our setup is as good as or better than any factory team. I'm extremely happy with this year's package we have. We are making big power and went the whole 2016 season without a mechanical.
At the moment our personnel is probably not there to be able to put in the same amount of time to go testing as the big teams but we put the work in after hours to make it the best we can. We pride ourselves on our race machine and that's a big part of what we do it for.