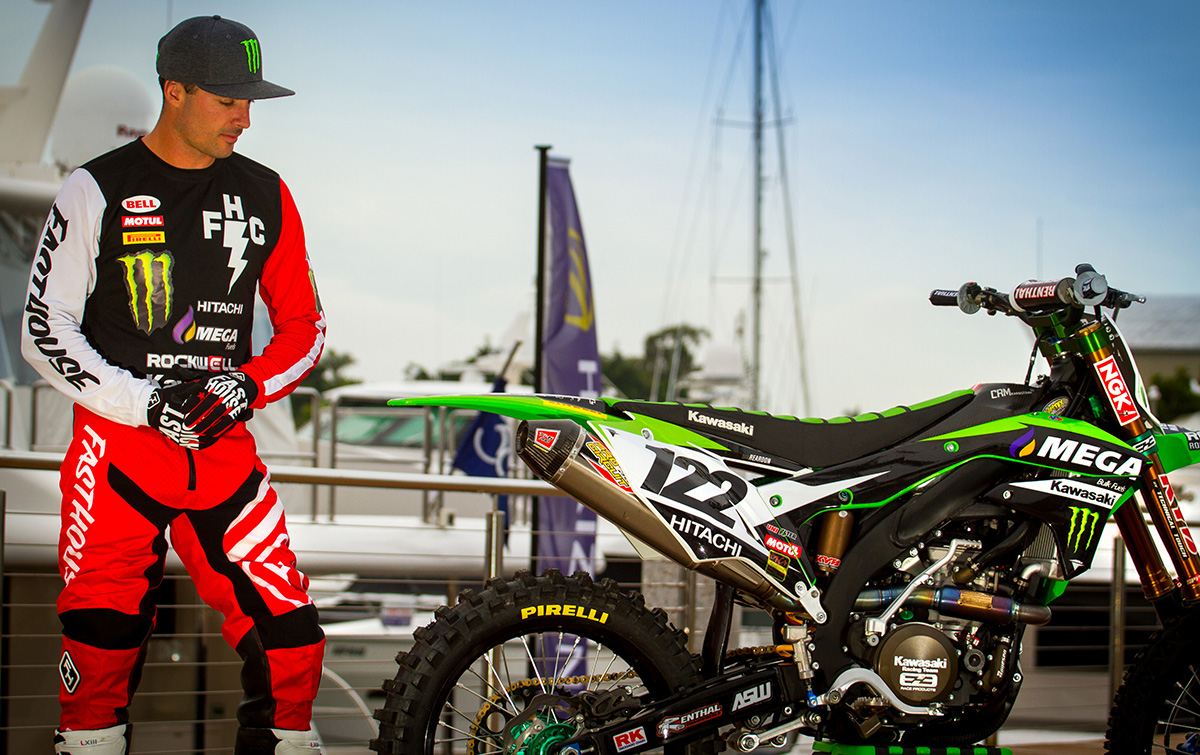 Daniel Reardon story is full of highs and lows. We sit down with the 2015 Australian Supercross Champion as the ink dried on his Kawasaki contract.
STORY AND PHOTOGRAPHY MATT BERNARD
A decade ago, Daniel Reardon stood as the king of Australian Motocross and Supercross. He had three straight Supercross Australian titles, one in Pro-Lites (SX2) and two in the premier class. He missed the 2006 Australian Motocross Championship by just two-points. In 2007, he was the champion.
As with the majority of the Motocross community, I was at the widely regarded Raymond Terrace MX Nationals round in 2007. Reardon took it to Australian legend Chad Reed not far from Reed's home town. The two battled each other furiously in a race where many thought Reed would simply dominate; it was said that nobody could hang with the #22. The name Reardon instantly came across the desk of US-based teams after he stuck it to Chad that weekend.  Before the close of the 2007 season, Reardon was signed to the powerhouse Geico Honda team, to compete in the USA on a CRF250R. By mid-October, Dan had raced the US Open, finishing with impressive 7-4 results over the two nights. Reardon had arrived.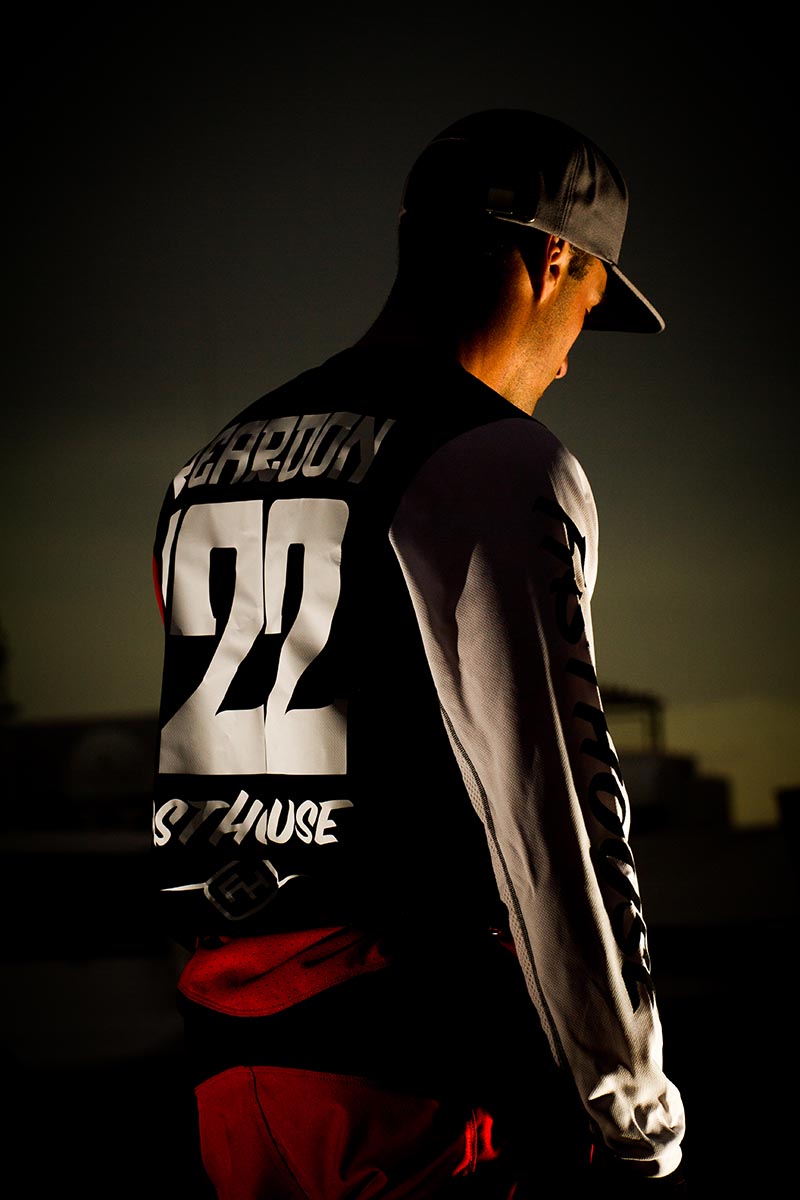 In 2008, Reardon finished 12th in SX East Lites, with an impressive fourth place in the East West Shootout, behind Ryan Dungey, Ryan Villopoto and Trey Canard. Against a seriously strong field, Reardon finished 11th in the Motocross. In 2009 and 2010, Reardon's US-based results were both up and down, some impressive results were hampered by big crashes and injuries. In 2011, he returned home to Australia, signed to the all-new JDR Motorsports team, who had come into Australia all-guns blazing. At the end of the 2012 season, Dan announced his retirement from the sport and started a personal training business.
It was a slightly sour end to the career of Daniel Reardon. A rider who had dominated, been the champion, the man in Australia and a serious competitor in the USA to leave the sport after finishing just inside the top ten in Motocross and Supercross.  His AlterEgo personal training business was in full effect in 2013, although short lived. Significant personal and family issues forced Dan to close his business to work in the mines and a long way from the sport of Motocross.   After a couple of local dirt track appearances in late 2014, Reardon's calls to return to the sport were answered by the powerhouse CDR Yamaha team. The number 122 was back in the Australian motocross scene. In somewhat of a movie script, Daniel Reardon was the 2015 Australian Supercross Champion.
In 2017, Dan fulfilled his goal of returning to the USA and raced for the Star Yamaha team and aimed to compete in both the US and Australian Supercross series'. We caught up with Dan as he prepared for the 2017 Australian Supercross Series with Mega Bulk Fuels Kawasaki with ink still drying on his contract.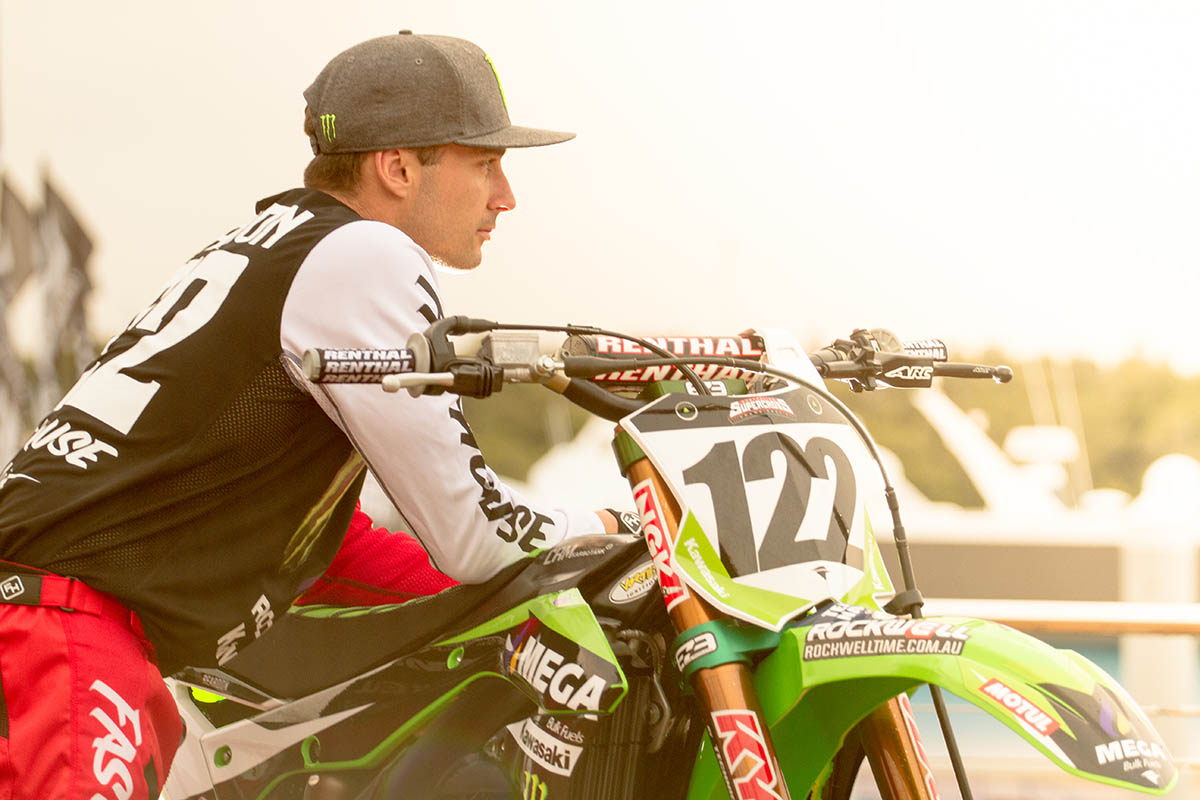 You are fresh from a stint with the Star Yamaha team in the USA – it was a bit of a rush deal, where you happy with how your experience went?
I am happy with how it went. Like any story there's lots of bits that you've never heard. Going back to the states was one of the major goals from coming back to racing again. It's the goal for a lot of riders to go over there. To be back and a part of it was amazing. When I went over there I did a short test,  I packed for three days. I was given an ultimatum, If I wanted the ride, I had to stay and that was it. I had to make the decision then and there. I stayed in the country and came back to Australia once. I did hurt my knee two weeks before Anaheim one and that was a struggle for the first few rounds, but it was still good enough. It was good enough for them because they needed a rider, but I wanted to achieve the best I possibly good.
Has the return to the states re-invigorated your love of racing all over again?
It has, I remember coming back from the states last time, in 2011 I think, and you learn so much from the sport over there, or you get to look at it in a completely different light. Everything over there is run so well. The athletes are treated as athletes. The gear, the companies everyone is just so enthusiastic about the sport, it's just amazing to be a part of. The possibility of going back is high, it was just awesome.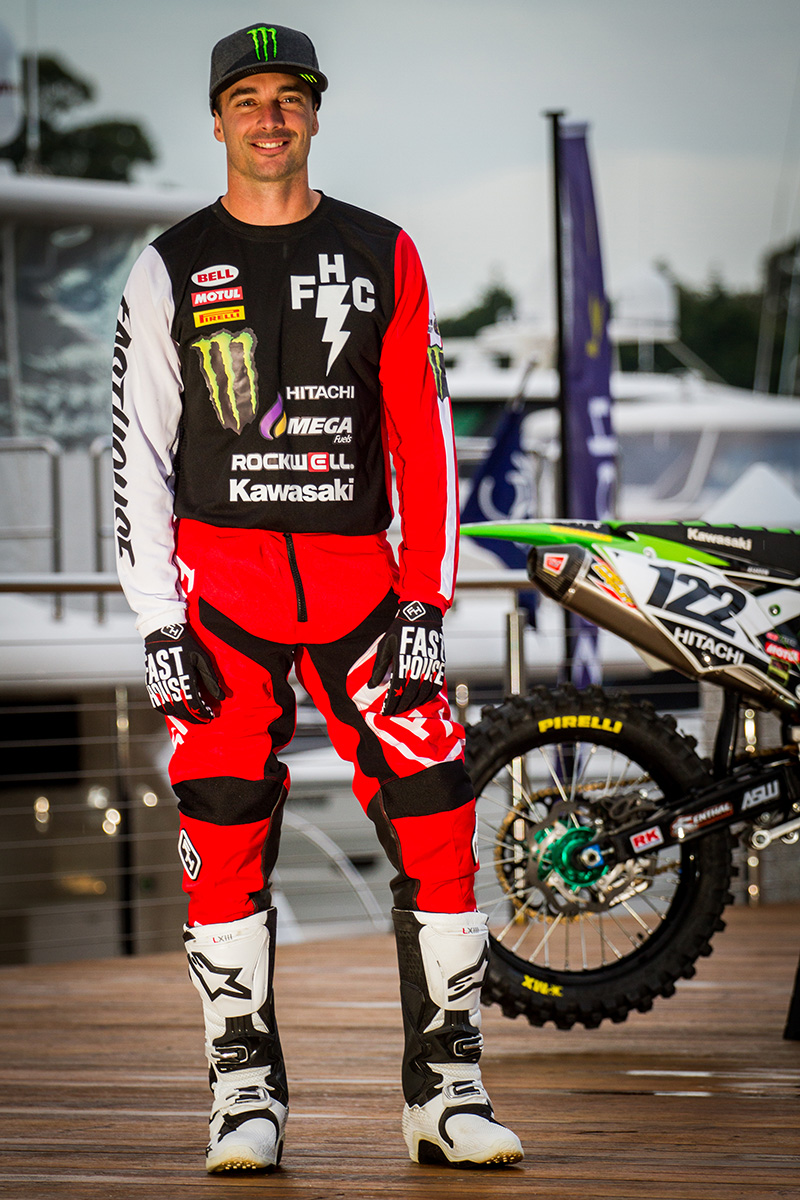 Is there a lot for the Australian riders and teams to learn by backing themselves and making the trip over there?
100 percent. Riders, personal, race teams, mechanics, everyone involved in the industry has something to learn from the guys over there. Don't be fooled, it's not just because of the money. People think "It's just because Amercia has more money, It's not. A lot of it's not about that it's about the passion. If you are racing here, and you are passionate and have the skillset – do it, just do it.
Do you think your trip to the states allowed more Australian teams started to look at you and compare you to the best in the world?
I think so, I hope so. I think having experience if very important in any job. Experience is massive.  Going to race against the best in the world in Supercross again, I think it's lifted my profile back up. I was still competitive and am still one of the older guys in the sport. I'm doing this because I love it again.
You are back to compete in the Australian Supercross Championship with Mega Bulk Fuels Monster Energy Kawasaki – I actually have one of your championship plates at home from 2007 – 10 years this year and we see you back on green. How did it all come about?
It's funny you say you have a Championship plate, I actually have a championship bike from 2007! It's been 10 years and over the last couple of years I've been chatting to Troy (Carroll, Team Manager Bulk Fuels Monster Energy Kawasaki). You get to silly season and everyone starts to make phone calls. We've gotten close a couple of times, but due to the circumstances it hasn't worked, which is fine. Back with Kawasaki again and I'm excited about the change. There's a lot of things that have changed for this year and it's a very detailed question and answer as to why I have made the change I did. But I did make it for the better. It was slowly becoming an un-happy camp where I was and it's not really good for anyone, no matter what position they're in so looking after my best interests, it was time for a change.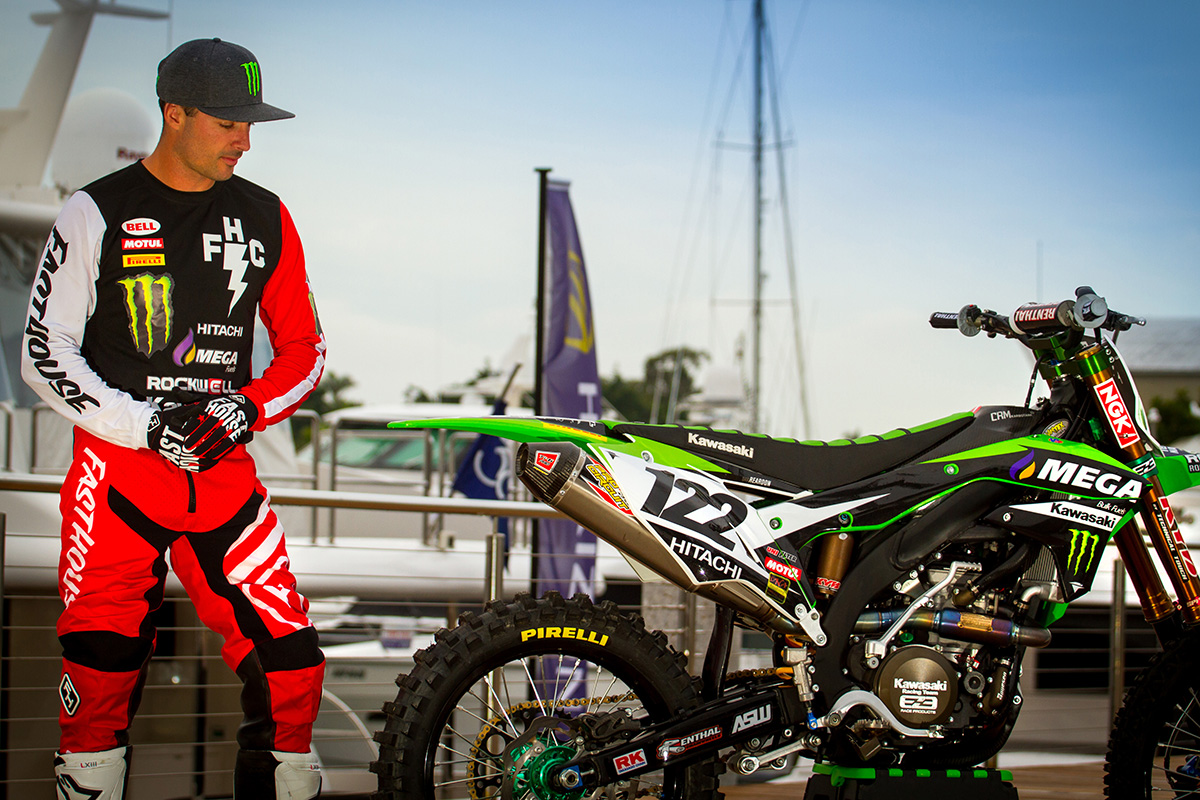 The KX450F is a lot different from your last stint on Kawasaki and other bikes you have ridden for recently. What's it like?
The bike is awesome. It's a lot different to what I have been riding, but keep in mind I have been riding a 250F. Given it was probably the fastest 250 I've ever ridden! Going 450 to 450 though, it's a very different bike. It's more nimble, everyone knows the Yamaha makes great power, but this bike also makes great and usable power. It's something about the chassis that makes me feel a little more at one with the bike I guess. I'm excited to put some decent hours on the bike and get ready for this Supercross series.
Does it feel a bit like home, being on Green plus being a team based so close to your house.
It makes it easier. My track is 10 minutes away, I live 10 minutes the other way. We can test whenever we want, we can do anything we want really. I have a lot of flexibility within the team. Things that I am passionate about, what I want to achice. What I Want to do within the soirt what I think the sport needs. I wouldn't say I have the green light to do whateer I want, but there;s a lot of flexibility.
I guess that helps build the Dan Reardon brand also?
I'm super passionate about guys at the top. 450 guys, being able to be able to go after their own brands, their own helmet, boots, goggles everything. I think that's what Australia needs. Getting kids when they are younger and brand them for a long period of time. Year to year, everyone is changing brands colours, fans don't know who's who anymore. It's really confusing for someone like me, let alone the average punter.
What will have you smiling at the end of the Supercross championship?
Everyone wants to win. Ask anyone they want to win the championship. I want to be fit and ready for this season. Last year I was not ready. I tore my ACL during the last half of the Motocross had surgery. I had about 3 weeks preparation on the bike before round one. About two weeks things were just starting to come good and I re-tore my ACL. I did a lot more damage the second time and I was just surviving the series. I dislocated my knee more times than I can remember during the series and practicing. I wasn't ready for last year. This year I want to be ready. I want to be ready to fight and ride hard and be competitive especially when the guys come out from the states – I want to be there.