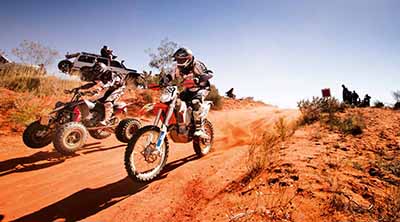 STORY & PHOTOGRAPHY DAMIEN ASHENHURST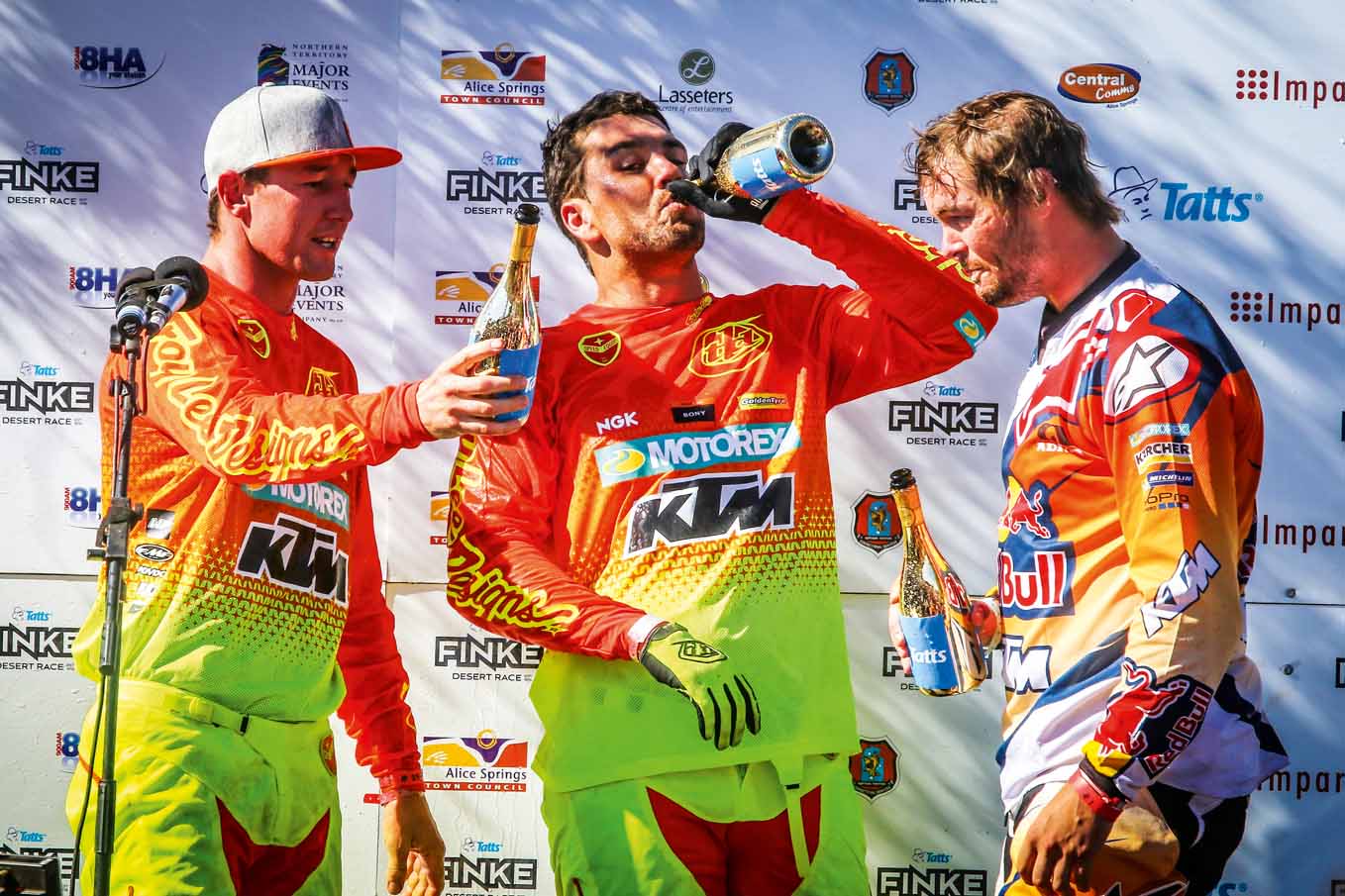 THE COMMUNITY
Alice Springs is the base for the Finke Desert Race. It starts there, runs down to the township of Finke and then back again the next day. Prologue is also held in Alice as is the huge scrutineering event.
I've travelled a fair bit in Australia and I've not seen any place quite like Alice Springs. I love it and the actual geographic location is part of the reason I keep returning. There's something about the land there that feels free, boundless, inhospitable and welcoming at the same time. It's ancient and it's breathtaking.
But for moto fans there's no better town in this country to be in than during Finke time. The whole city gets behind the race like you don't see for any other type of racing — although Hattah deserves a special mention as well. There are no greenies sabotaging the track, there are no concerned citizens' groups looking to shut it down and the financial windfall for the region is counted in the several millions. The supermarkets get behind it, there's a cafe with a Finke shrine in it and everybody welcomes the thousands of visitors.
THE TRACK
If you tried to sum up the race by describing the track, little of this would make sense. You'd wonder what the fuss is all about. The track is about 225km long each way and it changes a fair bit through the run, but what it's known for is the whoops. The endless whoops. The huge, small and inconsistent whoops that go on and on and on — you get the picture.
But there also deep sandy sections, hard-packed and rocky sections — and did we mention the whoops? Yeah, there's a lot of them.
The track snakes its way down to Finke and back passing through the Finke River, which some sources claim is the oldest river on planet Earth. Riders are at all times surrounded by a mind-blowing landscape and of course the thousands of spectators that camp along the track or visit for a couple of days.
The track appears simple and when you look at sections in isolation there doesn't seem to be anything tough about it. But, once you're on the bike and trying to ride at race pace on what is essentially a single lap that lasts for hours one day and again the next, then the track starts to take prisoners and bust bodies and bikes and dreams. It will punish those who dare to ride well above their limits but reward those with the highest of talents.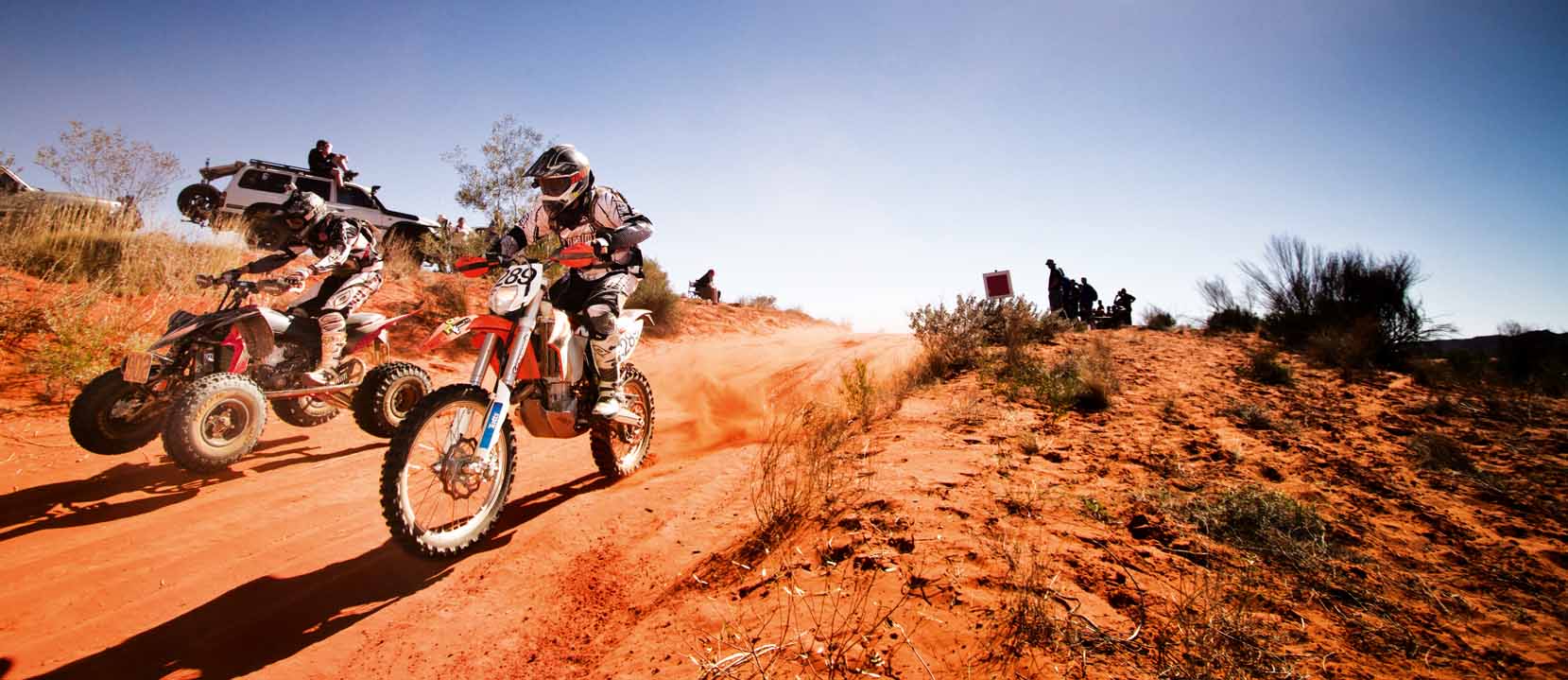 WHO TO WATCH IN 2017
Toby Price has entered the race, which wasn't a given after his Dakar crash. His rapid recovery almost confirms he's a cyborg from a different planet and he'll be chasing the overall win record in 2017, something he wants bad. Anyone can win Finke but when Toby's there the sentence has to start with, "If Toby doesn't win, then …" Price will be chasing win number six and there's generally daylight second. He doesn't just win Finke, he crushes.
Daymon Stokie set the fastest lap time ever by a 450 last year on a Honda but he's since been picked up by the Active8 Yamaha team. The Yamaha is a better Finke bike out of the crate than the CRF405R and if Daymon can get his head around Yammy then the podium beckons.
Beau Ralston was the next-fastest 450 last year but that included a missed fuel stop where he had to turn around and lost a lot of time. It wasn't entirely his fault but Jake Smith's CRF was literally on fire as he was pulling in. Beau has the build of a Finke champ and, while he seems quiet and reserved, most of the time he's super competitive and wants to win.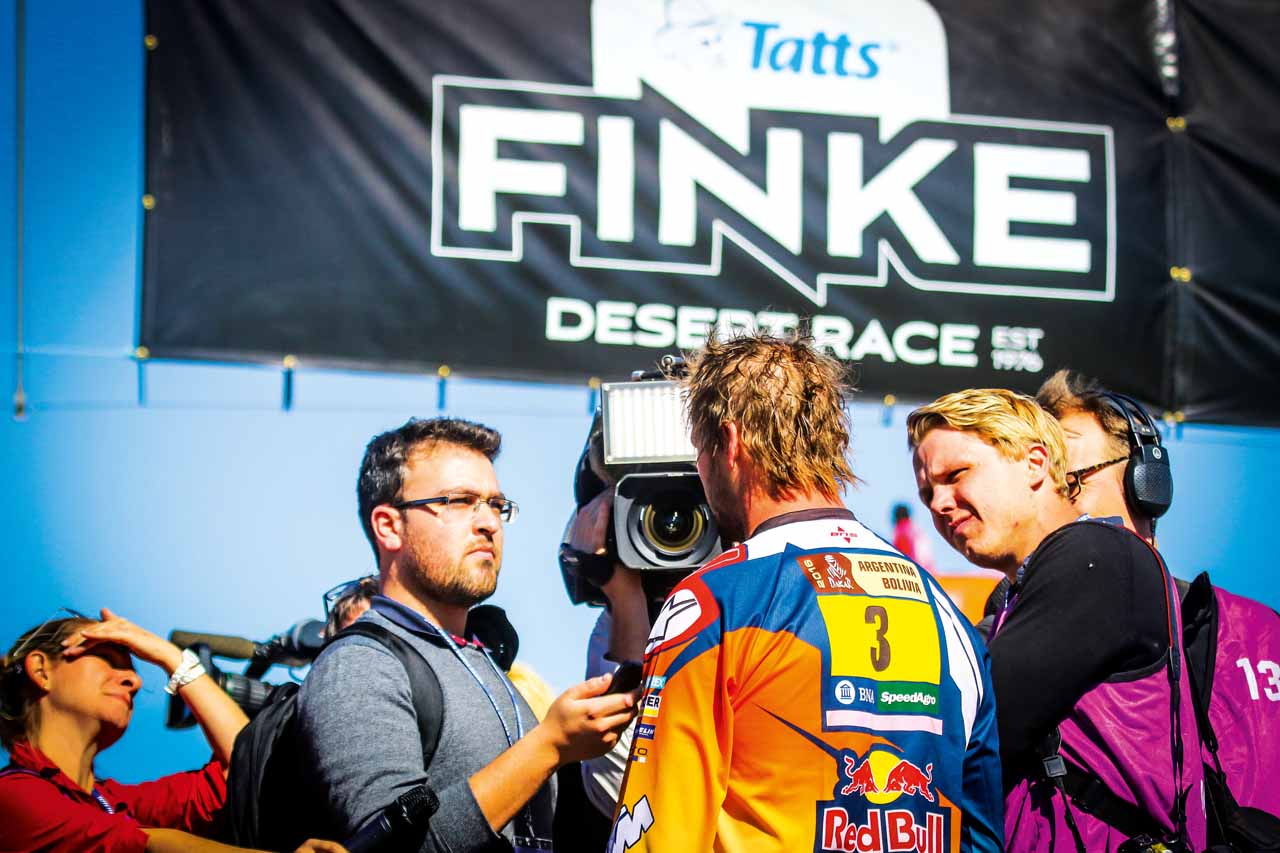 Tye Simmonds has proved himself a true contender from day one. But Tye is a busy bloke these days with a lot of mustering on his schedule and a lot less dirtbike riding. We'll never count Tye out of anything — he's too good — but will he have the full package come race day?
Josh Green had a horror year in 2016 and missed almost all the racing. He returned from injury in the A4DE though and proceeded to blow the doors off guys who shouldn't have been beaten by someone who hadn't raced for eight months. Greeny is Reed-level competitive and most believe there's a Finke win in his future.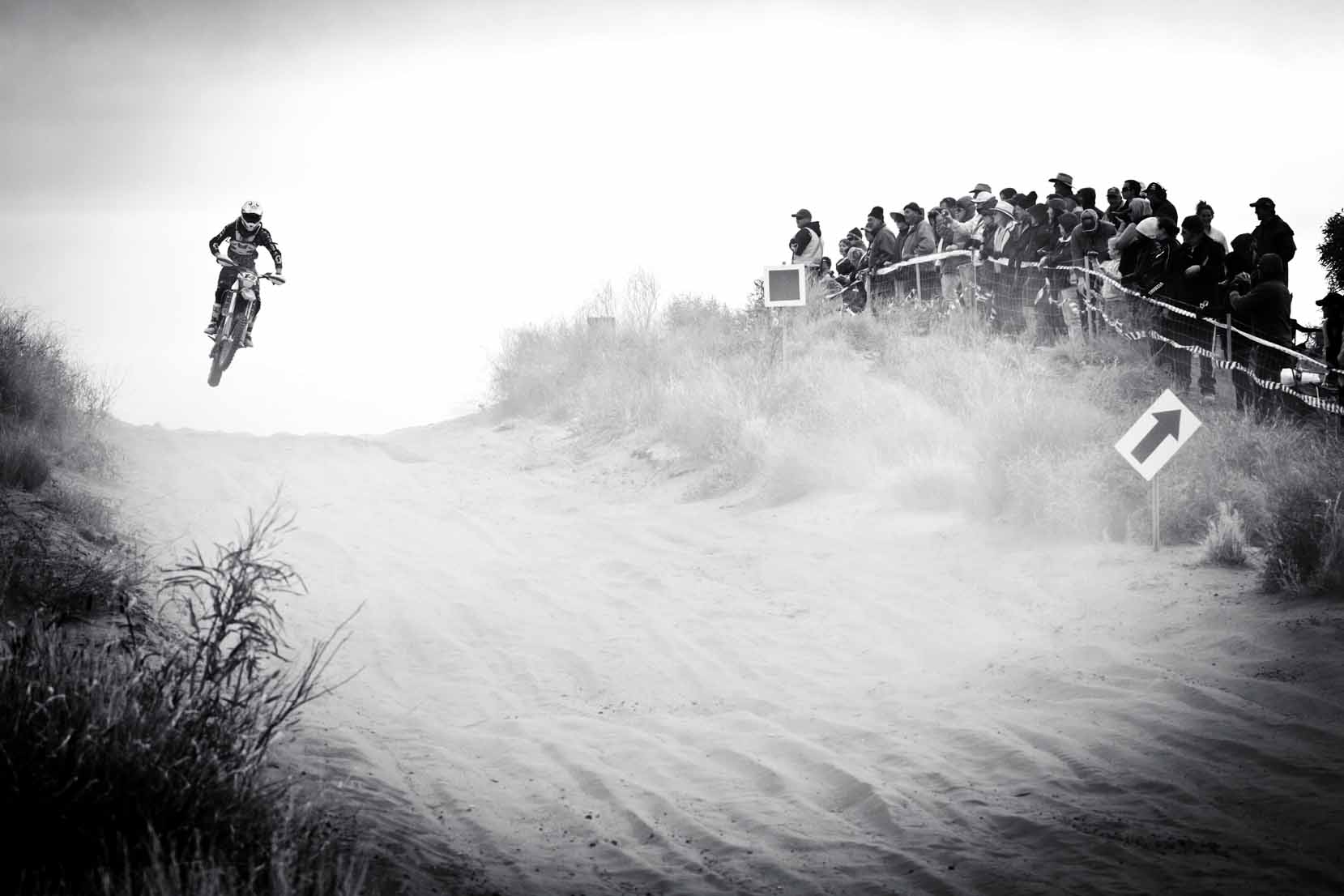 Todd Smith has won it before and like his brother Jake he's a phenomenal rider. If you want to see what 100 per cent commitment and skill looks like at a ridiculous speed, stand at the 40-kay dune and watch Todd smash it at full throttle — it's next level.
That's also a great spot to see Ivan Long and Caleb Auricht send it. Keep in mind there are whoops leading up to the dune and they also land in whoops and the track goes from hard to soft in between. It really is something you need to see.
David Walsh, along with Stokie, is one of the local favourites. He's had some rotten luck in years past but his speed is undeniable. It just wouldn't be a huge surprise to see Walshy win — he's that good. It can't be understated how much it would mean to the region for a local to win Finke again. While they once dominated, the last was Ryan Branford back in 2006.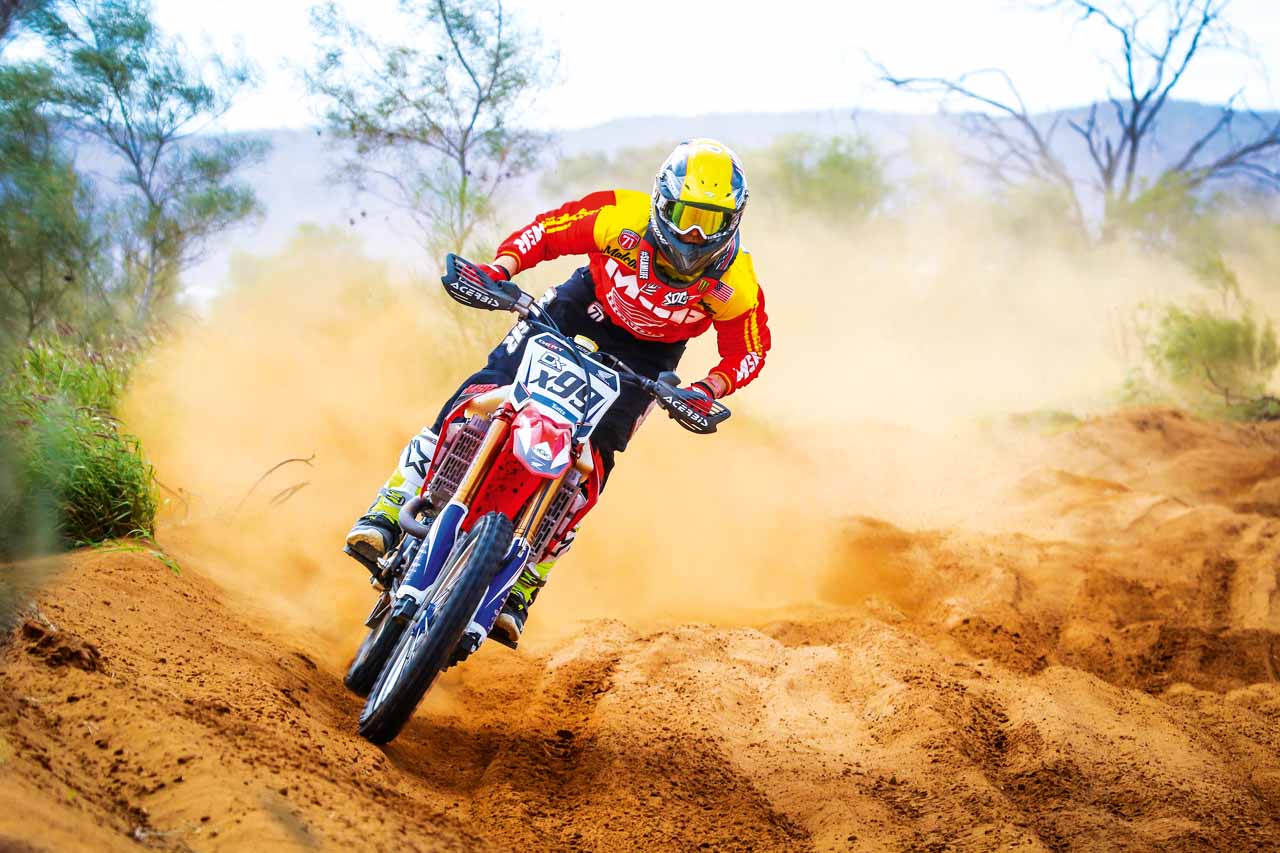 THE BIKES
To build a bike to win Finke nowadays requires months of planning, testing and buckets of money. If the original designers could see just what their bikes were being put through they'd have an anxiety attack.
KTM has an inherent advantage in that it has a 500. That's a 50cc advantage over everyone else straight out of the box in a race where top end rules. The 500 EXC-F carries 61hp without mods and the PDS rear shock is a brilliant system for the high-speed Finke run.
Yamaha has a 450 with an engine well known as a powerhouse and the Active8 team knows how to get the most from it at Finke. It's near impossible to reign in that 50cc gap, though, so they're also been testing with a 500cc Athena-kitted biked and if that proves reliable at such extremes it could just turn this race on its head.
Honda's CRF450R is built very much for motocross/supercross with an emphasis on light handling but not so much outright power. It's a testament to the knowhow of the Honda runners that not only have they built the CRF into a desert race bike but they've made it bloody fast — as evidenced by Stokie's ride in 2016 and by David Walsh in 2015 for the Desert Edge team.