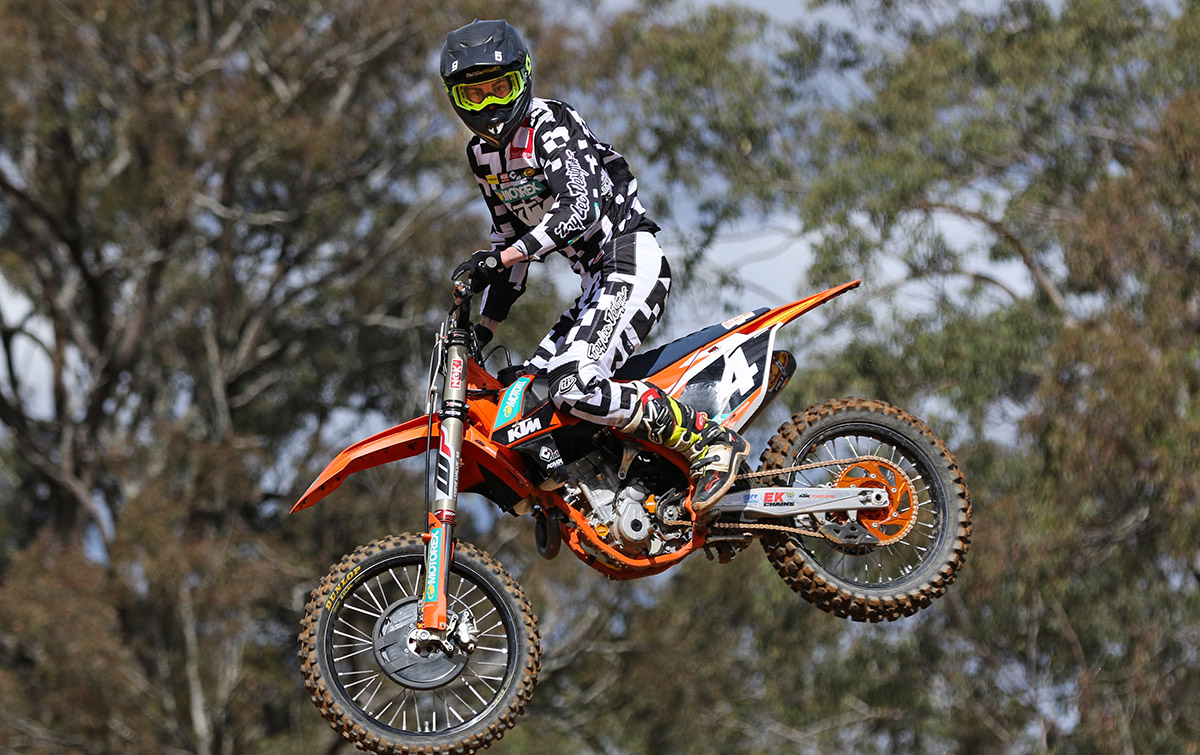 KTM Australia is excited to announce that freshly-crowned Australian MX2 Champion Egan Mastin will join the KTM Factory Motocross Racing Team as it powers into the upcoming Australian Supercross Championship beginning on September 23.
The new deal sees Mastin enter the upcoming supercross championship with an official ride in the SX2 category aboard a KTM 250 SX-F, and become a part of next year's premier class assault on the 2018 MX Nationals.
Famous for its no-stone-unturned approach to racing, the team has proven to be a path to championship success domestically, and career opportunity abroad, and is a dream destination for any rising Australian motocrosser.
The 19-year-old from Vacy, NSW completely dominated the second half of this year's MX2 championship on his Davey Motorsports KTM 250 SX, erasing a 42-point deficit to march to the title off a win streak which encapsulated four of the last five rounds, and eight of the last ten races.
What caught the eye of KTM Motocross Racing Team Manager Jay Marmont, however, was Mastin's one-off ride on a Factory Team KTM 450 SX-F at Manjimup, where, as the saying goes, he rode it like he stole it.
On one of Australia's few truly world-class tracks, Mastin lead the Manjimup premier category three times, and then won the final race to hoist himself into second overall at the finish, behind three-time Manji winner Kirk Gibbs.
Having never raced a supercross championship before, Mastin will be adapting to the unique requirements of the night-time sport and to 4-stroke power when the season begins but after a couple of weeks practice it seems to be an ask well within his formidable capabilities.
Egan Mastin: "As a young kid it's a dream to be on a factory team, especially with KTM. It's awesome to get the opportunity, and I can't wait. This is my first time doing supercross too, so I'm getting used to everything. It's taken a few days to adapt to the 250F; it's a similar peak power, but they hold a gear longer and you have to get used to the engine braking. Riding MX1 has long been a dream of mine, so I can't wait to get amongst it, but I'm not nervous, it's just another form of racing and I'll go in confident.
"The team at KTM is an awesome group of people, well organized and they do everything to a T, so that will be awesome to work alongside and Jay is a good mentor to have with good advice. The whole package is awesome."
Jay Marmont – KTM Motocross Racing team Manager: "I saw Egan this year show that push-to-the-front kind of style that excites me as a team manager and reminds me of how I used to be as a racer. We were lucky to have a seat open up for supercross to give us time for development and to get some supercross experience under his belt. It'll be a challenge for him; he's never done supercross before, and I don't know where he'll be at – he's finding his flow pretty comfortably, but with supercross, it's one thing to practice it – another thing to race it. I love the fact that the kid is a winner. He left as a winner when he won the Under 19s, went to America and won a Mini-Os championship and he has that brute speed.  When we put him on our 450 at Manjimup, he rose to the occasion, went out there and overtook the best riders at the time and pulled away in races. That definitely got my attention, and it definitely sealed the deal for me, that a) he can ride the 450, and b) he knows how to win races and believes he should be in front. It's just a matter of fine tuning his program a little bit and there's no doubt that he's going to be up front in the next year."