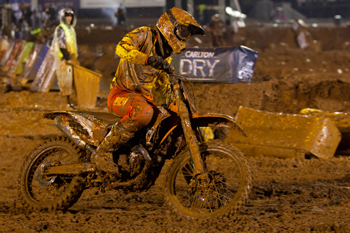 JDR Motorex KTM team-mates Tye Simmonds and Matt Moss both scored victory in the opening round of the Super X, Australasian Supercross Championship, at Melbourne Knights Stadium on Saturday night, 22 October.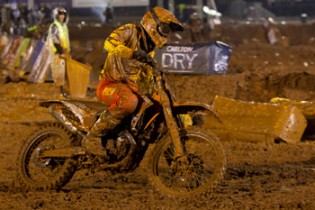 Simmonds raced to a breakthrough win upon return to Australia after contesting a full season of competition in the United States in 2011, picking up his first ever victory in the premier Pro Open category aboard the 450 SX-F.
It was a dream night for the 19-year-old from Bourke in New South Wales, winning his heat race before going on to capture victory in the 12-lap main event in dominant fashion despite difficult conditions after rain hit the event.
"It feels good to come here and do good, get the result that we were really hoping for," Simmonds explained. "I really want to contend for the championship, try to be there week in, week out, and see where we end up.
"I just rode my own race, tried not to do anything silly and we ended up getting the W. I'm excited right now and have to say thanks to the whole JDR Motorex KTM team."
Simmonds was joined on the podium by team-mate Ryan Marmont, who rode the 350 SX-F to third position overall in what marked the Wollongong rider's debut in the Open ranks.
Queenslander Dan Reardon was ninth in round one, but experienced bad luck in what were treacherous conditions as rain soaked the stadium throughout the afternoon and into the evening.
Moss too was victorious in Melbourne, the former dual series champion winning the Pro Lites category on his 250 SX-F in a perfect start to his championship campaign. Moss took 2-1 results in the pair of six-lap finals that made up the Double Header main event.
"I was disappointed that it was raining after training so hard in the dry, but I came in with an open mind and felt really solid on the KTM," 23-year-old Moss said.
"The whole JDR Motorex KTM team was right behind me and I finished second in the first final, then won the second one. I am stoked to win my first supercross with KTM and can't wait to hopefully race in the dry at round two."
A second JDR Motorex KTM was also featured on the Pro Lites podium as Queenslander Brenden Harrison scored third overall for the round in his first supercross outing for the team. Harrison finished fourth in the first final and fourth in the second outing.
Victorian rising star Josh Cachia was directly behind him in fourth position, a superb start that will pay dividends for the KTM team in the remaining four rounds of competition. Cachia, 19, scored a consistent 3-5 for the round.
In the Under 19s class, former 85cc World Champion Jay Wilson was top KTM for the Coastal KTM team in seventh, with team-mate Tristen Cachia one position behind him in eighth.
The Junior Development category saw Scott Mann finish in ninth position for GMR Motorex KTM, while Nathan Denny completed the top 10 for Wodonga KTM overall.
The Super X, Australasian Supercross Championship, series will now head north direct to WIN Stadium in Wollongong for round two of five in the 2011 series next Saturday night, 29 October.
Visit www.ktm.com.au on the web for further information on KTM Australia, as well as KTM's full model line-up of off-road and road motorcycles available for 2012.
For additional information on the JDR Motorex KTM team, visit www.jdrmotorsports.com.au or check the team out on Facebook at www.facebook.com/jdrmotorsports.
2011 Super X, Australasian Supercross Championship
Round One – Melbourne, Victoria
Pro Open Results and Standings:
1. Tye SIMMONDS (JDR Motorex KTM) 25
2. Billy MACKENZIE 22
3. Ryan MARMONT (JDR Motorex KTM) 20
4. Cheyne BOYD 18
5. Dan MCCOY 16
6. Michael PHILLIPS 15
7. Todd WATERS 14
8. Jay MARMONT 13
9. Daniel REARDON (JDR Motorex KTM) 11
10. Jake MOSS 12
Pro Lites Results and Standings:
1. Matt MOSS (JDR Motorex KTM) 25
2. Luke STYKE 22
3. Brendan HARRISON (JDR Motorex KTM) 20
4. Josh CACHIA (JDR Motorex KTM) 18
5. Dean FERRIS 16
6. Steven CLARKE 15
7. Adam MONEA 14
8. Kirk GIBBS 13
9. Robbie MARSHALL 12
10. Casey TURNER 11
Under 19s Results and Standings:
1. Errol WILLIS 25
2. Joey SAVAGTY 22
3. Matthew PHILLIPS 20
4. Corey LUCAS 18
5. Geran STAPLETON 16
6. Jake WILLIAMS 15
7. Jay WILSON (Coastal KTM)14
8. Tristen CACHIA (Coastal KTM) 13
9. Jarrad DAVIS 12
10. Kale MAKEHAM 11