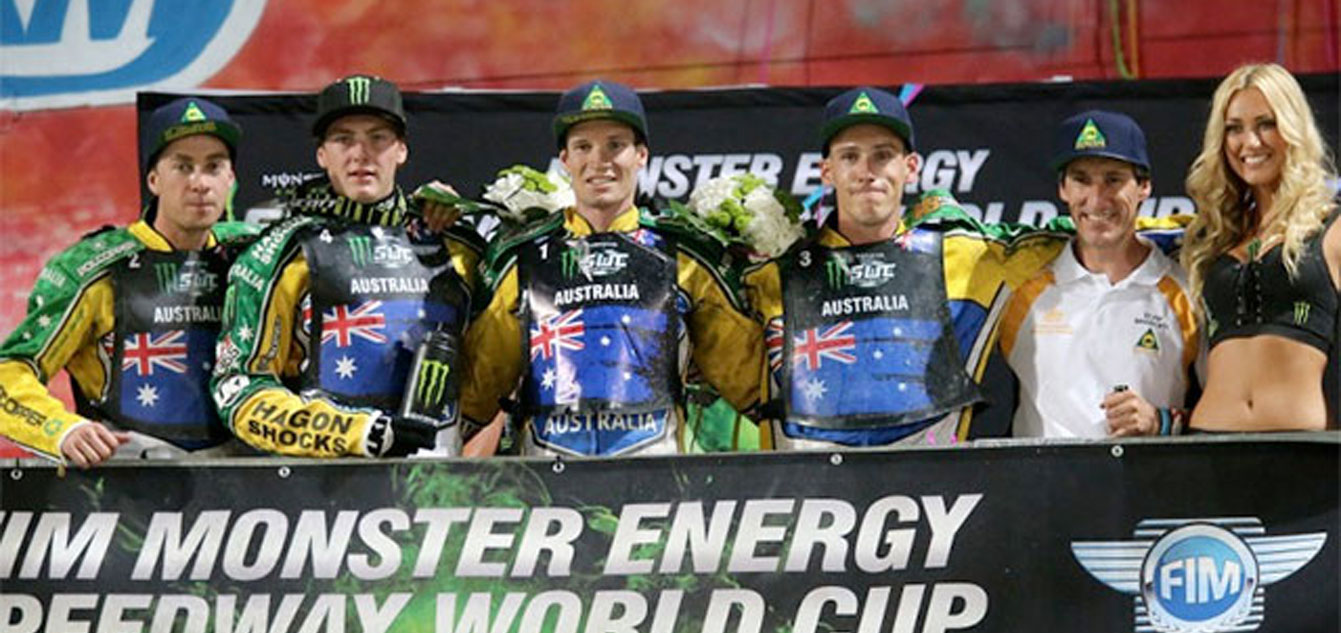 Aussie ace Jason Doyle backed Monster Energy FIM Speedway World Cup newcomers Max Fricke and Sam Masters to shine in Friday's Race Off as the battle to reach the Final hots up in Manchester.
Press Release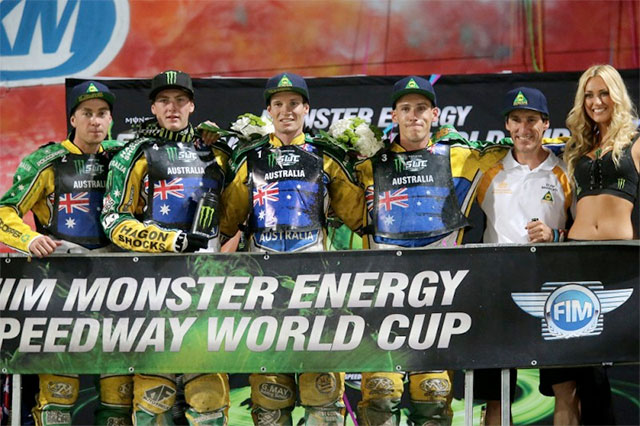 Britain's new National Speedway Stadium stages the competition for the first time as Denmark, Australia, Russia and the USA battle it out for the last place in Saturday's Final, with the winners meeting hosts Great Britain, Poland and Sweden.
All four Race Off teams practice in Manchester on Friday afternoon with managers casting an eye over their stars, before naming their final four-man team and one under-21 reserve to the FIM no later than 30 minutes after the 12pm session at around 2.30pm.
Australia are likely to be led by 2012 world champion Chris Holder and Doyle, who is currently third in the World Championship.
Belle Vue Aces hero Max Fricke and their team manager Mark Lemon should also have a key role to play, with the event taking place on their Elite League home track.
The Aussies finished second to Sweden at Event 2 in Vastervik on Tuesday, with Doyle topping their scorechart on 12 points.
The Swindon star was delighted with the role played by Monster Energy SWC debutants Fricke and Masters, who racked up nine and five points respectively. And he hopes their efforts will stand the Aussies in good stead for the Race Off.
He said: "I think the young boys Sam and Max did a really good job. It was their first time in the World Cup and it's not like we were riding on our back doorstep. They weren't riding in Britain and these boys are fairly new to the tracks in Sweden. It was the first time I'd raced in Vastervik. Hats off to the young boys; they all did their jobs.
"We just weren't good enough in Vastervik. Sweden did a great job. We knew it was going to be tough and they proved it was.
"We led for a few races. The first round went to Australia. I think we just had a little lapse in the third round, but that's speedway. We move to Manchester."
American skipper Greg Hancock insists his side has to dig deeper at the National Speedway Stadium if they are to push for a Final spot.
The triple world champion scored 17 of the USA's 22 points as they finished third in Event 2, beating fourth-placed Germany by three points. And Hancock called on his team mates to show the belief and heart needed to challenge the sport's top nations.
He said: "We keep saying we want to step up the pace and get better, but now's the time. It's overdue. We have to step up the pace and show these guys.
"It starts with the head. It starts with the attitude, the personality and the will to win. You have to ride with heart. We're the American team and we have a lot more of that than most countries.
"If these guys dig deep enough, it doesn't matter about equipment and all that. They just have to want it a bit more and I am 100 percent sure we can do good things."
Danish racer Michael Jepsen Jensen insists bad luck cost Denmark as they finished second to Poland in Event 1 at Vojens last Saturday. The Danes were three points short of victory, but a handful of highly expensive mechanical failures and exclusions cost the hosts.
MJJ hopes his team can make up for that in Manchester. He said: "The thing is we had a lot of bad luck at Vojens. Kenneth Bjerre had a puncture on the front wheel, Niels-Kristian Iversen had a crash and Leon Madsen had a stop. With a little bit more wind behind us, we'd have done it.
"It's always hard to go through the Race Off, but if we go through, we'll have the experience of the track for the Final. From that point of view, I don't think it's too bad. So we just have to go there, do a little bit better and we'll be in."
Russian captain Emil Sayfutdinov hopes his side, which finished third in Event 1, can make the most of a fast and furious Manchester track.
Sayfutdinov, who impressed on 18 points at Vojens, said: "The Race Off will be tough. This is a new track. I've heard the Manchester track is really fast and really good for racing. We will see what happens.
"Grigorii Laguta was injured for Vojens, but I think he will be ready for Manchester and he has a visa. I hope he'll be fit. It would be good for the Russian team.
"It will be tough, for sure. But we'll do our best when we go there on Friday."