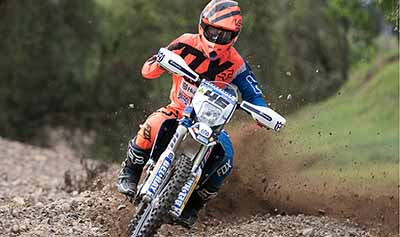 Husqvarna Off-Road Team lead rider Lachlan Stanford has stretched his lead in the E3 category of the Australian Off Road Championship after two hard-fought, back-to-back wins at the series fifth and sixth round at Miva in Queensland.
Stanford fired his powerful Husqvarna FE 501 to fourth outright during Saturday's opening sprint, then took a well-deserved podium in Sunday's round behind championship leader Daniel Milner, who won both rounds.
Stanford and his big Husqvarna now hold a six-point lead in the E3 class of the nation's premier off-road championship.
His Husqvarna team mate Broc Grabham toiled to find his groove in the conditions, but wisely worked to the level of his confidence in order to walk away with points rather than injuries, taking 9th and 7th outright and fourth in the highly-competitive E2 class over the two days.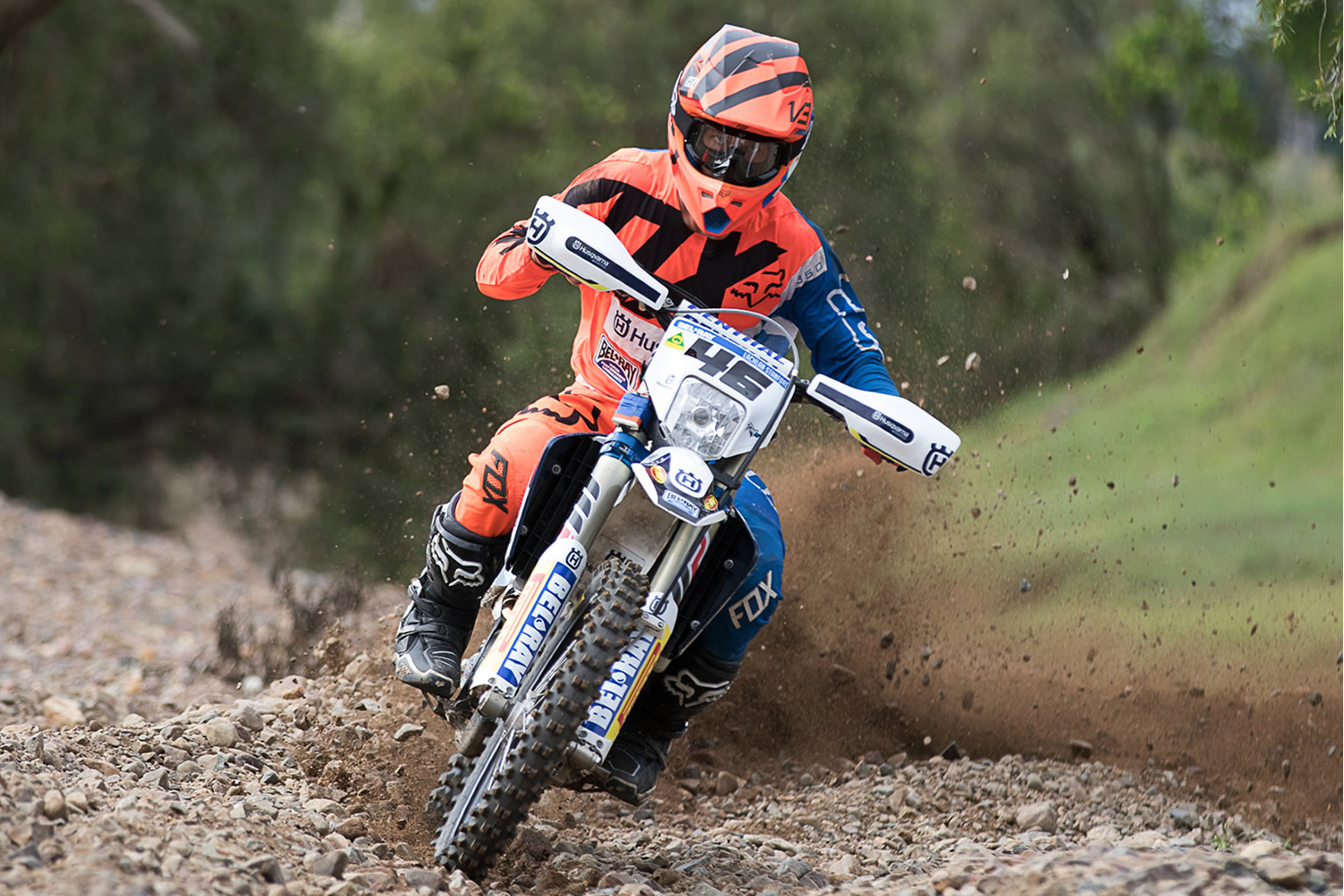 Husqvarna TE250 rider Fraser Higlett rode a fantastic Queensland round, the 17-year-old claiming his career-first AORC outright top-ten with a brilliant seventh on Saturday, then going one better with sixth on Sunday.
In the process, he claimed two wins in the Transmoto 19 and Under category and took over the class lead.
For more information on Husqvarna motorcycles visit www.husqvarna-motorcycles.com
Husqvarna Enduro Racing Team Manager Christian Horwood: "We got faster as we went and our changes with the bikes led to improved confidence as the track cut in, so that was positive. Both riders improved their times and positions on the ladder as we went. Lachy was consistently up there and fighting for the outright podium both days, and after battling with Lyndon was able to get the E3 win both days. Broc struggled with confidence here and we just had to try and get him gelling with the track. It came down to the last lap and he moved from 11th up to 8th outright. So, we definitely finished off on a positive."
Lachy Stanford (FE501): "It's definitely a win for us here with two E3 victories, but I'm still craving more outright success, that's for sure. I was riding good, but I felt I was losing a lot in the first two or three tests and then finding my feet and going faster as the day went on.
I want to fight for the win on Milner's pace. I feel like I'm fast, but he's impressively fast. I think he just makes it up with those little one-percenters everywhere. We'll go back and do some more sprint testing and riding and try and get a little faster. The FE501 was awesome here. When we walked the tests on Friday we thought they were going to be a nice flowy kind of fast, but they ended up being a bit tighter and more technical than we thought. The mechanics did a great job looking after us."
Broc Grabham (FE450): "I'm nowhere near where I want to be at the moment, I was just rushing it too much and though I improved in the afternoon I'm still off what I know I can be. Both days I improved as I went, so it was good to feel like I was getting on top of things. The track suited the motocross guys who like to hang it out and go for it, whereas I prefer it a bit tighter and a bit more technical. So I liked parts of it, and then other parts were a bit sketchy and I didn't want to crash or make mistakes. So, I still finished and got some points."
Fraser Higlett (TE250): "I'm pretty stoked! Seventh, then sixth outright and first in U19s both days! It's my first AORC top-ten outright. And my second. I just rode as fast and smooth as I could and the bike was awesome on that track too. It's nice and light and I could throw it into the ruts and stuff, and I just really enjoyed the TE250 and had fun. Hopefully I can keep doing that for the rest of the year and see how we go. I also had Mum there for Mother's Day – a good day out at the track (laughs) – I'm sure she'd have rather been doing other things, but hopefully the top-tens might have made it worth it for her!"
Australian Off Road Championships Rd.5 Results:
1 Milner DANIEL 1:16:30.614 KTM
2 Josh GREEN 1:17:04.746 YAMAHA
3 Jack Simpson 1:17:38.732 KTM
4 Lachlan STANFORD 1:18:02.179 HUSQVARNA
5 Graham RILEY 1:18:18.408 YAMAHA
6 Snodgrass LYNDON 1:18:25.829 KTM
7 Fraser HIGLETT 1:18:42.069 HUSQVARNA
8 Driscoll MICHAEL 1:18:44.980 YAMAHA
9 Grabham BROC 1:18:53.649 HUSQVARNA
10 Scott KEEGAN 1:19:39.670 YAMAHA
Enduro 1
1 Jack Simpson 1:17:38.732 KTM
2 Scott KEEGAN 1:19:39.670 YAMAHA
3 Wil RUPRECHT 1:20:41.223 YAMAHA
Enduro 2
1 Milner DANIEL 1:16:30.614 KTM
2 Josh GREEN 1:17:04.746 YAMAHA
3 Graham RILEY 1:18:18.408 YAMAHA
Enduro 3
1 Lachlan STANFORD 1:18:02.179 HUSQVARNA
2 Snodgrass LYNDON 1:18:25.829 KTM
3 Tom MASON 1:20:49.488 KTM
19yrs & Under (EJ)
1 Fraser HIGLETT 1:18:42.069 HUSQVARNA
2 Driscoll MICHAEL 1:18:44.980
3 Jonte REYNDERS
Australian Off Road Championships Rd.6 Results:
Outright
1 Milner DANIEL 1:11:26.031 KTM
2 Josh GREEN 1:12:26.499 YAMAHA
3 Lachlan STANFORD 1:13:36.693 HUSQVARNA
4 Snodgrass LYNDON 1:13:51.248 KTM
5 Graham RILEY 1:14:13.393 YAMAHA
6 Fraser HIGLETT 1:14:28.729 HUSQVARNA
7 Grabham BROC 1:14:51.169 HUSQVARNA
8 Driscoll MICHAEL 1:14:52.098 YAMAHA
9 Scott KEEGAN 1:14:55.673 YAMAHA
10 Granquist STEFAN 1:14:57.257 YAMAHA
Enduro 1
1 Scott KEEGAN 1:14:55.673 YAMAHA
2 Wil RUPRECHT 1:15:46.893 YAMAHA
3 Jack Simpson 1:11:41.468 KTM
Enduro 2
1 Milner DANIEL 1:11:26.031 KTM
2 Josh GREEN 1:12:26.499 YAMAHA
3 Graham RILEY 1:14:13.393 YAMAHA
Enduro 3
1 Lachlan STANFORD 1:13:36.693 HUSQVARNA
2 Snodgrass LYNDON 1:13:51.248 KTM
3 Tom MASON 1:16:28.913 KTM
19yrs & Under (EJ)
1 Fraser HIGLETT 1:14:28.729 HUSQVARNA
2 Driscoll MICHAEL 1:14:52.098
3 Jonte REYNDERS 1:15:24.622
Yamaha Australian Off Road Championship points after round 6 (provisional):
U19
1 Fraser HIGLETT 88
2 Jonte Reynders 77
3 Nic TOMLINSON 76
Enduro 1
1 Wil RUPRECHT 92
2 Jack SIMPSON 89
3 Scott KEEGAN 87
Enduro 2
1 Daniel MILNER 100
2 Josh GREEN 88
3 Riley GRAHAM 75
4 Stefan Granquist
5 Broc Grabham
Enduro 3
1 Lachlan STANFORD 97
2 Lyndon SNODGRASS 91
3 Tom MASON 80