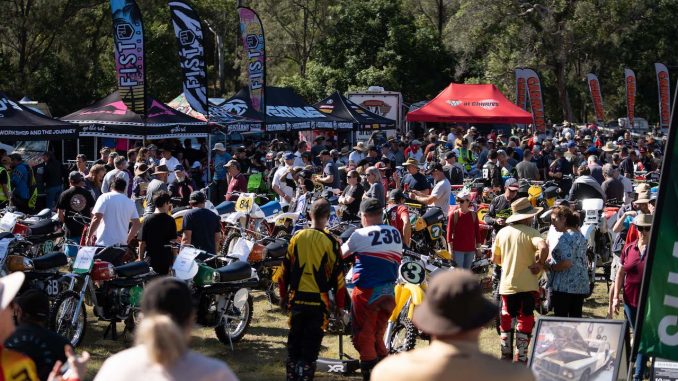 The 2023 Ballards Offroad Conondale Classic Weekend presented by Rat Racing was an event record with a sell out of 500 riders, 1800 vintage dirt bikes on display and with numbers far exceeding 5,000 people attending the event under perfect sunny skies.

Peter Bell of the Sunshine Coast Motorcycle Club said: "It was a terrific event with no major issues, just lots of fun for everyone from riders to visitors. With the past three years throwing up some challenges such as Covid and floods, it was amazing to see the popularity of the event and spectators returning to Green Park in such fantastic numbers again."
The tracks and campsites were filled with incredible Pre-95 bikes with popular brands like Honda, KTM, Husky, Yamaha, Honda, Indian, BSA, Maico and Bultaco grabbing everyone's attention and bringing a thrill to all who rode them! Friday's Swap Meet was busy with rare parts, bikes, fashion and nostalgia on sale from campsite stalls giving attendees a chance to find a bargain.

"What a great weekend. Hats off To the committee for an awesome event. Fantastic venue, run professionally with a friendly atmosphere. Brought back so many memories as a kid," commented participant Scott.

The Classic Weekend's success and fun factor was thanks to the non-competitive riding sessions, allowing riders to roll up and ride whenever they wanted throughout the weekend. This format, in addition to the many track options, made for a smooth weekend with very little wait times for the riding sessions each day. All riders showed respect to fellow riders of all skill levels and support to the team running the event. It wrapped up with no major injuries or issues over the two full days of riding.

The five tracks were flowing and had non-stop action all weekend, plus the vinduro loops had over 20 kms of trails winding along the beautiful Elaman Creek and up into the hills. Ryan Jacobs was riding till the wheels fell off on the Ballards Offroad Pre-95 MX track getting more air than Michael Jordan on his 1990 CR125. The Shannons EVO natural terrain MX track was being lapped all weekend with everything from sidecars to Triumphs, Kawasakis to Suzukis, all enjoying the uphill jumps and big bends. A highlight of the weekend was watching the DT175 and TS185 farm bikes battle it out turn for turn, bringing a serious amount of fun (and bragging rights) to the Maico at Chippy's Grass Track.

"Our little group of mates have been coming along to Classic Weekend for over six years now, and although we are on the younger end of the crowd, we always feel so welcome and have the best time. For most of us, it's our favourite weekend of the year, for not just the riding, but the chance to catch up with all the legends that we have met over the years. We end up leaving the event with sore muscles, big smiles and a big to-do list for next year. Couldn't ask for a better time," said Sam Stewart of Tough Homies MC.

The Shannons Show and Shine featured over 90 immaculate showroom quality bikes that filled the Village on Saturday. Countless hours and money had been invested by passionate bike lovers, who were proud to show off their incredible craftsmanship to the thousands of spectators on Saturday.
Winners included the best dirt track bike Bultaco Astro 250, the rarest enduro bike 1962 Jawa ISDT 250 and best MX bike a Husqvarna 1976 CR250, to name a few! Winners received trophies and prizes for their fine work. The Shannon's Show and Shine is fast becoming a main attraction of the Classic Weekend with the level of builds lifting each year, and more quality new builds on display makes for an incredible opportunity to see the best vintage dirt bikes in Australia.

The Classic Weekend Village was filled with fantastic sponsors featuring MXstore's free 150 coffees on Saturday morning, plus Ballards Offroad prizes for young and old all day! Pedal Electric shared their demo bikes, Rat Racing's event t-shirts sold out, the Heaps Normal crew handed out their non-alcoholic beers to stay hydrated, plus the Carmart Bikeyard had plenty of bikes to buy and sell. The legends from Skinny's Social Garage were helping riders needing mechanical tools and assistance, Lewis Brothers Racing sold rare parts that have been recreated using the latest technology and Gall Brothers Medical had the right bracing supplies to keep the riders in one piece!

Saturday night kicked off with the band Eighties Recall rocking tunes to over 1,000 people at the Young Henrys Bar telling tall stories of their riding adventures and ready to win the bike, plus awesome sponsor's products from Motul, Heatwave, Pirelli, TCX Boots and Ballards in the club's fundraising raffle.

The winner of this year's 1989 YZ250 raffle bike was John "Kempy" Kemp, who is a long time Green Park rider who started riding here in the '80s. "Just wonderful, it felt surreal. Riding the bike on Sunday was incredible, I cannot wait to come back and ride it at the Conondale Classic race on September 2-3!" Kempy said.

The Conondale Classic Weekend is the SCMCC's premier event with all funds going towards maintenance, infrastructure and upkeep of the venue, and to continue running these community riding events, made possible by the countless hours donated by club members and volunteers.
"We are so proud that the local school, Conondale P&C, benefits from the partnership with the club. The P&C run the venue's catering, this event's revenue and profit is the best it has been for a few years, with the ultimate beneficiaries being the school children of the local school. Funds raised at this event may have surpassed a year's worth of regular fund-raising. The effects of this event also flow to other areas beyond the P&C, with many different types of local businesses benefitting, such as local accommodation, supplies and regional tourism with participants travelling from Western Australia, Sydney, Cairns, Victoria and South Australia," enthused Peter Dobe, SCMCC Treasurer.

Huge thanks to our supporting sponsors who donated important funding, product, media and lots of positive energy to the event including Ballards Offroad, Rat Racing, Fist Handwear, MXstore, Scrambler MX, Maico at Chippys, Pirelli, Motul, TCX Boots, Carmart, Chilli Bins, Printcraft, Shannons Insurance, Heat Wave Visuals, Kustom MX, Pedal Electric, Lewis Brothers Racing, Skinnys Garage, Heaps Normal and Young Henrys.

We invite passionate riders and spectators to lock in 7-9 June 2024 for next year's Conondale Classic Weekend! Stay updated by following the Sunshine Coast Motor Cycle Club – SCMCC on Facebook and www.instagram.com/classicweekend for all media, news and community updates!
Photography: Robbie Warden & Troy Pears