The Yamaha 125cc Gold Cup class provided plenty of entertainment from the minute bikes hit the track at Port Macquarie, and with the championship decided at Round 8 yesterday, two action packed races paved the way for former racer turned Hollywood stuntman Cody Mackie to be crowned this year's champion.
After three rounds of racing for the Motul MX National's all new support class, Mackie concluded his 125cc Gold Cup Championship campaign undefeated at Port Macquarie, putting in two smart and consistent rides and claiming his fifth and sixth race wins of the season.
In qualifying, Mackie set the pace with a 1:51.029 lap time and secured the first pick of the grid for when racing kicked off later in the afternoon, second fastest was Yamaha Veteran Cameron Taylor (1:54.560), while Enduro rider Geoff Braico clocked the third quickest qualifying time (1:56.685).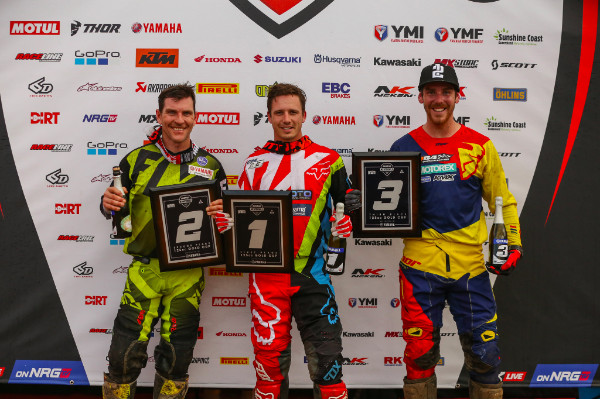 When racing got underway, spectators had poured through the gates of the Port Macquarie venue, giving the Yamaha 125cc Gold Cup class one of the biggest audiences of the season.
Husqvarna mounted Mackie shot off the start and in to first position, a position where he would remain until the remainder of the first moto.
Behind Mackie, second fastest qualifier Taylor slotted in to second place, followed by Joel Hall and Braico. After a handful of laps, Braico made the move on Hall for third, relegating the Yamaha rider a position.
And when there chequered flag flew after 15 minutes, it was no surprise to see Mackie cross the finish line with his fifth win of the season. Second place went to Taylor (Yamaha) while Braico secured third. Zac Towill and Steven Powell completed the top five, followed by Kerrod Morrissy, Cory Watts, Hall, Darcy Cavanagh and Bradley Rankmore who all wrapped up race one inside the top ten.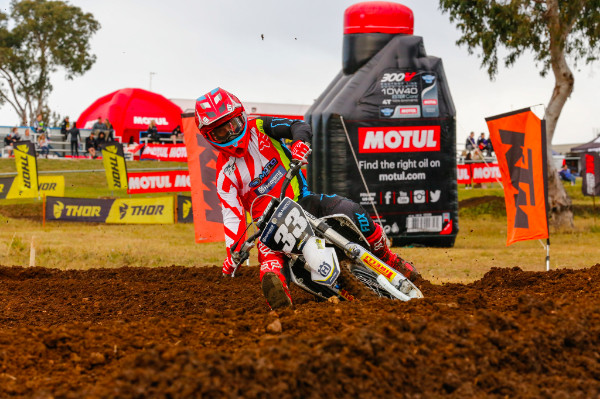 In race two, once again it was Mackie who launched off the start and in to a commanding race lead. Behind him, KTM mounted Powell was locked into his own battle for second with Braico, followed by race one runner up Taylor (Yamaha) in fourth.
Being the final race of the day, the Yamaha 125cc Gold Cup competitors had the toughest track of the weekend to contend with, however drawing on his racing experience was Mackie, who continued to lead by five seconds after three laps on track.
Despite not getting the start that he wanted, Taylor found his form mid-way through the second moto, passing Braico and then beginning to close in on Powell's rear wheel. And it wasn't long before Taylor was elevated to second after making a clean pass on KTM mounted Powell.
But it was all about Mackie at Port Macquarie, the Husqvarna rider crossing the finish line after 15 minutes to once again claim victory. Second place went to Taylor, followed by Powell, Morrissy, and Cory Watts who completed the top five.
When the Round 8 podium was calculated, Mackie's 1,1 results saw him finish on the top step, second place overall went to Taylor, while Morrissy concluded the Port Macquarie leg of the championship in third.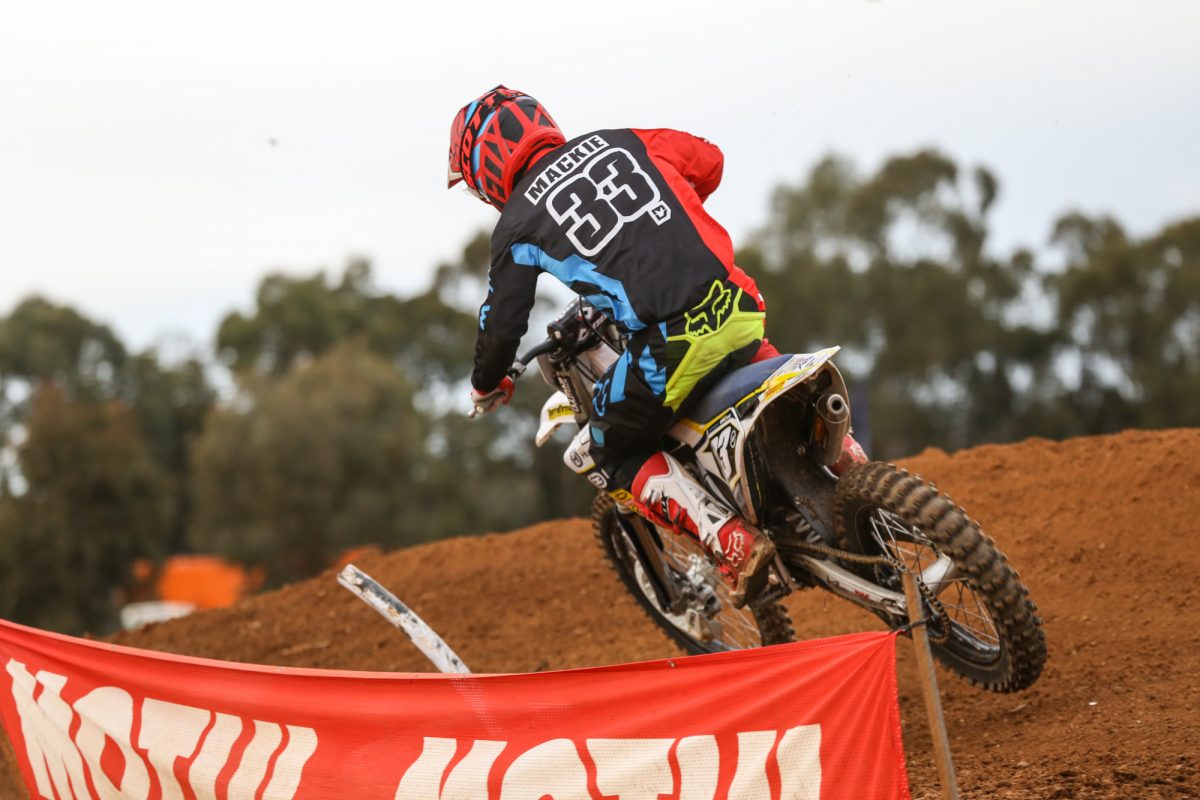 But it was the championship podium that really counted yesterday afternoon, and thankfully it was the same three riders who were handed the championship trophies when racing had wrapped up. Mackie who won an incredible six out of six races was crowned the 2017 Yamaha 125cc Gold Cup Class Champion, Taylor finished runner up in the title chase, followed by Morrissy who concluded the three rounds for the support class third in the points.
Cody Mackie – Husqvarna Australia – 2017 Yamaha 125cc Gold Cup Champion
"I'm really happy. I did 26 hours on the bike, and the Husqvarna was dead standard which just goes to show what kind of bike they are. You can pull them off the shelf and go and be competitive at the races," Mackie explained.
"I don't actually ride that much so I didn't expect to win every single race, but I'm a bit younger than Cameron Taylor (laughs), but hopefully next year it builds. The class is a lot of fun, and its an awesome opportunity for guys who feel they might not be as competitive in the premier classes.
"It's a three round championship, so it's easy to commit to, and it allows you to develop as a rider in a fun and entertaining environment.
"For me, a win is a win. It feels really cool to come away with the first 125cc Gold Cup title. I was very thankful that Kevin Williams put something like this together for people like myself, and I just hope I can get even more people involved in 2018."
Yamaha 125cc Gold Cup Results – Port Macquarie
1) Cody Mackie – 70 points – Husqvarna
2) Cameron Taylor – 64 points – Yamaha
3) Kerrod Morrissy – 55 points – KTM
4) Geoff Braico – 55 points – Husqvarna
5) Steven Powell – 54 points – KTM
6) Cory Watts – 50 points – Honda
7) Joel Hall – 47 points – Yamaha
8) Darcy Cavanagh – 45 points – Honda
9) Bradley Rankmore – 43 points – Husqvarna
10) Sam Lyttle – 41 points – Kawasaki
Yamaha 125cc Gold Cup Championship
1) Cody Mackie – 210 points – Husqvarna
2) Cameron Taylor – 188 points – Yamaha
3) Kerrod Morrissy – 173 points – KTM
4) Steven Powell – 153 points – KTM
5) Joel Hall – 143 points – Yamaha
6) Geoff Braico – 105 points – Husqvarna
7) Steve Sweeney – 101 points – Yamaha
8) Darcy Cavanagh – 92 points – Honda
9) Jades Oates – 91 points – Yamaha
10) Cory Watts – 89 points – Honda
For a full list of results from yesterday or for more information on the Motul MX Nationals, head to www.mxnationals.com.au