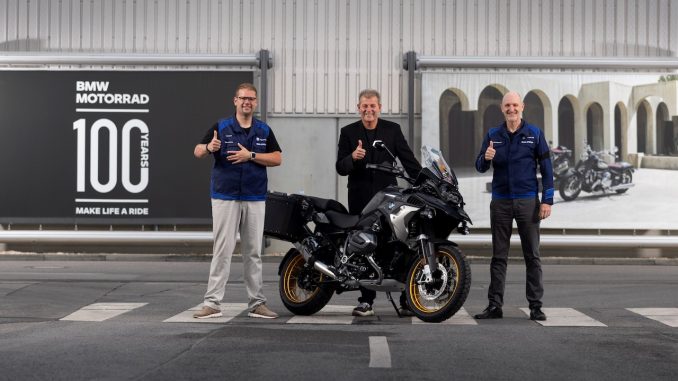 PLUS A NEW BMW R 1300 GS IS COMING!
On 21 June 2023, the 1,000,000th GS equipped with a boxer engine rolled off the production line at the BMW Motorrad plant in Berlin-Spandau: a BMW R 1250 GS in Triple Black style. 

BMW motorcycles have been manufactured in Berlin since 1969 and the BMW Motorrad GS models with boxer engines since 1980. Elemental, authentic motorcycles, which possess incomparable all-round qualities have spurred on countless motorbike enthusiasts on trips to distant countries, spectacular adventure trips and expeditions to the remotest regions of our planet over the past decades. The latest edition of the now legendary BMW GS with boxer engine – the R 1300 GS – will be presented on 28 September 2023 at the grand opening of the new BMW Motorrad Welt in Berlin.

Dr. Markus Schramm, Head of BMW Motorrad: "With the R 80 G/S and its unique combination of on-road and off-road suitability, everyday qualities and long-distance touring abilities, BMW Motorrad created the new motorcycle genre of touring enduros in 1980. The BMW GS with boxer engine became an icon, which achieved global success in this segment. What is more: The BMW GS became a legend and at the same time an indispensable cornerstone in the BMW Motorrad model range. Its outstanding talents, such as dynamic riding performance, brawny off-road qualities, superior long-distance comfort and enormous robustness, have since been continuously developed by BMW Motorrad and transferred to other BMW Motorrad model series with great success. I am therefore very pleased that today, and especially in our "100 Years of BMW Motorrad" anniversary year, we are able to contribute a major milestone to the corporate history of the BMW Group with the one millionth BMW GS motorbike with a boxer engine. I am equally pleased that the unique history of BMW Motorrad models with boxer engines will soon be supplemented by an exciting chapter with numerous innovations with the new R 1300 GS."
Meanwhile, the celebrations marking the 100th anniversary of BMW Motorrad are continuing at pace. After the big party at the BMW Motorrad Days, where thousands of motorcycle fans from all over the world are expected from 7 to 9 July 2023, BMW Motorrad Welt will officially open its doors on 28 September. In the new "heart of the brand" – located directly next to the BMW Motorrad plant site in Berlin-Spandau – the eagerly awaited new BMW R 1300 GS will be presented at an exclusive opening event. Interested fans will have the opportunity to follow the opening ceremony via livestream on the BMW Group and BMW Motorrad social media channels. 
From 30 September 2023, BMW Motorrad Welt in Berlin will then be open to all visitors.