STORY MATT BERNARD PHOTOGRAPHY KATRINA BERNARD
So many people head straight for the 450 in the local dealership when they may be more suited to a bike such as the WR250R. The Yamaha WR250R has blasted into popularity in Australian market. It's the new and vastly improved TTR250 if you like, it's easy to ride, fuel injected and has pretty darn good trail-ready suspension. Let's answer some questions about the WR250R
WHAT'S THE ENGINE LIKE?
Smooth. The 250 four-stroke powerplant is designed to be easy to ride and it is. The power is lineal and forgiving. There is basically no throttle lag due to the EFI system. It's got enough power for the majority of trailriding. A tricky hill will take a little bit of clutch to get it into the revs and climbing, but once the engine is revving it will do it's job nicely.
IS IT RELIABLE?
When testing bikes, we only have them for a short period of time. But the WR250R's are regularly used for long-stints in the saddle, including some pretty amazing adventure rides at the hands of the Ride ADV. The Yamaha WR250R's valve adjustments are due at 40,000kms – that pretty incredible.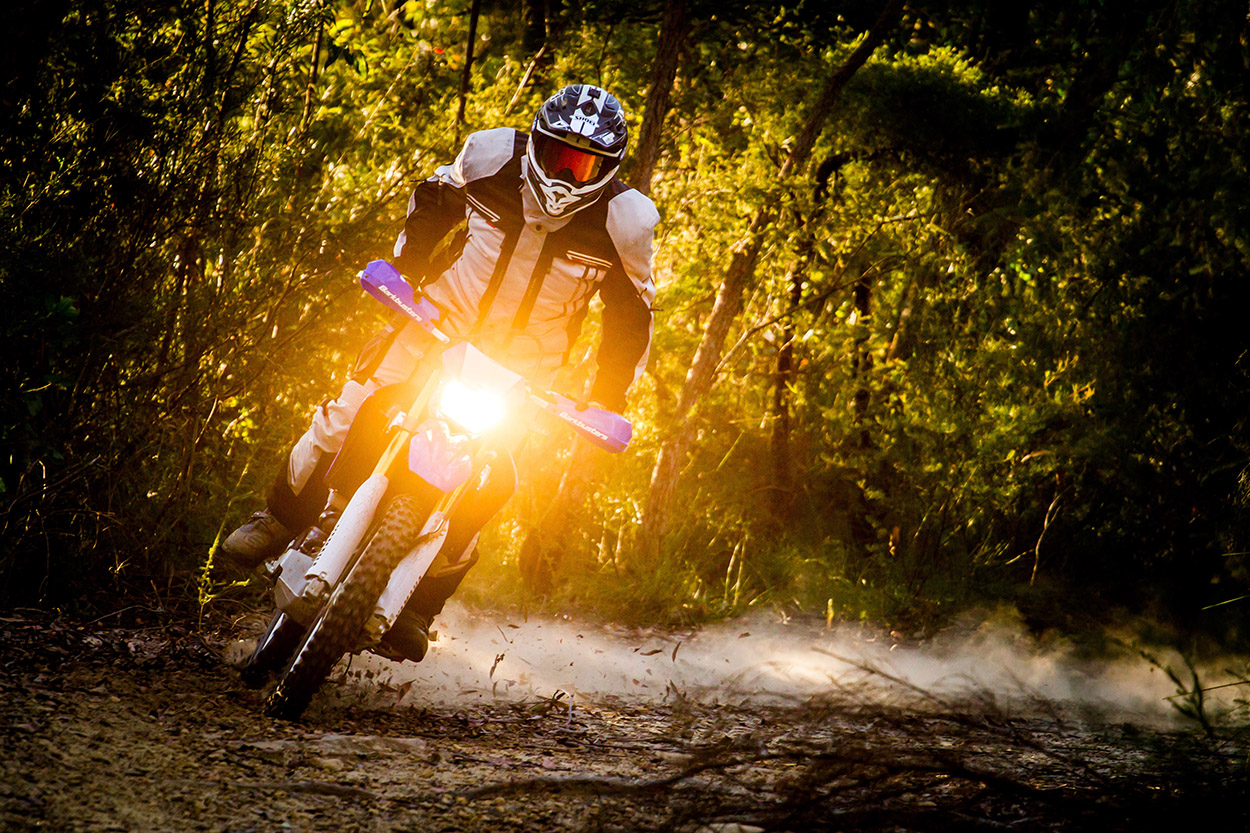 WHAT ARE THE ERGONOMICS LIKE?
In standard form, the Yamaha WR250R is suited to a smaller rider. The handlebars are quite low and the seat height is also. It's comfortable though, and as a taller rider you can deal with it. A set of handlebar risers and you'd be happy. The seat is nice and soft. That might be the first time I have written that, I hate soft seats. In this instance though, a soft seat is perfect for those long days in the saddle. The footpegs are pretty small, I've seen guys fitting pivot pegs for better purchase.
HOW ABOUT THE SUSPENSION?
The suspension is quite soft. For the style of riding someone who buys this bike will do, it works well. Once the going gets rough and rocky you'll find the limits fairly quickly, but that's not really what this bike is built for. It will do it and handle it, but if you are going to be riding a lot of difficult stuff there are better bikes out there. The bike is stable and balanced. If you are tipping the scales above 85-90kg or hitting things a little harder than you should, it might be worth discussing some options with your suspension tuner. Teknik has some extensive experience with these machines.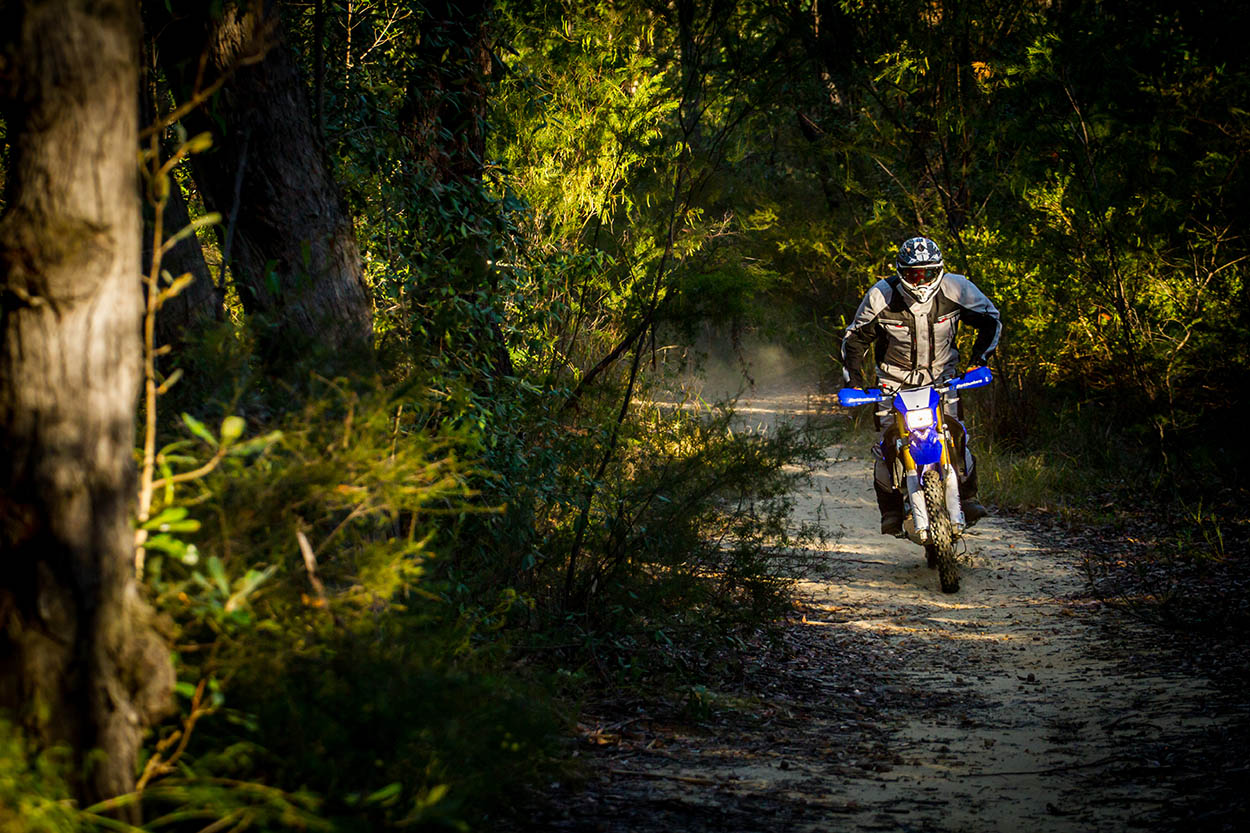 WHO SHOULD BUY ONE?
Lots of people! Trailriders, learners, smaller riders, female riders even adventure riders looking for a 250cc trailbike. This bike is very under-rated, but growing in popularity in Australia. With the crew at Ride ADV building some amazing examples of these motorcycles and attacking some excellent rides there are more and more adventure riders heading toward the small-bore Yamaha. If you haven't had a spin on the WR – we recommend you do.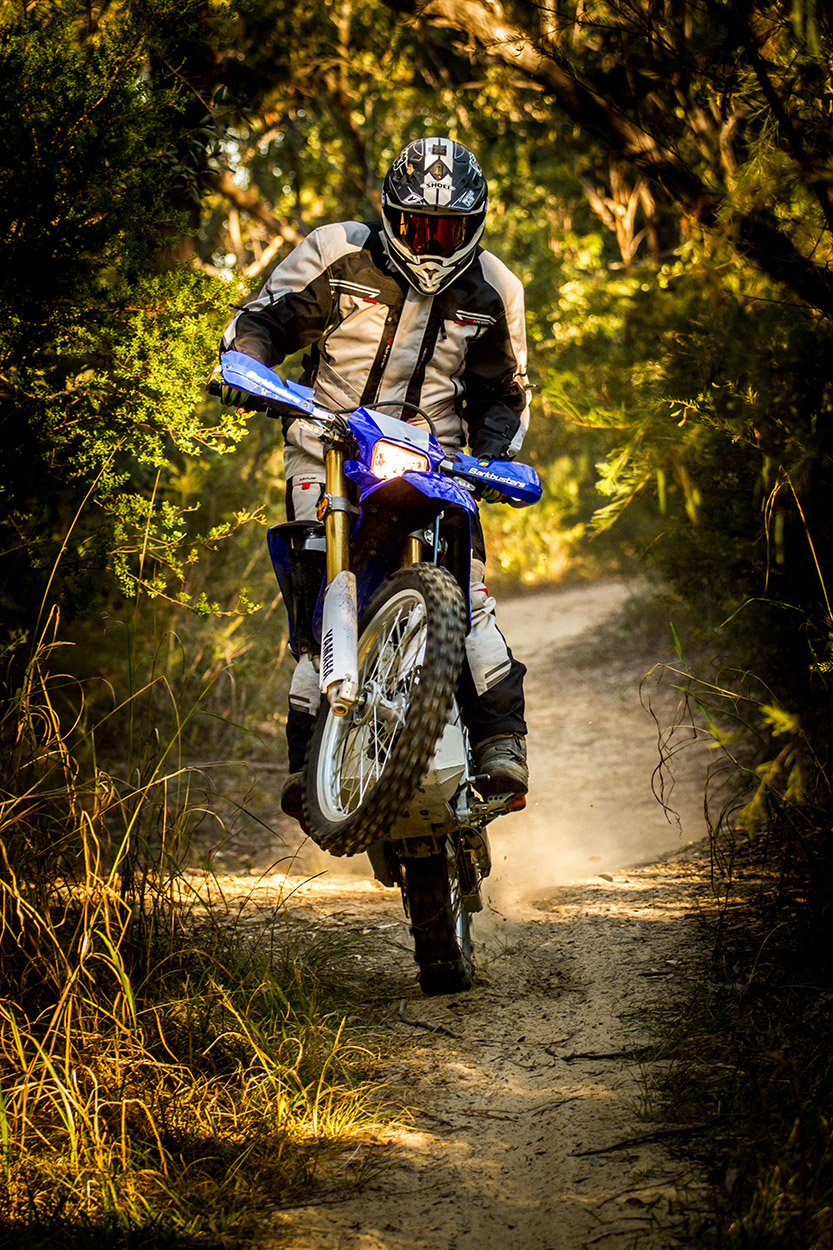 WORLD FIRST WR250R RALLY
Close to 40 bLU cRU adventure riders congregated in Cessnock recently to celebrate one of Yamaha's unsung heroes – the lightweight, easy handling and clockwork reliable WR250R. Riders aged from 17 to 82 were ably lead by the team at Ride ADV and hosted by dirt bike legend Chris Watson of Chris Watson's Motorcycles. The world's first rally for this versatile motorcycle is the brainchild of Ride ADV head honcho Greg 'Giant G' Yager, who owns possibly the most radically modified WR250R in captivity – complete with Rekluse clutch, five LED night lights and super tough wheelset – built as a Simpson Desert sled. The rally consisted of two days of riding in and around the Hunter region including the Watagan, Olney and Yengo State Forests. Prizes were awarded for a number of categories including best bike in the rally – scooped by Lee Danswan – and furthest travelled – won by Maryanne Eime from South Australia. The wide range of riders was the standout feature of the weekend with sweep rider Lochie Caldwell aged 17 the youngest and 82 year old Brian Rooney the oldest rider at the event. After two days of a healthy mix of tar, forest road and singletrack, the 38 bLU cRU adventurers headed home eager for a repeat on a model that is fast becoming an Aussie cult bike. Yager says the second event is planned to be bigger and better and will be held in the same area in April 2018.
NOSH MISTRY – WORLD EXPLORING WR250R
Examples of the performance and longevity of the WR250R could be found everywhere at the recent WR250R rally. But none more so than with Nosh Mistry's bike that has become 'part of the family'. The Sydney resident has clocked 21,000kms on his WR250R including a tour of the Himalayas and overland back to Australia via South East Asia. "I spent eight weeks in Asia and that included a six day Himalayan rally at altitudes around 5000m. Thanks to the fuel injection system, the bike ran faultlessly the whole time. It can even cope with low octane fuel too," explains Mistry. "Apart from the reliability and light weight, the WR250R has great suspension for this type of bike. The service intervals are long and you can easily get parts in most regions which is important for long distance travel. Plus being a 250 makes it cheaper to import," he advises. "Many riders on bigger bikes really struggled in the Himalayan conditions, and when the going got really tough, I was asked if I wanted to swap my WR250R with their much more expensive bikes…"
5 THINGS WE WOULD DO
Oversized handlebars
Larger Fuel Tank
Firmer fork springs
Fit Pivot Pegs
Wrap around hand guards