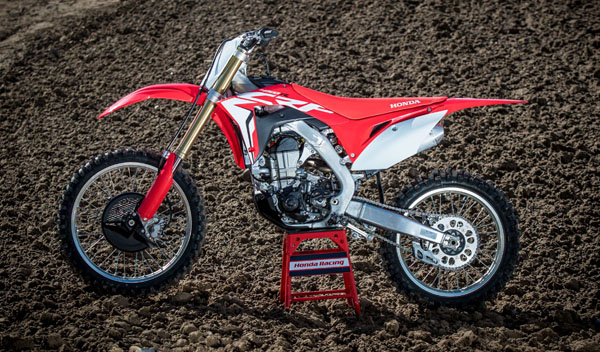 The all-new Honda CRF450R is the most anticipated new model of 2017. We spent a day cutting laps on it at The Ranch motocross track to see what it was all about
Story Shane Booth| Photography Damien Ashenhurst
The much-anticipated, all-new premier-class offering from Honda has arrived. The 2017 CRF450R is a bike with a heritage in motocross that's second to none. Some of the best-known names in motocross have won on its predecessors yet for many different reasons it's been longer than Honda would like since it last won a major US championship. There have been championships in Europe and even here in Australia but success in the US has eluded them.
With the release of this bike, the big signing of Ken Roczen and the obvious increase in input from HRC, it would seem they're ready to break that drought and bag a US championship — at least, I'm sure they're hoping to.
We had the opportunity to have one of these new beasts all to ourselves for the day at Honda's recent launch at The Ranch motocross track near Raymond Terrace, a couple of hours north of Sydney. It's a great venue and though the temperature nudged 40 degrees all day the track was great and we did plenty of laps.
Here's what we thought.
WHAT'S NEW FOR 2017
Pretty much everything is the short answer to that but here's the list in detail.
Totally revised Unicam engine features a redesigned combustion chamber with a narrower valve angle that raises the compression ratio and increases torque.
A new finger-type intake rocker arm assembly and unique oval-shaped valve springs save weight and allow an increase in valve lift for more aggressive tuning and more power.
DLC coating on the intake rocker arm and piston pin reduces friction and increases durability.
Four oil jets cool the piston from below for consistent power and added durability.
The new engine now uses a common oil supply for both the transmission and cylinder assembly to simplify oil changes and features a new scavenging pump that saves weight and improves lubrication.
A new downdraft intake layout dramatically increases airflow for more power.
This intake system features bigger valves with double-machined valve seats for increased flow and a redesigned air filter with more surface area and easier servicing. On the exhaust side, the ports and head pipes are straighter for increased flow and more power.
The Engine Mode Select button allows riders to choose between standard, smooth and aggressive power curves and the kill switch is now combined to save weight.
Completely redesigned dual-muffler exhaust not only helps boost airflow but is also shorter than the previous system, saving weight and contributing to greater mass centralisation and a lower centre of gravity.
The Dual-Stage Fuel Injection system fires two fuel charges into the cylinder during every fuel cycle. The first charge is used to cool the intake valve/port area in order to increase the density of the air/fuel mixture, while the second charge increases the amount of fuel directed into the combustion chamber to improve power and response.
Gear-driven balancer reduces vibration and drives the water pump.
More compact clutch assembly with fewer, thicker plates narrows engine width.
Titanium fuel tank is now fitted, saving weight and contributing significantly to mass centralisation and handling agility.
All-new aluminium frame is shorter and lower and has revised rake and trail-steering geometry. The frame itself is lighter and less rigid.
An extruded subframe shaves weight compared to the previous forged unit, helping to centralise mass.
New, lighter aluminium swingarm assembly provides added rigidity thanks to taller beam height in the front and centre sections.
A new rear shock with revised valving is mounted lower in the frame and also centred, contributing to lower centre of gravity and improved balance.
Up front, a new Showa 49mm fork (up 1mm from last year) utilises coil springs to simplify adjustment, plus all-new valving to complement the new chassis.
Dunlop Geomax MX3S tyres are now standard.
Lower front fender and narrower radiator shrouds for reduced aerodynamic drag and increased cooling.
Cross-section at the radiators is 30mm narrower than last year.
Graphics are now moulded into the plastic, dramatically increasing durability.
Quick-adjust clutch perch allows easy cable adjustment.
Rubber-mounted aluminium ⅞" Renthal handlebar (971 bend).
Electric start is now an option.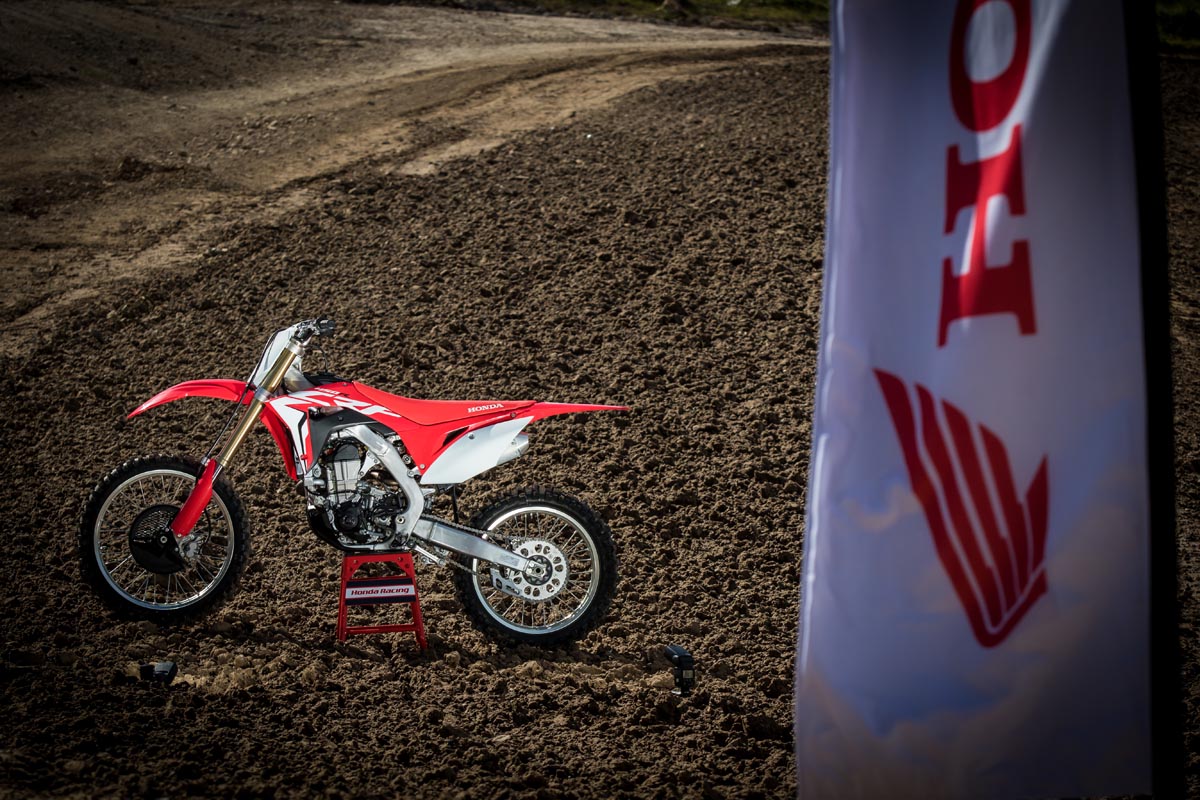 WHAT CAUGHT OUR EYE
A few things that we quickly noticed on this new machine:
New map/kill switch is a neat unit that is easily functioned with gloves on.
HRC badge embedded in the top triple clamp is a very nice detail.
The seamless flow of plastic that doesn't hinder the rider at all.
The little peek of the titanium tank through the plastic near the gas cap is a nice touch.
It's small but we are into the red fork protectors for 2017.
The skid plate is an impressive item for standard.
The ⅞"-sized handlebars are surprising when oversized bars are pretty much the norm now.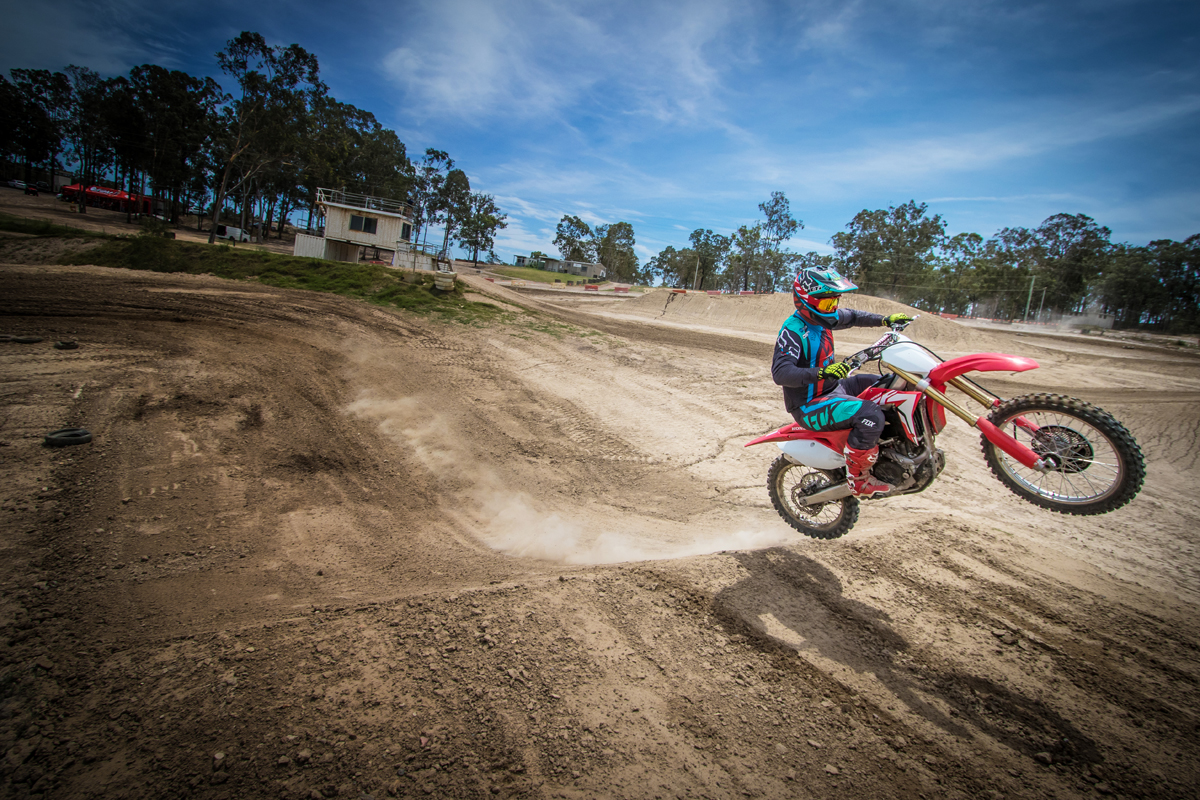 ON THE TRACK
Straightaway, this is a comfortable bike to ride; Honda has always been pretty good at nailing that. It's much slimmer than the previous model and there are no problems moving around on this thing. It feels flat through the seat and there are no problems in the frame airbox area as far as movement goes for your legs.
As is the way things are headed with newer bikes, it doesn't have the feel of a 450; it feels much lighter and can be easily moved around from line to line on the track. From an ergo point of view, it's an impressive bike and the controls back it up.
I'd have to say the brakes are as good as any I've felt on a Japanese-manufactured bike — maybe even the best. The front brake really has a good, positive feel through the lever and it doesn't show any signs of fade.
The clutch has good feel, though I did find I had to mess with the adjuster to get it right — more than I usually would — but once I found the sweet spot it was fine. The clutch felt light, too: not hydraulic light but as good as cable gets.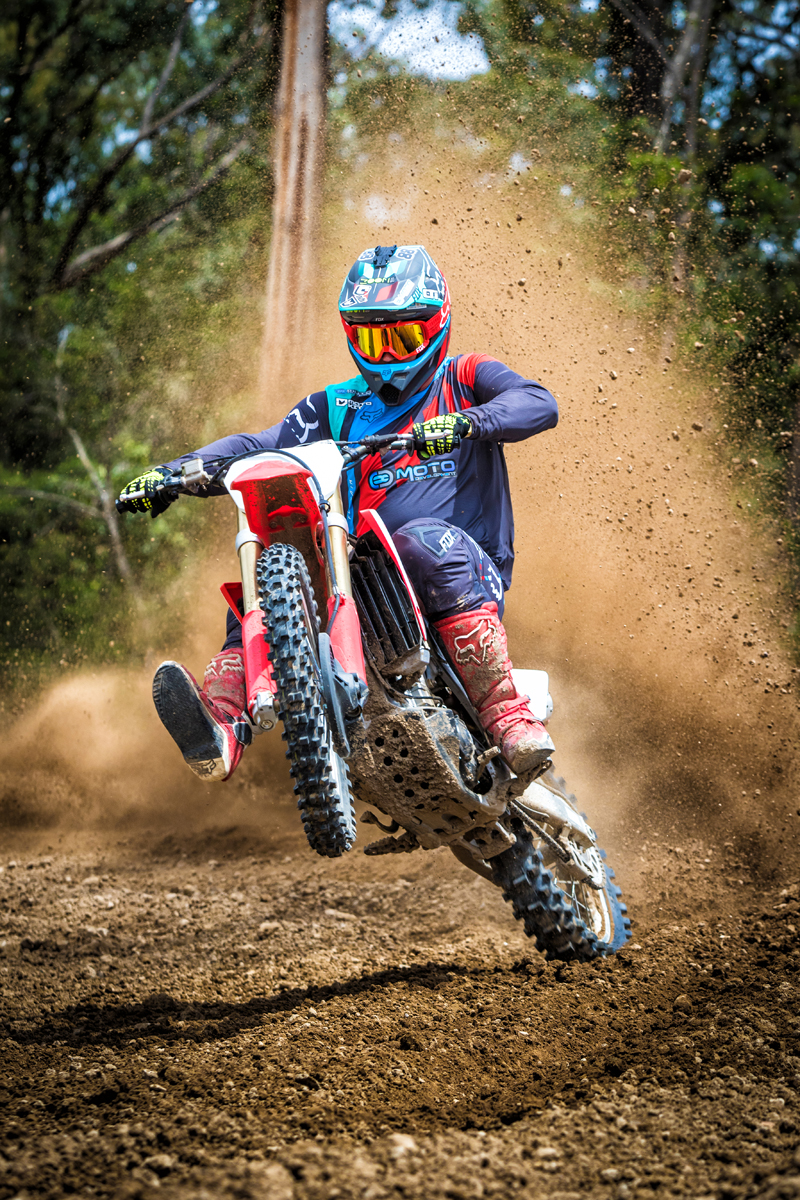 THE STAR OF THE SHOW
The way the engine produces power is very impressive. It doesn't blow you away with raw, beastly power like some of the other 450s but it's much more exciting than the previous model as far as bottom-to-midrange punch is concerned.
The power delivery is very user friendly for a 450, a very broad curve that keeps it controllable. It's something past CRF450Rs have done very well: they've always had a very rideable engine but lacked some of the brute power the competition had. This bike has managed to increase power and excitement without becoming an unrideable beast.
I really noticed the additional over-rev and how the power never really fell off a cliff. It really pulled well into the top end, which is handy when you need it. The maps work well to help you tailor the power to the conditions and to the rider's liking. I preferred the standard map over the more aggressive or the mellower map; it just seemed to work best as far as getting power to the ground and being able to control the bike under acceleration.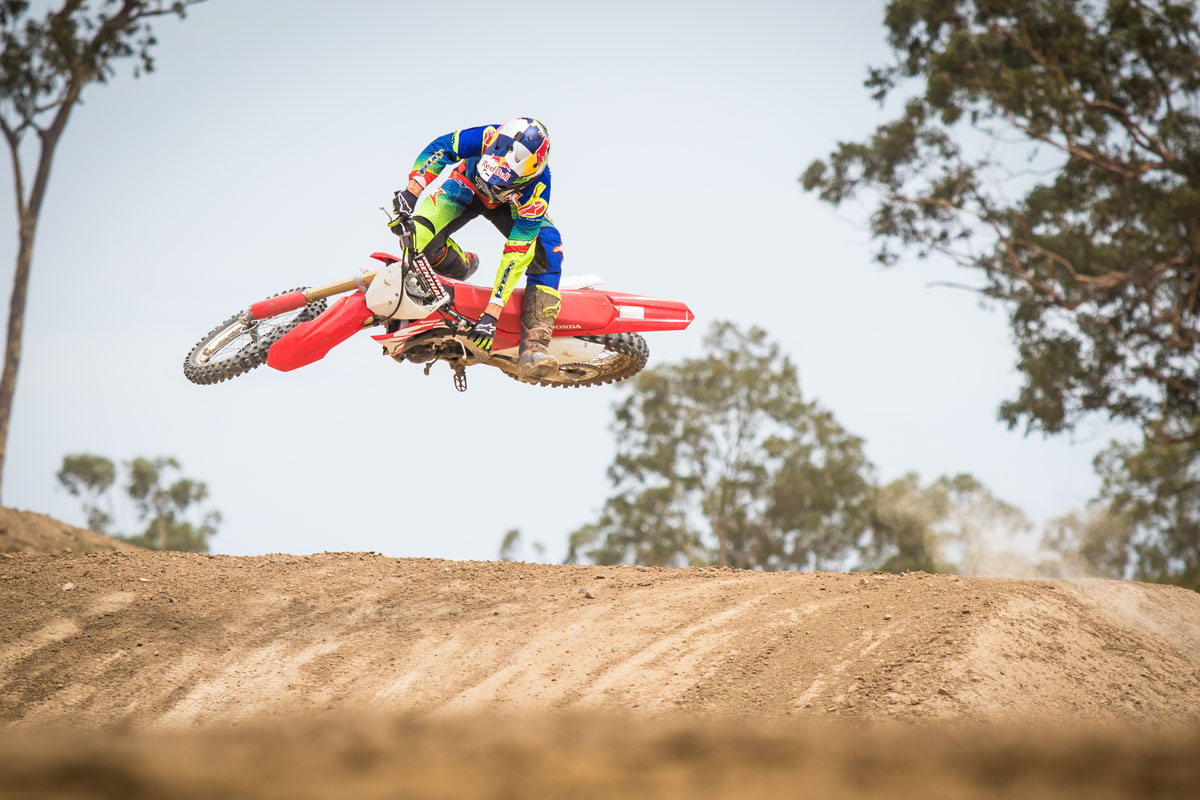 NO AIR
Back to a 49mm spring fork and there are no complaints from me. The fork initially felt a little soft; I went four clicks in on compression and found that each click makes a substantial change. Four was too much so backed it off two and it felt good.
We firmed up the high speed on the shock and slowed the rebound two clicks and I found a very happy place. This bike is just settled and predictable. I had no problems in any type of turn, whether flat or rutted. I felt very comfortable in ruts and was more than happy to stand the whole way through some of the longer turns.
The updates to the chassis and suspension combine to give the feel of a lighter bike that's more manoeuvrable and can be placed where you want on the track.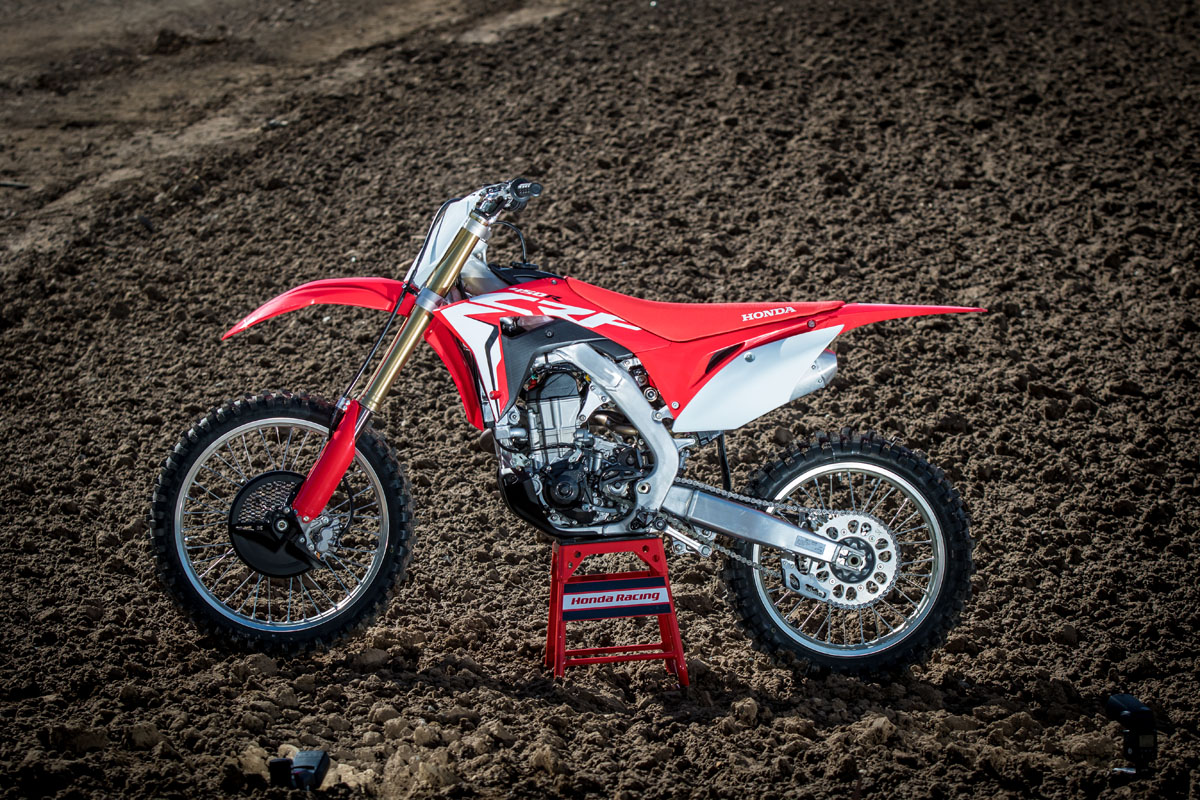 IMPRESSIVE PACKAGE
This is a big model for Honda. It's giving it a big push worldwide and I think the company's on a good thing. The bike is a very solid package with no major flaws that we could pick after spending a day on it. It has improved everywhere you'd expect a new model to: better handling; lighter and increased power.
This is an exciting time if you ride red and I think the CRF is back among the front runners in the 450 class.