I have been wearing Alpinestars 2020 TechStar Venom gear set for a few months now. From sweltering motocross tracks to cold morning trail rides, I have done what I can to place the gear in a variety of conditions in order to best deliver my feedback. So, what exactly do I think of the new mid-level offering from Alpinestars? Read on to hear our thoughts!
Initially, pulling on the pants you notice that they are true to size. For me, the pants had great clearance in the knee area but taper to become quite slim/athletically fitted in the thighs. Although the pants bunched slightly at the top of my knee braces, they are constructed of a stretchy enough material that I didn't notice any obstruction in mobility whilst riding.
The pants feature a large vent at the top of the knee, however as I opt to ride with full compression leggings, I didn't notice any adverse cooling functionality in this design, but that is not to say that this isn't present. The closure system is effective, and you have further Velcro adjustment on the hips to tailor a perfect fit. I would have liked some form of zipper lock strap, but this is purely for peace of mind, and I never experienced the pants slipping or the zipper un-zipping whilst I was riding. Couple these features with a large leather knee area that wraps around to the front of you knee, and you have what I would consider one of the better performing pants on the market.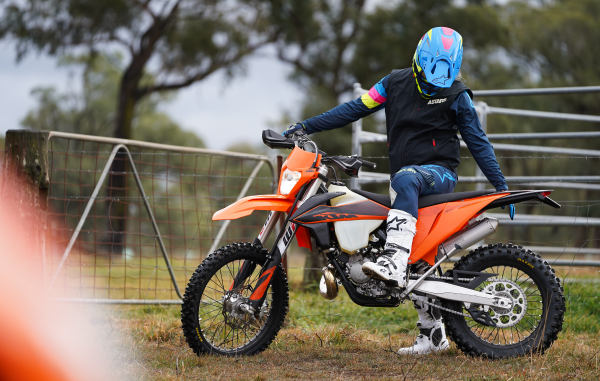 PANT FEATURES
Multi-panel, poly-fabric construction with PU coating for excellent strength and durability.
Innovative, strategically positioned four-way stretch panels for freedom of movement and riding fit.
Localized perforation zones allow for cooling airflow and comfort.
Exclusive 'Vector' back panel provides maximum comfort and flexibility when riding.
'Babel' knee design features a pre-bent. reinforced and padded 3D knee construction with hidden stretch spandex expansion gusset for excellent fit in the riding position.
Hemy poly-fabric reinforcement on the seat area provides high levels of abrasion resistance.
Includes perforated foam hip pads for fit, comfort, and breathability.
Lightweight and ventilated mesh lining with stretch panel insert for a better fit in riding position.
Leather panels on the inner leg provide heat resistance, grip, and comfort.
3D injection molded rubber logos and details for additional durability,
Silicon webbing on inner waist helps keep the garment in position.
Inner hip pocket for safe key/coin storage.
The TechStar jersey mirrors the pants in it look and feel. Built of a quite forgiving and stretchy material means that it does fit slightly slimmer than a traditional jersey. The body is predominately solid with some heavy vented panels in the arms and lat area of the jersey. There is noticeable cooling whilst wearing the jersey, but still enough solid areas that should you be wearing the gear in cold weather, it is not uncomfortably cold.
JERSEY FEATURES
Extremely lightweight, vented poly-fabric main chassis construction for moisture wicking and performance fit.
Perforated mesh inserts around the collar for excellent breathability, especially when using Alpinestars BNS neck support.
Extended perforation inserts on side torso and forearms for excellent airflow and comfort.
Pre-curved sleeves for maximum comfort and performance.
Extended rear for compatibility with Alpinestars' MX pants.
Comfort neck collar and raglan construction for easy entry and exit.
Seamless collar and cuffs for weight-saving and durability,
Wrist cuffs feature stretch inserts far excellent fit and convenient in and out.
Sublimated fade-resistant graphics in exciting new colourways
For 2020, I am of the impression that Alpinestars have once again increased the performance of this product line. The vibrant colourways offer a multitude of styling options with both their SM-8 & SM-10 Helmet line (SM-8 pictured).
Sharp lines and blocks of colours really help you stand out from the crowd when wearing the 2020 TechStar Venom range. Keep an eye out for further reviews on the new 2020 SM-8 helmet and Tech 10 boots in the near future.
With a price tag of $249.95 for the pant and $69.95 for the jersey you can't go wrong with coughing up your hard earned for a set of this gear. Check out Alpinestars entire range of 2020 gear at MXstore today….
https://www.mxstore.com.au/brand/alpinestars-2020-range/