Yamaha Motor Australia has released a heavily updated Yamaha WR450F for 2021.

Development input by a range of Aussie enduro riders over the years is one reason the WR450F continues to outsell its competition. Continual updates based on the equally successful YZ450F MX weapon is another. And for 2021, the all new WR450F is fully reworked with technology that has been forged in the intense heat of MX competition.
More power and sharper handling are the result. To create an enduro bike with the flexibility to tackle tough trails and win races, the YZ platform has been extensively tested and tuned with enduro specific settings.
Using the 2020 model YZ450F as a starting point, our experienced development team – including Kiwi race team manager and Yamaha legend Josh Coppins – came up with an enduro weapon that turns, stops and goes better than ever before. The 2021 WR450F produces bulk power but transmits that power to the ground in a more controllable manner with additional traction at both wheels.
Sporting a new aluminium bilateral beam frame, the WR450F feels lighter, is easier to turn in tight situations and has improved stability both in the bumps and in the air. Progressive, smooth KYB suspension continues to absorb big impacts and the braking performance is now improved.
2021 WR450F is designed to appeal to those born to ride – from professional enduro riders to super capable trail riders. The new model comes in the new Team Yamaha Blue colour scheme that echoes its YZ and FX cousins in the VictorYZone.
2021 WR450F design goals
• Lighter balance with added manoeuvrability
• Easier cornering in tight situations
• Improved front end traction – initial turn-in and line maintenance mid-corner
• Stronger, more progressive braking
• Added stability both in bumps and in the air
• Progressive, smooth suspension action with ability to absorb big impacts
• Easier to control, progressive power
• Strong and longer pulling power while maintaining traction
2021 WR450F features and benefits
• New YZ450F based, forward-positioned, straight intake, rearward-inclined cylinder and rear exhaust port engine format for powerful output
• Smartphone tuning
• Bar-mounted engine map switch
• Lightweight electric starter motor
• Tool-free airbox access
• Tougher five speed gearbox with model-specific clutch featuring heat-resistant friction plates
• New controlled fill aluminium bilateral beam frame tuned for enduro
• Industry leading KYB speed sensitive forks and shock absorber tuned for enduro
• Lighter, more powerful brakes
• New compact instrument display with fuel consumption indicator
• New lighter footpegs
• Lighter and stronger front axle shaft, top triple clamp, handlebar clamps – from YZ450F
• Large plastic engine guard
• Large capacity radiator and cooling fan
• 18 in rear wheel designed for excellent performance in enduro riding and wide tyre choice
• Four-position adjustable handlebars
• Sealed chain
• 7.9-litre plastic fuel tank and compact fuel pump
• Forged aluminium kickstand sits close to the bike
• Meets global emissions standards
• Sold fully ADR compliant and road legal in AUS and comes with free off-road kit for closed course competition use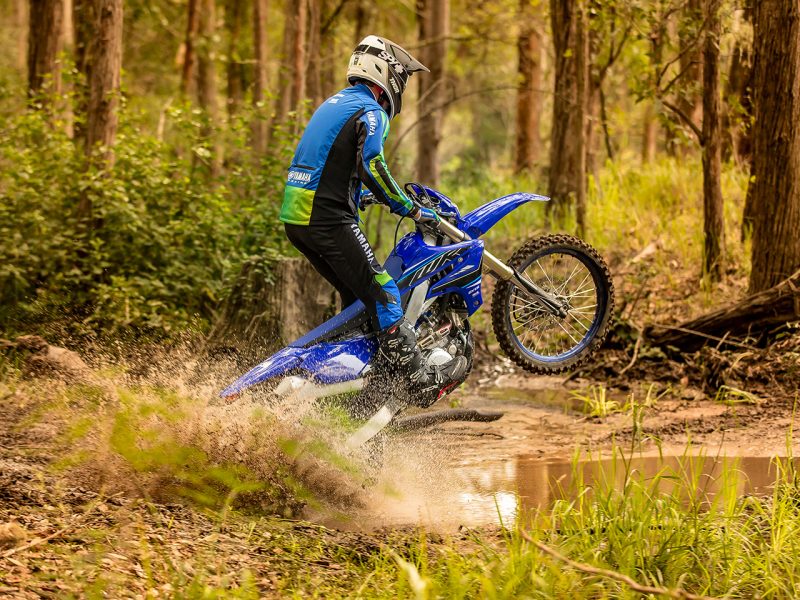 Australian off-road kit
All WR450Fs come with full ADR compliance and so can be road registered to ride in Australian state forests where permitted. Each bike also comes with a free off-road kit for closed course competition use which includes:
• Lightweight LED tail light/and licence plate holder
• High quality braided steel front brake line
• Competition larger diameter GYTR exhaust muffler outlet
• Full power/full movement throttle stopper screw
• YZ air filter holder guide
• Brake snake rear foot brake protection
• Wiring connector for rear brake light
• Barkbuster handguard set
• Front and rear brake line Banjo bolts
• Tail light undercover
• Original side stand bolt
• Original engine stop switch
• Original engine start switch
• Communication Control Unit
• CCU map switch
• 5 x 100mm zip ties for speedo sensor line attachment to brake line
Full range of accessories available
A wide range of GYTR accessories has been designed in conjunction with the factory for ultimate fit and performance. Over 80 items are available to increase the winning potential of the 2021 WR450F. Australia's premier Active8 enduro team uses and recommends GYTR parts and Yamalube lubricants.
Enduro riding gear
Yamaha has developed range of race inspired blue/black/green technical riding gear including jersey, pants, gloves, bodywarmer, enduro gloves, enduro riding jacket, cap and body armour for both adults and kids. All available online or via your local dealer.


Pricing is set at $15,499 inc GST ride away including 12 months registration, with availability due for December 2020.