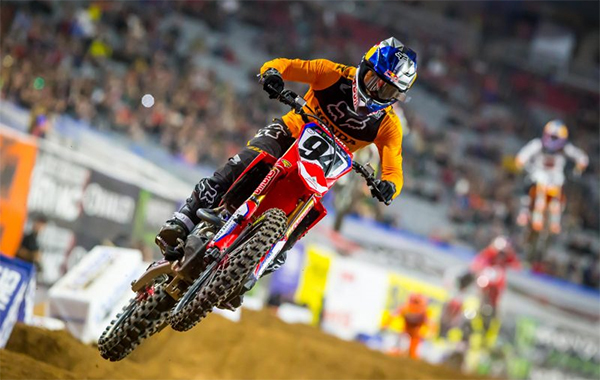 Ken Roczen has climbed to the top of the AMA Supercross points chase after finishing on the podium in Glendale, Arizona.
Roczen had a poor gate pick for the night's main event and lined up on the far outside, but he impressed everyone when the gate fell, rocketing down the long start straight with the holeshot and early lead. The German put together consistent laps, opening a small gap, but with a little over 13 minutes remaining, the race was red-flagged so that medical staff could tend to an injured Malcolm Stewart. Because more than three laps had been completed, riders were lined up in running order for a staggered restart. When the flag dropped to resume the race, Roczen remained in the lead until lap seven, when Jason Anderson made a pass that resulted in Roczen going down. Ken quickly remounted in fourth and initiated a heated battle for third, successfully making the pass through the whoops and taking the final podium position.
Ken Roczen:
"Tonight was a little hectic but overall it ended on a positive note. In the main, I was just so focused on that start because the heat race didn't go well for me, so my gate selection was terrible. I wasn't going to let that bring me down, so I came out swinging and pulled the holeshot. I led some good laps and had good speed. I was just focused on hitting my marks. It's never fun when you're leading and the red flag comes out. I definitely don't want to see anyone get hurt so I hope Malcolm [Stewart] is okay. I wasn't too sure if we were going to restart at the gate or do a staggered start but luckily it was staggered. Once the flag dropped, I was focused again on trying to stay out front. When Jason [Anderson] came in for the pass, he ended up taking me down. It's racing; I didn't think about him diving in there like that and didn't hear him either. I tried to get up as quick as possible and luckily my bike was still running so I didn't lose too much time. I knew I was in fourth so I was just trying to get on the podium. We're on the right path. I'm trying to stay focused and consistent, and I'm looking to get some more races under my belt."
The AMA Supercross series now heads back to Anaheim for round 3.