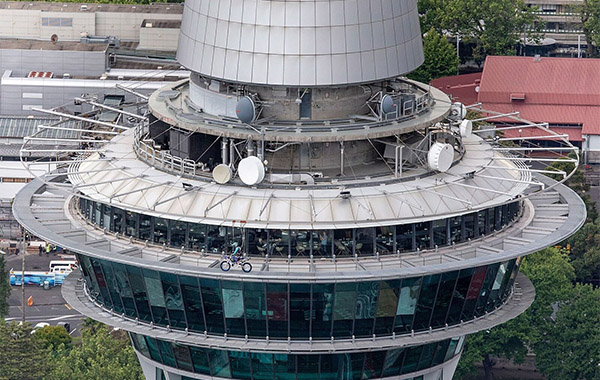 Ahead of the Monster Energy S-X Open in Auckland, freestyle motocross rider Taka Higashino has performed a crazy stunt, riding around the top of Sky Tower, 192 metres above the ground.
Higashino rode solo around the top of the Sky Tower and to make it even more difficult, had to overcome a fear of heights to even get onto the two-foot-wide platform.
"The first time around, halfway I wanted to cry, stop and jump off. The view was trippy, I was going, 'Oh my god, I can't watch'. Sometimes, watching the floor felt like a dream, not real." Higashino exclaimed.
"It was crazy when the wind came up, the bike was losing balance, the rope had tension too. It looks easy out there but it's actually pretty hard. It was pretty scary."
Higashino began riding at the age of 7 and has been a professional freestyle rider since he was 18. He has made history before, including becoming the first Japanese Moto-X rider to win a gold medal at the X Games.
The 2018 Monster Energy S-X Open Auckland is proudly supported by Auckland Tourism Events & Economic Development (ATEED) and Monster Energy. The inaugural S-X Open International Supercross event will take place inside Mt Smart Stadium on November 24.
The Monster Energy S-X Open International Supercross FIM Oceania Championship consists of two rounds at the Monster Energy AUS-X Open Sydney (November 9-10) and Monster Energy S-X Open Auckland (November 24) events and is sanctioned by FIM Oceania (FIMO).
Tickets begin at $49 and are available at Ticketmaster.co.nz