An absolutely chaotic start to the 2018 Motocross of Nations at Red Bud has kicked off the 72nd Edition of the event. Event hosts and favourites, Team USA, were dealt a rough start. Eli Tomac suffered a mechanical DNF and Aaron Plessinger crashed hard, it took a gutsy ride from Justin Barcia to ensure they made the A-Main!
Qualifying in the top spot was Team Netherlands who scored 4 points with Jeffrey Herlings, Calvin Vlaanderen, and Glenn Coldenhoff. Going to the line second tomorrow will be Team Italy, Antonio Cairoli, Michele Cervellin, and Alessandro Lupino who scored 5 points along with Team France's Gautier Paulin, Dylan Ferrandis, and Jordi Tixier.
Today's racing was epic and full of drama as all of the thirty country's teams competed for the top 19 spots to guarantee a place in tomorrow's final races. Three different qualifying races, one for each category, followed the morning's Free Practice sessions. Of the three race results the two best are counted into the nations classification and the 19 teams with the lowest scores are placed directly into the main races tomorrow while teams from 20th on will have one last chance to compete via winning the B-Final tomorrow morning.
MXGP
The MXGP category will likely be the most watched class tomorrow with a long list of stars headlined by the Netherlands Jeffrey Herlings, USA's Eli Tomac, Germany's Ken Roczen, and Italy's Antonio Cairoli.
When the qualifying race kicked off today it was Team Italy's Antonio Cairoli leading Team Germany's Ken Roczen. Team Netherlands' Jeffrey Herlings went down in the first turn will Team USA's Eli Tomac was 6th behind Team Great Britain's Tommy Searle.
Herlings went straight to Pit Lane after the start crash and after a few adjust was back on track in dead last. Meanwhile Team Spain's Jose Butron was fighting to hold on to 3rd while under pressure from the #1 of Team France's Gautier Paulin. By the fifth lap Butron was passed by Paulin, Searle, and Tomac while Herlings was already up to 11th.
Cairoli impressively pulled away from Roczen lap after lap as Roczen did the same to Paulin. On lap 8 Herlings was up to 5th while fans struggled to find Tomac who previously held the position. Tomac was then discovered at the bottom of the circuit near "LaRocco's Leap" with a bike issue.
Herlings went on to take not only 4th from Searle but also 3rd from Paulin on the final lap while Cairoli took the win over 21 seconds ahead of Roczen. Paulin took 4th and Searle put team GB into the final spot of the top 5 while Tomac took 29th.
Antonio Cairoli: "I am really happy to be here with Italy, it is good motivation for me. I think we have a good team, of course we want to win but our goal is to finish on the podium, this is the most realistic goal. It was a very good Qualifying race and I hope tomorrow we can get another good start."
MXGP Qualifying Heat top ten: 1. Antonio Cairoli (ITA, KTM), 24:57.036; 2. Ken Roczen (GER, Honda), +0:21.286; 3. Jeffrey Herlings (NED, KTM), +0:36.455; 4. Gautier Paulin (FRA, Husqvarna), +0:38.939; 5. Tommy Searle (GBR, Kawasaki), +0:54.353; 6. Jose Butron (ESP, KTM), +1:05.652; 7. Filip Bengtsson (SWE, Yamaha), +1:08.403; 8. Valentin Guillod (SUI, KTM), +1:45.321; 9. Kirk Gibbs (AUS, KTM), +1:46.994; 10. Roland Edelbacher (AUT, KTM), +1:50.371.
MX2
The second race out in front of the MXoN crowd was the 250's of MX2 Qualifying. Team Germany's Henry Jacobi found himself in the lead with Team USA's Aaron Plessinger and Team Australia's Hunter Lawrence hounding him for the lead.
Team France's Dylan Ferrandis was in 4th just ahead of Team Italy's Michele Cervellin and Team Spain's Jorge Prado at the end of the first official lap. Ferrandis made moves quickly gaining a position in each of the next 2 laps to run in 2nd behind the new leader Plessinger.
The early leader, Jacobi, was shuffled back to 4th behind Lawrence and just ahead of Cervellin. After 4 laps in 2nd position Ferrandis took over the lead as the American lost control and crashed off one of the triple jumps. Plessinger rejoined the action in 7th but then dropped even more positions after stopping in Pit Lane.
The lead of Ferrandis was heavily challenged by the strong ride of Lawrence but the Frenchman held on to win the race just 0.7 seconds over the Aussie. Third place went to Germany's Henry Jacobi with Cervellin 4th and Prado 5th.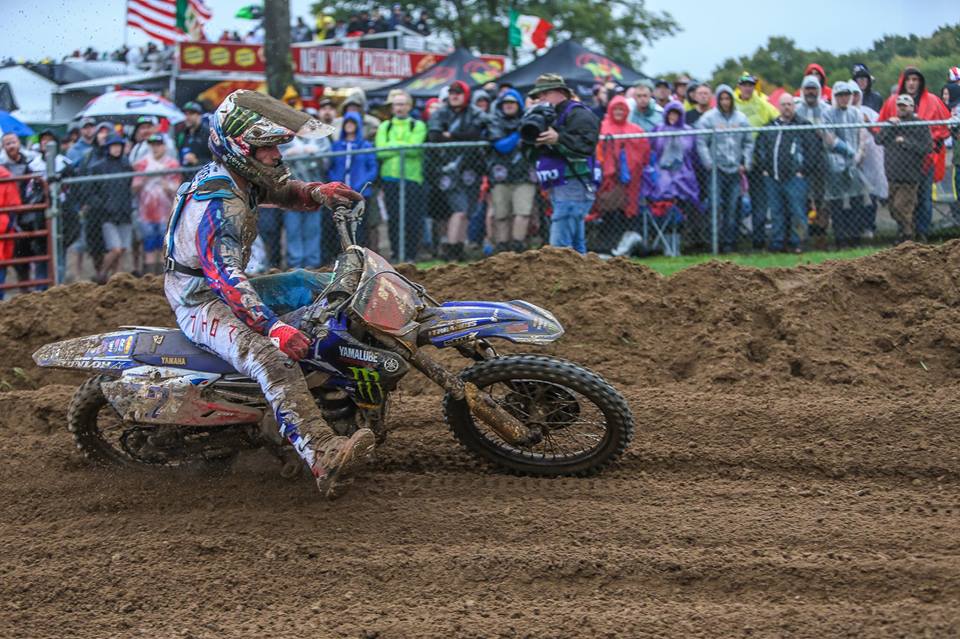 Dylan Ferrandis: "I am really happy, I had a good race and a good start, I made a small mistake in the mud…but it is racing and I won the race which is what is important for the team and we are in a good position for tomorrow."
MX2 Qualifying Heat top ten: 1. Dylan Ferrandis (FRA, Yamaha), 25:19.563; 2. Hunter Lawrence (AUS, Honda), +0:00.766; 3. Henry Jacobi (GER, Husqvarna), +0:34.130; 4. Michele Cervellin (ITA, Yamaha), +0:38.511; 5. Jorge Prado (ESP, KTM), +0:44.348; 6. Enzo Lopes (BRA, Suzuki), +0:47.486; 7. Ben Watson (GBR, Yamaha), +0:48.457; 8. Jess Pettis (CAN, Yamaha), +1:00.775; 9. Alvin Östlund (SWE, Yamaha), +1:01.127; 10. Anthony Rodriguez (VEN, Yamaha), +1:05.909.
OPEN
The final event on track today was the Open category's qualifying and the pressure was on Team USA's Justin Barcia after the prior mishaps of his fellow countrymen. Coming into the race the American team depended on a top ride from "Bam Bam" to avoid the B-Final.
When the gates dropped Germany was off to another strong start with Max Nagl leading Italy's Alessandro Lupino and the Netherlands' Glenn Coldenhoff out of the first turn. Justin Barcia was in 5th looking for way into the fight for lead as Coldenhoff passed Lupino.
In the early stages Nagl went down and dropped to 21st position which then gave the lead to Coldenhoff. Barcia railed around the outside of Lupino to take over 2nd while fellow Yamaha rider, Jeremy Van Horebeek from team Belgium, passed Switzerland's Jeremy Seewer and Lupino to get into 3rd.
Barcia fought to catch and pass Coldenhoff but though he was able to catch the Dutchman he wasn't able to make a pass. Coldenhoff took the win but Barcia's clutch performance propelled team USA from outside the top 20 up to 9th position for tomorrow.
Belgium's Van Horebeek took third which helped the team to qualify 13th after Desalle had a bike issue in MXGP and Jago Geerts took 18th in MX2 after a crash. Rounding out the top 5 of Open was Seewer and team Estonia's Harri Kullas.
Glenn Coldenhoff: "I didn't have a great start but was able to make some passes in the first few laps, Max Nagl made a mistake and I took the lead… in the end it was a good race and we are on pole for tomorrow so we are looking good."
OPEN Qualifying Heat top ten: 1. Glenn Coldenhoff (NED, KTM), 25:44.561; 2. Justin Barcia (USA, Yamaha), +0:03.444; 3. Jeremy Van Horebeek (BEL, Yamaha), +0:27.885; 4. Jeremy Seewer (SUI, Yamaha), +0:34.906; 5. Harri Kullas (EST, Husqvarna), +0:35.900; 6. Alessandro Lupino (ITA, Kawasaki), +0:40.365; 7. Jordi Tixier (FRA, KTM), +0:41.172; 8. Maximilian Nagl (GER, TM), +0:59.068; 9. Max Anstie (GBR, Husqvarna), +1:13.365; 10. Volodymyr Tarasov (UKR, KTM), +1:27.256.