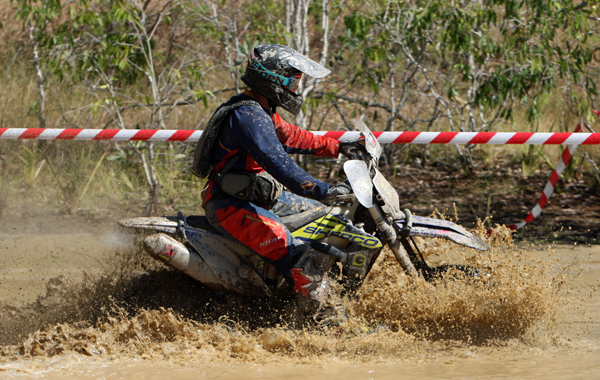 Chris Warwick and his Sherco 300 SEF-R have conquered the tortuous conditions of Kamfari, claiming victory in Australia's muddiest enduro race. Held on the Cox Peninsula, around 80km from Darwin, the 2018 Kamfari was staged in typical Top End conditions with heat, humidity and plenty of mud.
Warwick claimed the 2017 Kamfari on a NT Powersports Sherco 300 SEF-R and proved the winning formula was no fluke by backing up his previous win with an emphatic victory and a wining margin of 18-minutes and 50-seconds clear of second place.
Warwick ploughed though 16 laps of the tropical cross-country course that featured rocks, dust and the dreaded speargrass that promptly turns to tropical, muddy soup. Preparation, a strong bike and will to survive are key elements in a successful Kamfari campaign and Warwick has all bases covered.
The 2018 Kamfari was the 47th running of this iconic off-road race that is steeped in history.
"The Kamfari is a unique event," states Sherco Australia's Stephen Tuff. "It's extremely difficult to do well because the elements are against you. It's all about making to the finish and you can't do that if you don't have a reliable bike that can withstand hours of punishment in the harshest conditions. Being a Darwin local, Chris Warwick knows how to race in the extreme conditions that Kamfari dishes up. Over four hours of racing in extreme heat and topical bogs is a big ask for the rider and the bike and it's great to see Chris showing just how tough the Sherco is."
Photography: Max Sullivan www.motorcycleconsulting.com.au